The Wild Side of Central Otago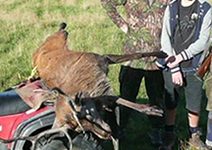 First Published on Robert Parker Wine Journal Dec 6 2016
There's something about venison that brings out the hunger for the wild in me, thanks to my hunter-gatherer stepfather, I shot my first deer at 11-years-old in the Mamaku Ranges, a subtropical forest in New Zealand's north island. Learning how to field dress and walk out with it on your shoulders, the deer (dead) nearly killed me when I tripped and rolled down a hill entangled with it—nearly breaking my neck!
So, the dopamine levels spiked and the 'hedonic hotspot' was triggered when I received an email from Central Otago vigneron, Tim Kerruish, expounding the prowess of his hunting skills and that he had bagged a fine specimen, "The beast was a big bodied 8 pointer in really good nick, 270 to the shoulder at 180m. We hung it in a chiller for 16 days and when we had some post butchering, it was extremely good!" He went on to say that the backstrap was "spectacularly tasty," and that he could courier me some, should I care to try it. My answer was an emphatic yes!
And what is back strap? It's the part of the deer that runs along the whole spine on the outside of the ribcage from the neck to the hips until the back side of the rib cage (the tenderloin are in the same spot on the inside of the ribcage) and almost entirely devoid of sinew and fat. If you were looking for the equivalent cut in beef, it would be known as the Strip Loin or a New York Strip.
Basically, it is the leanest prime cut of venison and not only tastes seriously good, as far as red meat goes, it is seriously good for you—being an excellent source of essential fatty acids (EFAs); alpha-linolenic acid (an omega-3 fatty acid) and linoleic (an omega-6 fatty acid), which are fundamental to our biological processes and good health. More importantly the ratios in grass-fed meats are much better than grain-fed, lot-feeding "the n−6 to n−3 ratio of grass-fed beef is about 2:1, making it a more useful source of n−3 than grain-fed beef, which can have ratios that exceed 20:1."
A wild New Zealand Red deer's diet consists of grasses, leafy plants, flowers, fruit and bark, so it's logical that it is considered one of the most nutritionally beneficial red meats one can eat and completely steroid and hormone free. And while its flavor is reminiscent of beef, it is richer and tends to have a finer texture and distinct deep reddish-purple color.
Many people immediately associate venison with a somewhat acquired taste of gamey nuances, a flavor profile which is often misinterpreted as wild (feral) and smelly, or akin to rotting meat. However, the gaminess in venison is quite subtle and has more of an earthiness in its aroma. And as it is best seared rare-to-medium, there is a certain sanguine flavor along with a strong acid, metallic-iron-like nuance that can be directly attributed to its grass/plant diet.
These flavors and nuances go particularly well with generously proportioned, more muscular and concentrated Pinot Noir that has a good backbone of tannin, powerful acidity and a pronounced mineral-earthiness. Yes, you could reach for the Le Chambertin, but as it happens, this is the very style of Pinot Noir one finds in Bendigo, the warmest sun-exposed subregion of Central Otago with its glacial derived soils from schist rock high in silica, mica and quartz (and veins of gold!). Known for its savory, minerally-earthy style with the requisite structural tensions from dark fruit tannins and an intriguing tincture of dried Provencal herbs from the rampant wild thyme growing in and around the vineyards. The Folding Hill Pinot Noir will be an excellent fit.
Having just returned from a week in Central Otago, I had brought back some of this wild thyme gathered from Two Paddocks Earnscleugh vineyard in Alexandra. Legend has it the thyme was introduced by the goldminers back in the 1850s to add some acceptable flavor to the pot in what one can imagine was very austere pickings in this isolated, rugged and harsh mountain country—surviving on a diet of flour and tea, save for the odd rabbit, which are now more rampantly out of control than the thyme!
How to cook your back strap? Very simply, indeed the less you do the better, as there is no value in adulterating such wonderful produce and natural flavors. As a seasoning and to pick up on the Central Otago Provencal herbs nuance in the Folding Hill Pinot Noir, I plucked the tiny wild thyme leaves and gently crushed them with a mortar and pestle to release their fragrant oils, adding some roughly ground black pepper and extra virgin olive oil.
Remove any visible silver skin (the white sinewy tissue, as it does not break down when cooked) and cut the backstrap into manageable size lengths (it's similar in size to a full eye fillet of beef). Rub the seasoning into the meat and wrap tightly in cling-wrap, but only an hour or so before cooking, so it is just a subtle marinade. And there is no need to put the meat in the fridge, you want it to be at room temperature.
You will need a skillet or decent heavy pan with a metal handle so it can go in the oven. This is strategic, as the best way to get an even cooking heat is in your convection oven, pre-heated to a moderately hot 200 degrees Celsius (400 Fahrenheit) or Gas No. 6. On your gas hob or induction cooktop, bring your pan up to smoking hot and sear the backstrap for a couple of minutes on each side ensuring it is suitably browned/sealed, then into the oven for about eight minutes turning it over four minutes in.
Remove from the pan to a dish and rest the meat for a good ten minutes so the juices redistribute throughout the meat, and it will be perfectly juicy and tender. Carve into thin slices (say 5mm) and layer on a serving dish, baste with remaining juices and sprinkle wild thyme leaves—and the odd sprig for garnish.
Being a wintery Wellington night, I opted for more hearty accompaniments, potato Dauphinoise, roasted beetroot tossed in seriously old balsamic vinegar and kale sautéed in butter. You could go the extra yard and make an Au Jus from the juices of the meat and if you wanted to add fruit sweetness to a sauce, cherries as a relish or compote are a good accompaniment for venison, even better if they are Central Otago cherries!
I did put Dijon mustard out on the table, but everyone agreed it didn't need it, the backstrap tasted so good, no enhancement was required—except for a good mouthful of Folding Hill Orchard Block Pinot Noir 2013, which went particularly well with the smoky, earthy, subtle muskiness of the venison along with a whiff of wild thyme. It was in complete simpatico with the bouquet. Suitably muscular with generous layers of black fruits and a spicy, savory-minerally finish, the palate was also up to the task. But it was the lively acidity that carried throughout the wine and persisted to a long, tangy farewell that most complemented the pronounced acid flavors in the meat, not only harmonious, but refreshing the palate.
I certainly agree with Tim's appraisal, the backstrap was indeed spectacularly tasty, and for me there is the added enjoyment of the locavore element, with the produce and wine coming from the same area. Of course, it's not every day that one is lucky enough to share in the spoils of a hunt, however you could do just as well using the more attainable whole venison tenderloin, which has an even finer texture, cooked exactly the same way.
New Zealand exports grass-fed farmed venison to many parts of the world and is becoming increasing popular in the USA, where wild venison is difficult to source in many states because of strict (convoluted) abattoir regulations and you might see it on restaurant menus as Cervena—the name combines two Latin words Cervidae meaning 'deer' and venison 'hunting,' a New Zealand marketing initiative to distinguish premium quality, free-range, grass-fed deer completely steroid and hormone free.
If you happen to be in New York City, Chef Matt Lambert at the One Star Michelin restaurant, The Musket Room, regularly has New Zealand red deer on his menu; and Chef Brad Farmerie at Public restaurant has had Cervena on his menu from day one with perennial favorites—rare roast Cervena loin with licorice-pickled onions or tea-smoked Cervena with truffled baby white asparagus, capers and chive blossoms.
Should you be 'On the New Zealand Wine and Culinary Route' and in Queenstown, you will find venison on the menu at Chef Josh Emett's brilliant Rata dinning, also a staple at the Botswana Butchery restaurant. And for the culinary obsessed herb lover, there is a brilliant article in the New Zealand Geographic on wild thyme.