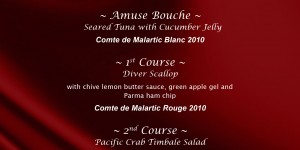 ...
read more >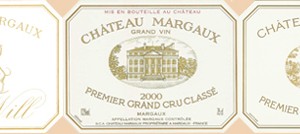 Andrew Jefford goes out on a limb (and might even lose one) in defence of Bordeaux ...
read more >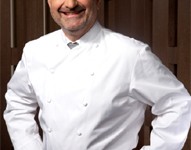 The Amoreaux family, who have owned Chateau le Puy from father to son since 1610, will be in Singapore holding wine dinners on the 26th and 27th May Guy Savoy and The Grand Hyatt. This property lies on the same rock plateau as Saint-Emilion and Pomerol, in the Cotes de Bordeaux, hence planted largely to merlot with organic-biodynamic viticulture, well ...
read more >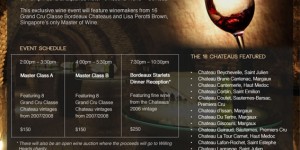 For all you those Singapore Bordeaux lovers, this should stimulate the palate, book through Hermitage [caption id="attachment_5962" align="alignnone" width="566" caption="Bordeaux Starlets"][/caption] ...
read more >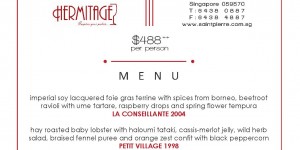 Our local wine master, Tan Ying Hsien will be guest speaker for this enticing dinner of Pomerol wines, that's the merlot grape with a little cabernet franc and for some, like me, far more appealing than the 'left bank'. ...
read more >
The Wandering Palate shares his profound insight on the cabalistic 2009 Bordeaux (pronounced BORED-Dough) vintage and compares it to the other vintage of Century, 2005. ...
read more >
Also, empirical proof that cabernet sauvignon under screwcap can age well – but will the Bordelaise embrace change The highlight of a trip to London a few months back was an invitation to dinner from Jancis Robinson MW and Nicolas Lander, moreover the meridian for a wine and food writer; to be breaking bread with the world's doyen of wine ...
read more >
Our small wine group got together the other night for a horizontal of sweet wines from the 2002 vintage, primarily from Sauternes and Barsac, along with a couple of Australian stickies, two Tokaj and one German Beereenauslese. It was actually put together by Jeremy, our sole vigneron amongst the group, who as it happens has an incurable fetish for Chateau ...
read more >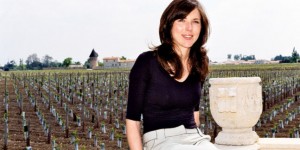 The 2005 vintage is being hailed as among best of the past century but there is always plenty of spin involved. Wine merchants throughout the world are ubiquitously fixated with en premeur sales of 2005 Bordeaux, blamelessly riding the wave of a frenzied market chasing a dream vintage. The Bordelaise propensity to embellish necessitates some recalibration after the vintage has ...
read more >
Our Wandering Palate wanders down to the cellar – the merits of off-vintages from top Bordeaux Chateau. A Chateau Leoville Las Case wine dinner held recently by the Singapore wine merchant Hermitage wines highlights the virtues and intrinsic worth of less-exalted vintages from a producer with impeccable standards. As some of my readers will know, I am not exactly enamoured ...
read more >