E. Guigal – Cotes du Rhone 2011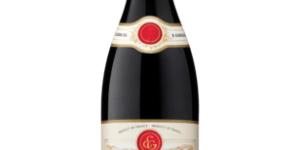 Guigal is rightly acclaimed for its flagship wines, among them notably La Landonne, La Mouline, La Turque and Chateau d'Ampuis from the Northern Rhone appellation of Cote Rotie. In this company it is easy to forget that the firm also produces fine wines from all corners of the Rhone Valley, including generic Cotes du Rhone.
Etienne Guigal, founder of the firm, first worked for Vidal-Fleury before establishing his own business in 1946; Vidal-Fleury is now owned by Guigal, having been purchased in the mid 1980's. The gorgeous Chateau d'Ampuis now headquarters of the Guigal business was acquired in 1995 and extensively restored. Other acquisitions have followed.
The foresight, energy and passion of the Guigal family is obvious in everything they do.
For example, not content with the brilliance of La Mouline, first produced by Marcel Guigal (Etienne's son) in 1966, Marcel, recognizing the quality and possibilities of the vineyards comprising La Landonne went to great lengths to secure them. Quoting from Livingstone-Learmonth & Masters' The Wines of the Rhone Valley, Marcel says "You can't imagine the trouble we went to in order to buy up the La Landonne vineyard. It belonged to seventeen small holders, and I am sure I shall never have to be so patient again when it comes to buying a vineyard. It took more than ten years, buying each plot individually…" La Landonne was launched with the 1978 vintage. Read More >