Steven Spurrier 70th Birthday Bash – Singapore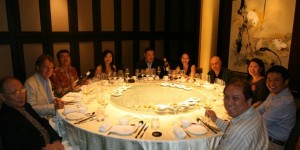 Steven Spurrier was in town this week for ongoing Singapore Airlines wine selection tastings (he's been doing it for 22 years!), along with panel colleagues Michael Hill-Smith MW and Jeannie Cho-Lee MW.
As it turned out, it was the perfect opportunity to raise a glass to Spurrier's innings, 70 not out. Spurrier was in good form and looks nothing like 70, as he quipped when someone asked if there were going to be more parties, which came out the wrong way, as in meaning other 70th celebrations, he replied, "I'm hoping a least another 10 and 80 is a good number"!