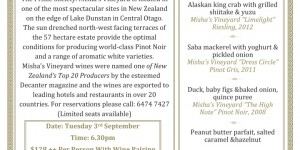 One of the Wandering Palate's favourite Central Otago winegrowers, Misha and Andy Wilkinson of Misha's Vineyard, are coming to Singapore along with their legendary winemaker Olly Masters and holding a wine dinner at Prime Society - this one is not to be missed, the WP will be there! See details below: ...
read more >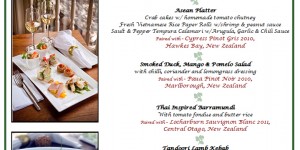 The sense of taste cannot exist with the sense of smell. In this dinner, we present to you an array of aromatic wines paired with our fragrant signature dishes in a 5 course dinner held in Coriander Leaf's cosy private cooking studio @ $98++ per person ...
read more >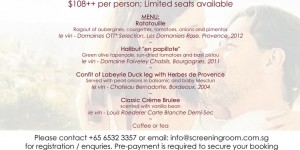 [caption id="attachment_8766" align="alignnone" width="647"] Coriander Leaf, www.corianderleaf.com/[/caption] ...
read more >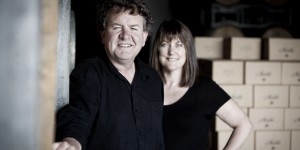 The Wandering Palate is delighted to be linking up with the affable Brian Bicknell from  Mahi - more than your average Marlborough producer, indeed this is an uber-cool winery is focused on single-vineyard wines and making some seriously good gewurtraminer, chardonnay, sauvignon blanc and  pinot noir, to which the wandering Palate has posted favourable tasting notes recently - click here ...
read more >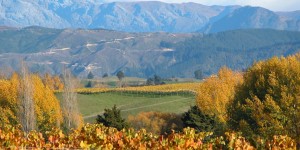 [caption id="attachment_7329" align="alignnone" width="647" caption="Neudorf vineyards looking over the Beuke Black 5 www.neudorf.co.nz "][/caption] ...
read more >