The Next Perfect Match
---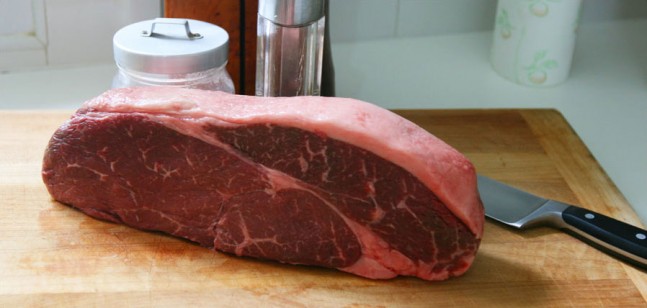 Slow Roasted Medium-Rare Rump of Wagyu Beef. Totally impressive at the table yet absolutely simple to cook!
There is nothing more enticing to a carnivore than a gargantuan piece of beef appearing at the table, juices oozing as it is carved in generous slices, the meat running from shades of cherry red in the centre to a caramelized roasted–brown outside.
A whole rib roast, bone in, is arguably the most popular and perhaps impressive cut although not an inexpensive exercise. Thus, in theses puritanical times, the approved post-crisis cut is rump. But don't be deterred by it being cheaper cut, it is equally flavoursome and for some, a much more texturally palatable, leaner and more versatile style of beef.
For a superior rump experience or perhaps better described as decidedly different in flavour and texture, I highly recommend you try Margaret River Wagyu rump. I covered the merits of Wagyu cattle from Australia in my last 'Perfect Match' with a recipe for Thai Beef Salad however I think it is worth repeating the benefits of this superb meat.
Wagyu is known worldwide for its intense fat marbling with many people associating it to the black Tajima-ushi breed of Kobe, Japan, often served up raw in divine, mouth-melting fine slices or seared for a few seconds in small chunks, all at eye-watering prices! It is normally so rich and intense in its creamy fattiness that only a small serve will saturate even the most carnivorous palate.
There are however many grades of Wagyu, in the sense of marbling content, and the different parts of the animal have less fat than others, the rump being relatively the leanest. And before you start thinking this is not going to be a healthy dish, the intramuscular fat in Wagyu cows is different to that found in other cattle breeds.
Apart from being a great source of vitamins and nutrients, Wagyu beef contains higher levels of oleates, that is mono unsaturated acids (good fatty acids) including Omega 6 and Omega 3 oils, which protect the human body from heart disease, high blood pressure, arthritis, depression and Alzheimer's disease.
The Wagyu I use comes from Margaret River Farms, which have 70,000 hectares of land spread across four properties in pristine environment in the far south of Western Australia. The cows are raised free range, grazing on natural pastures and supplemented grain totally free of any genetically modified feeds or any antibiotic-hormone growth nasties. Essentially, this is about as natural as it gets, grass fed, roaming free in one of the cleanest environments in the world; a stress free, very happy cow. Well, as happy as a cow can be.
A whole Wagyu rump is a dauntingly colossal chunk of beef weighing around 8 to 9 kgs or more, however your butcher will carve off a piece of any proportion/weight to suit your needs. That said ideally the slab of meat should be no less than 3kgs, although 2kgs is feasible. The size of the piece is strategic to the cooking method as too smaller cut will simply dry out too quickly.
The strategy here is not to think of proportions in terms of people dinning in one sitting as the meat will last perfectly fine in the fridge for several days and is excellent served cold in salads and sandwiches. Actually, this is the same manner I treat a leg of lamb, equally tasty and convenient in the larder for family grazing.
A 3 kgs piece will feed up to 8 hungry carnivores sufficiently, and you can increase the size as much as your oven will fit, although be aware of the cooking time; the emphasis is on slow cooking technique and you need to allow 1 hour per kilo.
Customary accompaniments to a roast are universal; variations of roasted potatoes, sweet potatoes, carrots, parsnips, pumpkin, beetroot and green vegetables like French beans, pea's maybe broccoli or cabbage. I see no need to move away from the traditional here, but it is entirely up to you. If you want to get creative, by all means do.
---
Ingredients
3kg Wagyu Beef Rump
Salt & Pepper
Olive Oil
Water
---
Equipment
Large metal oven roasting dish
Metal rack for placing the roast on
Oven and meat temperature gauge
2 Large wooden spoons or tongs (optional)
---
Preparation
Plan ahead, as cooking time is 4 hours including resting of the meat.
That said it is going to take you 2 minutes to do the prep, aside from the veggies. But you do need to plan well in advance. You can have all the roasting veggies scrubbed, oiled and salted in another roasting dish, ready to pop in the oven as the meat comes out.
Firstly, a small lesson in how meat should be treated prior to cooking, to which you need to bring out the piece of meat from the refrigerator several hours beforehand to bring up to room temperature. If you are in a temperate climate, this would be a least 6 hours however in the tropics about 3 hours should be sufficient.
If I am sounding over-fastidious, it's all about treating the meat right to get the most out of it. Furthermore, the method comes from the legendary Dario Cecchini of Antica Macelleria Cecchini in the ancient village of Panzano, Tuscany who is known as the Michelangelo of butchers. Cecchini is Italy's most illustrious, if not notorious butcher and can be as intimidating as he is entertaining as he delivers a sermon on the Bistecca Panzanese, a large cut from the thigh of Tuscany's finest beef cattle and in his authoritative opinion, superior to the more well-known Bistecca alla Fiorentina.
Actually, Cecchini will tell you steak is overrated and does not serve it in his restaurant becoming even more boisterous, if that is at all possible, at his dining table across from the shop, Solociccia (only meat). As described by Cecchini, "This is not a restaurant. It is the home of a butcher", where you can eat six courses of meat convivio (at a communal table). "You will not choose from a menu, though you will be treated well, and with great respect, if you return the favour. The food the wine the space and we ourselves are for better or worse… thoroughly Tuscan".
Sorry, I have digressed somewhat but if I have you salivating and thinking of Tuscany, a trip to Panzano is most definitely a culinary adventure worth taking. For a more comprehensive article on this, click on 'Published Articles", then scroll down to 'Appetite', and click on 2008, "Tuscan Reveries".
Preheat the oven to no more than 100 degrees Celsius, preferably around 80 or so. Ideally you will need an oven thermometer for this. You can source these from your kitchen supply shop. In Singapore, we have an Aladdin's cave of everything to do with cooking and the kitchen that you could imagine, called Sia Huat www.siahuat.com situated at 7, 9 & 11 Temple Street in China Town, and allow several hours for the experience!
Back to the oven, if you have a convection or fan oven, you need only set the temperature at around 50 degrees, as these ovens cook more effectively and evenly. Indeed you should always reduce the temperature by about 30 degrees Celsius with convection ovens as the air circulation created by the fan not only makes the heat more even and effective, it eliminates the thin layer of air that would otherwise surround the food, hence why these ovens are so popular. The strategic issue is not to let the oven temperature rise too much and subsequently negate the whole method of slow roasting.
Take a large metal oven roasting dish, placing the metal rack inside for the meat to sit on. Why the metal rack? This is simply another basic cooking tip that improves the flow of heat around the meat, indeed it prevents the meat being overcooked from the bottom.
Paper towel pat the meat to remove any blood. Then rub all over with olive oil, salt and pepper. Place in the dish and put in the oven. No oil or fat is required in the pan, rather you just pour in about a half a centimetre of water to keep the meat moist, adding more as it evaporates. Yes, that's it folks, about as easy as falling off a log.
Cooking the meat: You now need to be vigilant in checking that the temperature does not rise too far past 80 degrees Celsius. Also make sure there is water in the bottom of the pan. Bearing in mind it will take about 1 hour per kilo, make sure you plan your timing for the meat to come out an hour before it is going to be served – it isabsolutely strategic that you give the meat a minimum one hour resting to achieve the optimum tenderness.
Invariably this is where people go wrong, serving meat or poultry for that matter, straight from the oven without resting it sufficiently. This hour will also give you the time and space in the oven to roast the vegetables, equally strategic.
You can turn the meat over about one hour in to the cooking time, and then around two hours begin inserting the meat thermometer to check on the progress. Rare roast beef is around 60 degrees Celsius in the middle, but be mindful that this cut will be thicker towards the middle and subsequently the meat will be more cooked at each end. This does in fact make it easier to cater for different tastes or degrees of rareness. Medium rare is closer to 70 degrees Celsius and I would be reluctant to cook it any further.
As the meat gets close to being cooked, turn the oven up to 200 degrees to sufficiently brown the outside (this will only take 10 minutes or so). Be sure to keep the water in the bottom of the pan topped up, as the juices will have seeped down and will make excellent gravy, although you do need skim off the fat.
Transfer the roast once cooked to a porcelain dish to rest, pouring all the resulting juices in to your roasting pan to add to the gravy. Thickening the gravy can be as simple as adding a little roux or just a few knobs of butter as you reduce the sauce over a top element.
In summary, this is a wholesome and flavoursome meal that is simple to prepare but does require some forethought and a little experimentation. The variables are ones oven, as no two ovens are alike. Along with the proportion of meat, this directly effects the cooking time and you must be equipped with a separate oven thermometer and a meat thermometer to take away the guess work in terms of timing. I am certain you will appreciate the Wagyu rump tastes richer and has more flavour with an almost creamy texture to the meat, melting in the mouth.
And the wine: well it's obviously a red however, having spoke of Tuscany, my 'perfect match', tried and tested (that is I cooked a Panzano cut on the open fire at a Tuscan villa, served with this very wine), Conti Costanti Rosso di Montalcino 2005. Such a magnificent roast deserves a fine red and you will find the elegance yet well defined power of natural acidity and savoury tannins of this style balances out the overall richness of the roast beef.
Baby Brunello di Montalcino… Rosso di Montalcino was introduced during the 1980's, mainly to provide vineyards with cash flow whilst considerable capital was tied up in Brunello, due to its lengthy ageing in barrel. Rosso di Montalcino is also 100% Sangiovese however, only has to reach an alcohol level of 12 %, as opposed to 12.5% for Brunello, although one has to wonder if there is a significant difference in 0.5 percent of alcohol. Rosso di Montalcino has to be aged for one year only before release.
Vineyards officially registered as Brunello may use their grapes for Rosso however, if a vineyard is designated Rosso and therefore producing at a higher yield, the grapes may not be used for Brunello.
Regardless of Italy's somewhat convoluted wine laws, the predominantly small growers of Montalcino are a very cohesive group and have self-imposed levels and vigilance in maintaining quality.
Rosso di Montalcino not only offers totally respectable early consumption and an affordable insight to Sangiovese Grosso, it has also given producers far more flexibility, facilitating declassification of grapes or barrels to a lower wine, in much the same way the Bordeaux Chateau's introduced second labels, and greatly improving the overall quality of the primary wine.
Conti Costanti is arguably the top producer in Brunello with a family history going back to the 13th century and have been making wine in Montalcino since the mid 16th century. For a more detailed article, have a read In Tuscan Heaven
Tasting Note of Conti Costanti Rosso di Montalcino 2005
(tasted at the vineyard with Andrea Costanti; also re-visited several times in eateries around Tuscany as well as re-tasted here in Singapore, having purchased several cases for my personal consumption!)
Sweet, fruity perfume of ripe cherry and red plum, hints of ripe strawberry amongst bacon-fatty, smoky lard-like nuances of classy oak, overall attractive vinous quality similar to Pinot Noir.
Very opulent with creamy layers of succulent, sweet plumy fruit on the palate, very fine-grained tannins kicking in early and the flavours turning to more sour cherry towards the back palate, also good tangy acidity adding some vitality.
Very soft, plush and elegant, deceptively approachable and new world pinot noir-like however, the finish gives it away with earthy, black tea, persistent Sangiovese tannins.
For the record, the 2005 vintage in Tuscany was a difficult year, plagued by heavy rains and quality inconsistent. The better producers will of course make commendable wines and the fact is a lot of Brunello was declassified that year, so the way I see it, the 2005 is a considerably better wine with the addition of these grapes however, will always be more forward than other vintages.
You should also be aware there will only be a limited supply of the 2005 left now however, the 2006 has been released. This is a very different vintage altogether, arguably one of the best vintages in decades, even surpassing brilliant 2004's. The Conti Costanti Rosso di Montalcino 2006 is noticeably firmer with a deeper, more tannic structure and will require decanting and breathing for a few hours before serving.
For more on Conti Costanti, visit www.costanti.it
---