Make a meal of it
---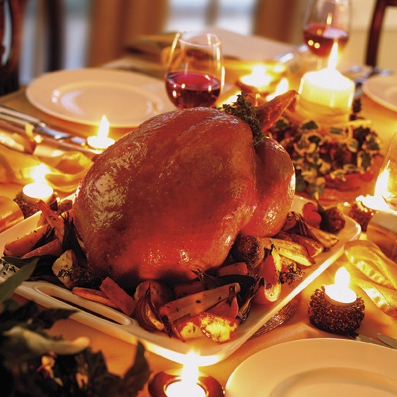 Christmas is a time to share with others. Gather other holiday `orphans' and stage your own dinner – complete with a glass of fine wine.
If you haven't planned your Christmas celebration yet, I suggest you dine at home with the carte du jour and wines that we will enjoy. There is a great deal of satisfaction in entertaining at home, rather than looking like lost souls in a hotel restaurant.
If you don't have family in Hong Kong, you can be sure there are plenty of friends or colleagues who are Christmas orphans like you and will be only too glad to be invited.
I am in charge of cooking the customary turkey, a serious responsibility. Selecting a free-range turkey is paramount if you want to experience true delicate flavor and subtle gaminess.
Great Food Hall in Pacific Place airfreights freshly chilled (not frozen) raw turkeys from France. These come from Brittany, weighing between 3.5kg and 4.5kg and feed eight comfortably. They cost HK$28 per 100 grams and must be ordered by December 15.
Stuffing the turkey is imperative. I use sourdough bread (buzzed in the blender), chopped onions (sauteed soft in butter), chanterelle mushrooms, garlic, fresh sage and thyme, seasoning and bound with egg. I also like to use truffles, although not the whole ones that cost a fortune.
There is an excellent black truffle and mushroom pate called La Rustichel HK$98 (at Great) for a small jar that does a wonderful job. Deglaze the roasting pan with a glass of Condrieu, add a cup of chicken stock. I also like to add a teaspoon of truffle oil.
The entree should be simple. Atlantic Salmon Grav Lax (sugar cured) is lighter and sweeter than smoked salmon. Serve with slices of toasted sourdough bread, finely chopped shallots and creme fraiche. Good Premier Cru Chablis pairs exceptionally well with this.
Cheese will follow the turkey, a Vacherin Mont d'Or – a washed-rind cow's milk cheese from the Jura Mountains, France, and only made in the winter months. It is presented in a spruce-wood box that keeps the cheese from oozing all over the place.
Indeed, you need to use a spoon to get it safely on to your toasted country bread. Make sure it is brought up to room temperature in advance, and serve with walnuts and crisp apples.
I like to have a selection of wines that progresses in weight and texture as the meal unfolds. Arriving guests will be offered a palate opening bone-dry Clare Valley Riesling, rather than the all too predictable Champagne. Roast turkey calls for a white wine with texture and richness.
Chardonnay is a logical choice, ideally with some bottle age, however we prefer an opulent Condrieu. If you are in the mood for a red, an elegant, savoury Pinot Noir is best, picking up on the roasting flavors and gaminess.
Christmas pudding needs a powerful and spicy dessert wine with plenty of butterscotch and cleansing acidity.
Christmas is not the time to be frugal, although I never lose sight of value for money when it comes to choosing wines. My suggestions are listed in serving order:
---
Grosset Polish Hill Riesling 2004 Clare Valley, South Australia
HK$348 a bottle (available through Watson's www.watsonswine.com Tel +852 2525 1327).
Unquestionably Australia's finest Riesling, it makes a tantalizing aperitif with its intense fresh-lime tartness, wet slate minerality, bracingly bone-dry farewell and enduring acidity. If this doesn't kick-start your guests' palates I would check their pulse.
Although there is a groundswell of popularity for Australian wines in Hong Kong, there is much more to be understood about the multiplicity of microclimates and diversity of Australian wine styles.
The Polish Hill vineyard, at 460 meters above sea level, with its meager soils (sandy loam over shallow clay with underlying gravel, shale), ensures low yields, slow ripening and concentrated flavors.
---
Domaine Billaud-Simon Chablis Mont de Milieu Premier Cru 2001 Chablis France
HK$310 a bottle (available through Belle Brise Tel: +852 9195 8797).
This Domaine is in the top ranks of Chablis producers, making largely un-oaked wines of impeccable purity and animated minerality.
The local importer has chosen to bring in only this wine. However, everything Billaud-Simon produce, from their base-level AC Chablis through to Grand Cru Les Clos, is outstanding.
The Premier Cru Mont de Milieu is known for its lighter style which develops quicker and thus can be drunk relatively young.
The leanness about the wine reflects the rainy conditions of vintage, although it has lost none of its flinty minerality, and is soft-textured with excellent steely acidity to finish. It will follow on nicely from the Grosset Polish Hill and go superbly with the Grav Lax.
---
Domaine du Monteillet Condrieu Les Grandes Chaillees 2001 Northern Rhone Valley
France, HK$400 a bottle (available through Belle Brise Tel: +852 9195 8797).
Made from 100 percent Viognier in the tiny Appellation of Condrieu, in the Northern Rhone Valley. I have yet to taste anything as exotic, yet balanced with minerality and refreshing acidity as this wine. It is actually great value by comparison to other Condrieus I have seen costing twice the price.
Perfumed with apricots, poached peaches, tropical fruits and roasted almonds. The palate is similarly flavored along with custard cream and a warming spiciness. All this opulence is balanced by an intriguing savory bitter almond twist, gravelly minerality, and crucial underlying acidity. It is absolutely perfect with turkey.
---
Felton Road Pinot Noir 2003 Central Otago, New Zealand
HK$388 special promotion price, normally HK$499. (Available through Watson's www.watsonswine.com Tel: +852 2525 1327).
I tried this particular vintage of Felton Road recently at a tasting attended by owner, Nigel Greening, truly, the man who loved the wine so much he bought the winery.
Situated in Bannockburn region, Central Otago, in the deep south of New Zealand – the setting is exceedingly dramatic, surrounded by snow-capped mountains. Gold miners created eroded rock formations 140 years ago, sluicing away entire hillsides and leaving it looking more like Navajo territory in the Arizona desert.
The vineyards are planted on the silty tailings and deep loess soils, enjoying a view of Mt Difficulty, appropriately describing the conditions.
The winemaker's note is succinct "the wines of 2003 have a more restrained elegance and perhaps more of what we call `pinosity' about them."
Delicately balanced between the sweet aromas of stewed red berries, wild thyme and a subtle Provincial garigue-like earthiness, it is the sort of wine you enjoy inhaling the perfume as much as drinking it. While it is elegant, there is juicy mouth feel and spicy, lip-smacking tart and savory finish. Open a bottle of this for those who prefer red wine with their turkey.
---
Alois Kracher Grand Cuvee No7 TBA Nouvelle Vague 2002 Burgenland, Austria
HK$730 a 375ml bottle (available through Ponti Food & Wine Cellar www.ponti-fwc.com Tel: +852 2810 1000).
If one takes into account the painstaking production process and that it is half the price of a top Sauternes, it is good value. From the Burgenland region in the easternmost part of Austria that borders Hungary.
In autumn, the Lake Neusiedl provides thick evening fogs that cover everything until gradually dissolved by the morning sun. These conditions are perfect for the development of botrytis cinerea, the noble rot that extracts water from the berries, thus shrivelling the grape, while concentrating sugars, acids and aromas.
Made from 50 percent Chardonnay, 50 percent Welschriesling and aged in new barriques for 22 months, it has a residual sugar of 252.7 grams per liter. It is profoundly sweet, oozing tropical fruits and botrytis characters.
Elegant and silky textured, the lusciousness of the wine is counterbalanced by orange peel tanginess, toasty new wood flavors, with persistent acidity and a spicy farewell that goes on forever.
---