The Wonderful World of Wine Dogs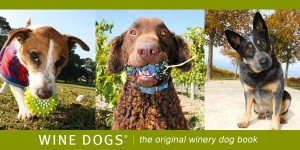 Winemakers love dogs. Wherever wine is made, you're likely to find a good dog stalking the cellar or the vineyard. Wine Dogs has found some beauties from all over the world. Wine Dogs is a celebration of the working (and relaxing) dog in the winery, vineyard and tasting room – created all for the love of dogs and wine.
Wine Dogs editions are photographic journals of stunning pictures interspersed with short essays by Robert Parker Jr., Huon Hooke, Max Allen, Cole Danehower, Dan Berger, Ralph Steadman and many more.