Metamorphosis Of Piedmont
---
The Rapidly-Evolving Expression Nebbiolo
Curtis marsh reports on modern-day Barolo and Barbaresco where a progressive balance of contemporary and traditional techniques have transformed an otherwise unyielding style of red.
Like many of the Old World wine regions, there was an inherited resistance to change in Piedmont, with the old guard Barolo and Barbaresco winemakers obstinately adhering to time-honoured traditions and techniques. Indeed, Barolo was seemingly cemented in time with little variance from the winemaking methods introduced in the early 1800s by French oenologist Louis Oudert.
Most vineyards here are family-run, where successive generations of sons or daughters have dutifully taken over the reins, abiding by the methods their parents handed down and maintaining the status quo with the Barolo merchant houses that have long dominated the market with an indifference to evolving trends of wine consumption. For the uninitiated, these formidable red wines were fiercely tannic coupled with pronounced, angular acidity and high alcohol levels requiring some 20 years of bottle age to be approachable, and a further 30 or 40 years to reach optimum maturity.
Whilst possessing profuse tannins, the thin skins of the Nebbiolo grape actually have very low colour pigmentation, which lead to the self-defeating method of prolonged maceration on skins after fermentation, up to 40 days or more to extract suitable saturation of colour yet a surfeit of tannins, in turn necessitating lengthy sojourns of seven or more years in large chestnut oak barrels to tame the excessive phenolics. The combination of these practices promoted premature oxidisation and volatile acidity, stripping the wine of its fruit and instilling an old leathery, tarry character with a dried out, over-savoury palate and an unyielding astringent rusticity.
Odd as it may be, Barolo devotees never questioned these flaws. To the contrary, they cherished these characteristics and defended them as unique and authentic qualities of definitive terroir. Their reasoning was the very best aged Barolo or Barbaresco can possess a bouquet of unparalleled complexity with a hedonistic perfume of antique woods and dried bark, cedar forest and pine needles, damp forest floor along with all number of wild mushrooms and truffles, earthy-musty undertones, hung game and animal scents, dried Provencal herbs, dried flowers and briar-underbrush, clove and oriental spices, dark soy, black teas, liquorice and that much lauded cigar-box aroma; a compelling potion for the wine cognoscenti notwithstanding the perfect complement to truffle and wild mushroom dishes.
"Savouring a glass of Barolo is like drinking a cigar."
It was not until the early 1960s that circumstances would change and the first to defy his lineage was Angelo Gaja, succeeding his staunch traditionalist father who had prevailed over Barbaresco's largest vineyard holdings as a long-established conservative producer. In defiance of a disconcerted Gaja senior, the young Angelo Gaja introduced stainless steel tanks and temperature-controlled fermentation, malolactic fermentation and maturation in French barrique (225-litre Bordeaux oak barrels), all methods that are commonplace now yet, were truly avant garde in Piedmont at the time. "Sure, the wines from around here are ancient, but until recently, so was the winemaking", criticised Angelo Gaja, who is now lionised throughout Italy and the winemaking world.
The very best aged Barolo or Barbaresco can possess a bouquet of unparalleled complexity with a hedonistic perfume of antique woods and dried bark… earthy-musty undertones… dried flowers… clove and oriental spices… a compelling potion for the wine cognoscenti.
It was also around this time that Beppe Colla of Prunotto inaugurated the concept of single vineyard Barolos, effectually the harbinger of Barolo's revitalised status and embodiment of defining the distinguished sub-regions and individual vineyards rather than the dilution of nondescript blends. This also coincided with Italy's introduction of the Denominazione di Origine Controlllata or DOC, with the same aspirations as the Appellation Controlee classification of France, although equally plagued by bureaucracy, convoluted wine laws and dissention.
The accession of a more cosmopolitan generation 'X' propelled a sea of change in Piedmont with a new wave of young and enthusiastic sons and daughters questioning their patrimonial training and also far more in tune with the changing demands of the wine consuming public. Not all was positive with this wave of modernisation, with a fixation on wine styles that would have immediate appeal to a broader market, particularly America and catering to the taste of the omnipotent wine critic Robert Parker. An overzealousness to be part of the revolution resulted in an overshoot of applying the latest techniques that were unpractised on the indigenous varieties Nebbiolo and Barbera, engendering the two contrasting factions of winemakers – 'the traditionalists' and 'the modernists'.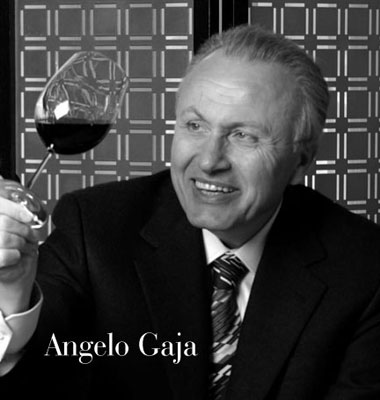 In defiance of a disconcerted Gaja senior, the young Angelo Gaja introduced stainless steel tanks and temperature-controlled fermentation, malolactic fermentation and maturation in French barrique (225-litre Bordeaux oak barrels).
Initially, this segregation appeared to have a positive impression on wine consumers, at the very least instilling a distinction between styles that they could use to decipher a bewildering myriad of wines. The wine press latched on with equal gusto, not only giving them something topical to write about but also chance to proclaim their allegiance to a particular faction, notwithstanding the opportunity to grandstand, as if they had an axe to grind, and much to bemusement of Piedmonte winemakers, yet sanctioned under the efficacious adage, "All press is good press."
Ironically, the precedent had already been set further south in Tuscany and one can draw the same comparisons and consequences where winemakers were too quick to appease the American palate, seduced by this bourgeoning market. In this case it was the emergence of the so-called 'Super-Tuscan' producers that introduced Merlot and Cabernet Sauvignon in to the equation, along with small French oak, invariably high-toast and making softer, plusher more 'New World' style wines, subsequently diluting the unique qualities of indigenous and venerable Sangiovese grape. Whilst enjoying a period of adoration, these IGT wines (Indicazione Geografica Tipica) are now losing favour to pure Sangiovese, aptly rationalised by Memo Zaldi, who has run restaurants in Chianti for over 28 years, "Sangiovese is like Pinot Noir, it expresses its soil, its place." Throwing his hands in the air, "Would you blend Burgundy (Pinot Noir) with Pomerol (Merlot)?" As it transpired, Piedmonte suffered the same addiction to French oak as Tuscany.
However, it would be the radical changes in fermentation techniques and vessels that would have greater repercussions with the introduction of rotary-fermenters of varying types, some resembling a concrete mixer where the whole tank rotates, others with blades and plungers that gyrate inside of the tank during the fermentation process.
Regardless, the primary objective was to achieve the desired colour extraction in the minimum amount of time, in the extreme as little as four and five days at alarmingly high temperatures, but with little or no cold-maceration on skins, thus avoiding the over-extraction of tannins, ergo facilitating a much shorter maturation period in wood with an accent on softer more flirtatious French oak.
Protagonist modernist, Elio Altara, who makes some of Piedmont's most evocative wines, is adamant that the longer the maceration period on skins, the more the colour destabilise through oxidisation along with increased extraction of bitter tannins. In contrast to the traditionalists who believe tannin is essential for Nebbiolo to have longevity, Altara is insistent, "It's not the acids and tannins that make a great wine; it's the balance".
It is obvious that many of the modernists overindulged both in technique and the lavish use of new French oak, masking much of Nebbiolo's unique characters and effectively internationalising the wines. However, the producers of Barolo and Barbaresco have been rapidly regenerating over the last five or six years with the divergence between traditionalist and modernist diminished to the point of irrelevance, in no small part due to the succession of generation 'Y' winemakers. Indeed, it is quite likely these modern-day artisans have attained a university degree in oenology or chemistry, perhaps specialised in viticulture or geology and more than likely undergone their formative vintages in Oregon, California, Australia or New Zealand.
This much-needed correction comes from both factions, with modernists prescribing to gradual, gentler fermentations and more importantly cutting back on the use of new wood, in fact reducing their dependence on barriques and using 500 or 600 litres tonneaux with minimal toast (firing of the barrel). There is even a revival of the botti, the large oak barrels that range from ten to 30 hectolitres of wine, the modernists conceding it is advantageous for Nebbiolo to evolve in unobtrusive wood although avoiding the old-fashion chestnut in favour of Slovenian oak, or even experimenting with different French, German and Russian oaks. Ironic as it may seem, this new generation is keen to rediscover their roots, and what was old is now new.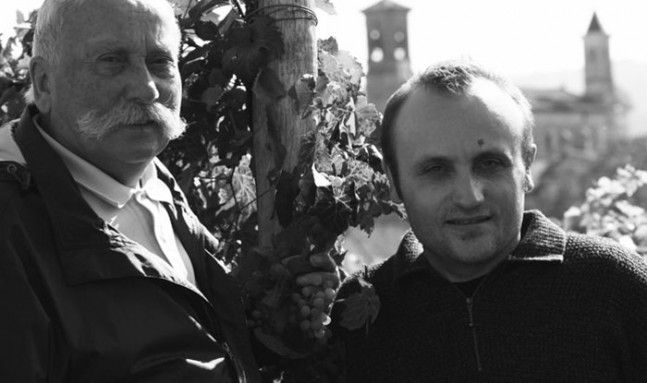 Enzo revealed that he had recently been to Australia visiting his friend Joe Grilli at Primo Estate, subtly establishing his familiarity with the big wide world of wine. Brezza father and son-Enzo (right) fourth generation winemaker.
Correspondingly, the traditionalists have relinquished drawn out fermentations and macerations and most are updating their wineries with a sweeping awareness that meticulous hygiene in the winery and clean, less oxidative winemaking are an imperative, as is uncontaminated maturation replacing old dirty casks with new botti or tonneaux with the wines spending significantly less time in wood.
Even the staunchest of traditionalists, Giacomo Brezza & Fils, who have been making Barolo since 1885 have reduced macerations to around 15 days, depending on the vineyard and condition of the grapes (as opposed to 40 plus). I had singled out Brezza on my recent tour of Piedmont as the litmus test of resistance to change, expecting to encounter a bastion of tradition. Appearances can be deceiving and the old Brezza cellars below the legendary Hotel Barolo, which they have run since 1910, exude an aura of heritage that conveniently camouflages the insightful approach of fourth generation winemaker Enzo Brezza. In actuality, this could well be the model example of contemporary Barolo, where wisdom and astuteness take the best from both (modern and traditional) worlds distilling it to a flawless simplicity.
I had an illuminating tasting of juicy, succulent fruit-laden reds, deceptively approachable yet brooding with firm tannins. Enzo revealed that he had recently been to Australia visiting his friend Joe Grilli at Primo Estate, subtly establishing his familiarity with the big wide world of wine. With a poker face he declares he might bottle his Dolcetto and Barbera in screwcap next year, his expression changing to a devious grin at the prospect of a purported conservative stirring up the establishment. Suddenly I feel like I am simultaneously in the past, present and future of Barolo.
All this said, there are many producers that believe it is the changes in the vineyard that are more significant to the metamorphosis of Barolo and Barbaresco than in the winery with five defining factors; green harvesting, progress in clone selection, sustainable farming (organic and biodynamic practices), global warming and most importantly the comprehensive move towards producing and labelling individual vineyard wines, all encompassing the age-old reality: that truly great wines are made in the vineyard.
Whilst the trend towards sub-regional or individual commune wines has been evolving for some time now, there are a myriad of unique single-vineyard sites, or cru as they are sometimes referred to, within the famous subzones that are now recognised for their individual and sometimes distinguished qualities and deservedly treated exclusively. Sanctioning this concept as the way of the future, the Enoteca Regionale del Barbaresco has recently announced the official approval of 65 individual vineyard sites or recognised 'micro-areas' that can be legally stated in labelling as 'added geographic mentions'. Green harvest is a relatively new practice where young berries are selectively removed before veraison (colour change, hence the term green) in order to reduce yields, subsequently diverting the vines' energies to the remaining grapes and achieving riper and more intense flavour compounds. The relationship between reducing yields and increasing quality is accepted however, this is a very labour-intensive process and the reduction of crop levels equally financially painful.
I shall not bore you with clones, besides it is the subject of global warming that is far more topical, affecting many vineyards regions around the world, equivocally benefitting some and burdening others. Nebbiolo ripens later than any other red variety, ordinarily being picked in mid to late October, even as late as early November, by which time the autumnal morning clouds and thick mist blankets the region, hence the association between the grapes name and nebbia (fog). Needless to say, Nebbiolo needs extended hang-time to ripen sufficiently, preferably with warm, dry late summer conditions yet, in the past Barolo and Barbaresco producers would be lucky if there were two vintages in a decade that achieved fully ripe grapes, leading to comparisons with Burgundies similarly unreliable vintages. When I visited Barolo and Barbaresco regions in the last week of September 2007, the weather was warm and dry with a little mist however harvest had all but finished with the exception of some rows of Nebbiolo in Serralunga d'Alba and Monforte d'Alba.
Every producer I spoke to agreed that the changing weather patterns contributed significantly to the quality and style of their wines. Whilst some were non-committal on the theories of global warming all admitted that they have been picking their grapes successively earlier over the last ten years, and were achieving much more phenolic ripeness, less astringent tannins and increased dry extract. This is substantiated by an unprecedented run of very good to excellent vintages (underlined); 1996, 1997, 1998, 1999, 2000, 2001, and 2003 albeit controversial, 2004, 2005, 2006, and 2007, with 2002 being the only off-year.
Clearly it is time to redefine our impression of Nebbiolo and the wines from Barolo and Barbaresco and accept there are fundamental changes. At the same one should not be lured in to the misconception these are unsubstantial wines and whilst generally far more accessible than the past, there is no escaping the natural core of tannins intrinsic to Nebbiolo's personality.
Furthermore, Barolo and Barbaresco will never be straight forward, the complex mosaic of single vineyards and kaleidoscope of wines equalling the idiosyncrasies of the Pinot Noir grape and abstruse realms Burgundy. Barolo or Barbaresco is unquestionably an exceptional terroir as the wines truly unique and nowhere else in the world has yet to replicate the complexities that Nebbiolo achieves in the hills of Piedmont.
Above all, there has never been a better time to buy these wines, with the superb 2004 vintage now rolling out to markets. The 2003 wines might be atypical however there are some stunning wines to be found. The excellent 2001's are still easily sourced and there is the bevy of good vintages of the last decade to source on the secondary market. Looking ahead, 2005 is not without its problems but still considered a good medium-term vintage, whilst 2006 is already being touted as equally brilliant as 2004 and 2001.
Last but not least, and addressing the misimpression that Barolo and Barbaresco wines do not pair well with Asian food, a misleading assumption based on the clash of tannins with chilli. Well, without stating the obvious, not all Asian cuisines are dominated by chilli. Personally, I think these wines pair wonderfully with Chinese barbecued pigeon, roasted duck and pork, braised beef and pork claypot, Sichuan beef and sublime with beef rendang, to mention just a few combinations.
This article was publish in Cuisine & Wine Asia. All Rights Reserved.
---