Fontodi in Panzano
---
I've said it before, but fell for it again…don't trust the sat nav. We made our way to the Tuscan hinterland and the charming little village of Panzano in time for dinner. We were due a few hours earlier…as I say; trust the map and one's own cartography skills. The sun sets late here. You eat at 8.30, while there's still light, and you've had you're passagiata and built a hunger.
Panzano is painfully beautiful; this hilled jewel in the Chianti trail offers any visitor an array of choices as far as food and wine are concerned. If you're in late, try the Enoteca Zaldi in the main square. A bistecca and a bottle of Poggerino do wonders for the soul after hurtling along the autostrada. Kids are happy with toasted ham and cheese Panini. All's good.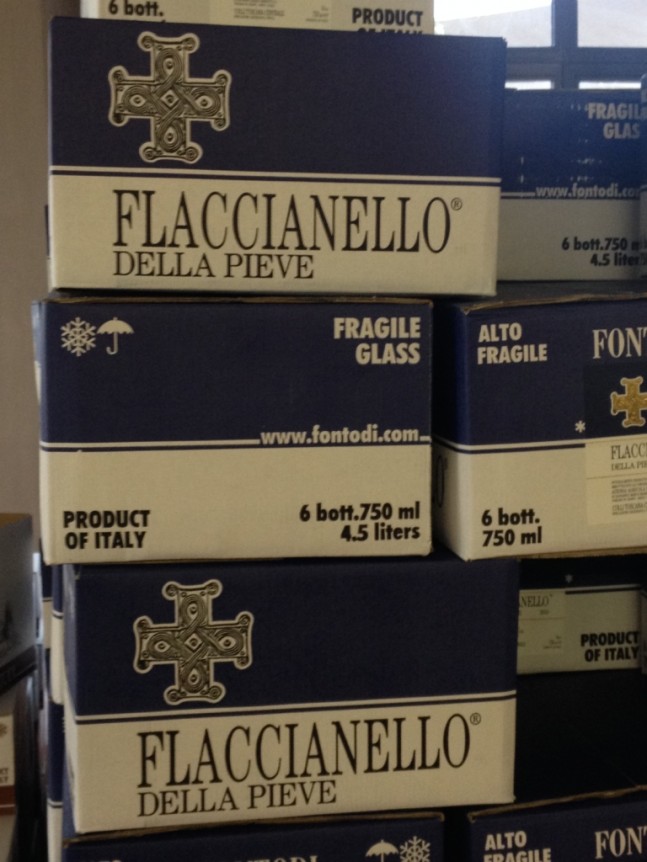 Panzano is home to the famous Fontodi winery, makers of the cult Flaccianella and some of the best Chianti you will ever taste. Their 2010 Chianti Classico, released for a mere 16 Euros, is a gorgeous harmony of ripe, dense sangiovese fruit, full to the brim with spice, cherry, and cocoa; its robust and fleshy yet balanced and perfumed. It's bold Chianti that does not like to sit back and wait. I'd had a half bottle at the charming, terraced restaurant Il Vescovino overlooking the hills of Greve in Chianti. It was rich and long, with bracing tannins and a steal. If you can find it in your market, don't think: buy. This is a very worthy Tre Bicchiere wine.
A visit to Fontodi confirms my highest rating. The road to the winery is lined with cypress and poplar, framing the gorgeous vineyard. I was lucky: I was staying at Fontodi's own accommodation, the irrepressible, charming and gorgeously appointed Villa La Pescille. This Villa–in fact all the accommodation–is run by one of three Manneti siblings. Giovanna is a delightful host who has hospitality running through her veins. Her properties reflect this utmost care and consideration for her clients.
Villa Pescille is amazing: set high on the hill overlooking the Fontodi sangiovese vineyards, it takes in a giant sweep of the most gorgeous Tuscan landscape one could imagine. I informally quizzed others staying there; seasoned travellers who historically come to Chianti each year. To them, and to me, this is the most striking and lovely Tuscan property. I regret saying this already, as I can see my window of staying there next year closing as readers book their trips, but it is a seriously beautiful property, with all amenities, a gorgeous pool, stunning gardens, and cool, spacious, well appointed rooms throughout. The website will give you more details.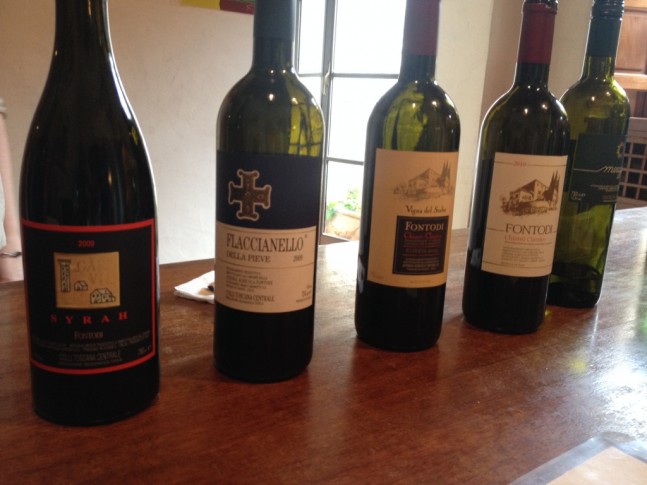 The Fontodi wines speak for themselves, almost. The charming Sylvia, who, like all at Fontodi, is very passionate about the brand and proud to show me their winery, conducted our tasting. The place itself is both modern and spotless. It uses innovative methods to produce some of the most profound and dense Chianti. Its flagship is the Flaccianella, with the 2009 at cellar door a brooding, complex wine. It is technically not DOC, nor is it really Super Tuscan though some will refer to it as such. It is 100% sangiovese but grows outside the DOC zone, and so, Super Tuscan in spirit, Chianti in soul. The 2009 is developing well; opened for a day it reveals layers of prune, cherry, red berries and spice, and the judicious use of oak gives it this amazing complexity. It will drink very well for well over a decade. This is seriously good wine.
The Vigna del Sorbo is also a meticulously made, rich Chianti Riserva that is very constrained in the 2010 vintage. It has layers of lovely fruitcake and cherry, and is long and destined for a sustained future in the cellar.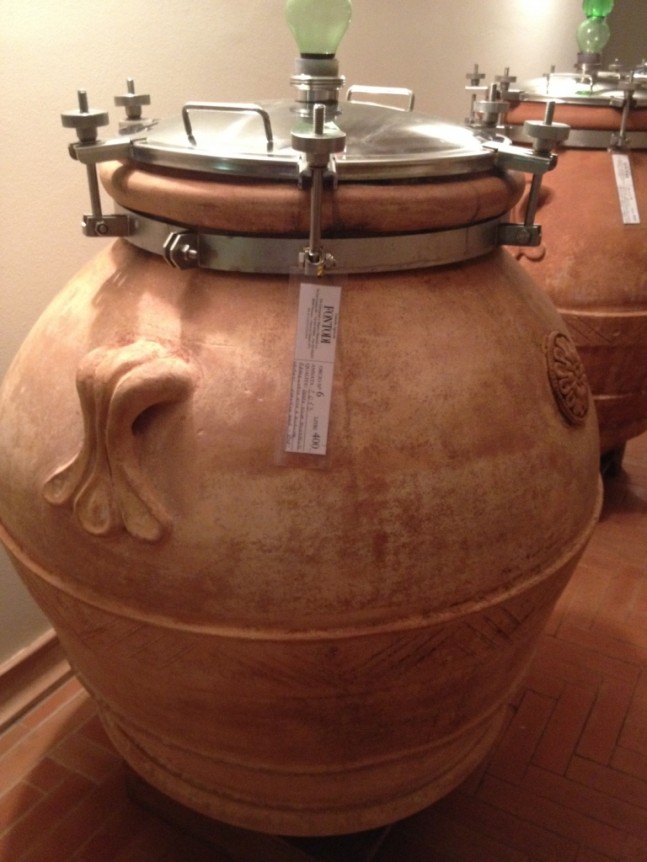 They also experiment with Syrah and Pinot Nero. The Syrah has lovely damson fruit and spice, some white pepper and reminded me a little of some of the Syrah from Mt. Franklin in Western Australia and California. It's a so well made, smart Syrah, delicious with Tuscan sausages.
The Pinot Nero is made is small quantities. It shows ripe brambly fruit with terrific balance of tannin and oak. One of heir boldest experiments is the use of terracotta to age sangiovese. It might struggle to get the DOC rating and eventually be classified IGT, but still it is a sign of a company run the Manetti family who strive for tradition and innovation, and don't see the two as mutually exclusive.
Fontodi is definitely a place any wine lover should seek out when travelling through Chianti, even if you are staying in another town. It's wines are classic, silky smooth and demonstrate rich, voluptuous fruit encased by smart use of oak. They are so well judged and harmonious, that they bring a new expression to modern Chianti and Tuscan winemaking.
You would also do yourself a huge favour by electing to stay at Villa Pecille. The manager Gabrielle is charming, hospitable and makes you feel as if you are a treasured guest in the Fontodi home. Just don't choose the dates I want for my return.
http://www.tenutedipecille.com
http://www.fontodi.com
Further reading on Fontodi and Panzano
http://www.thewanderingpalate.com/wine-route/not-too-late-for-tuscany/
http://www.thewanderingpalate.com/wine-route/tuscan-reveries/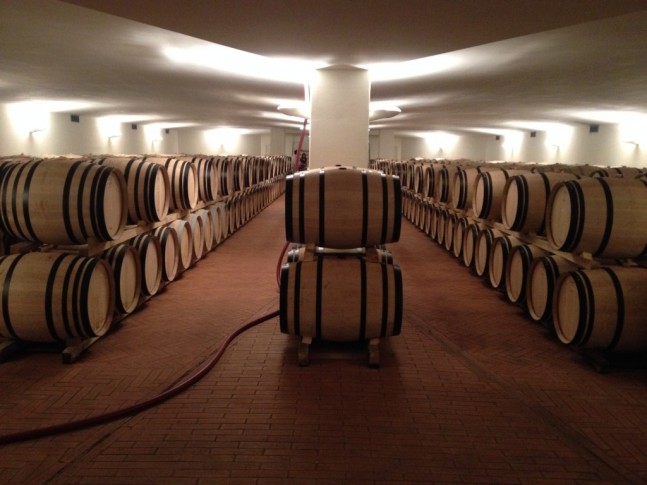 ---