The Sommelier's Palate – Julia Oudill, Sommelier at La Compagnie des Vins Surnaturels, London
---
"I just discovered the wines from Ariana Occhipinti, in Sicily. I tasted the SP68 and il Frappato… I can drink her wines every day." Sommelier Julia Oudill, France
(pronounced suh-mal-'yAy)
In Medieval Provençal times they were saumaliers, animal pack drivers who evolved during Middle French kingdom to become court officials charged with transportation of supplies. So what does a modern day Sommelier actually do? Well, Wikipedia outlines as such, "A sommelier or wine steward is a trained and knowledgeable wine professional, normally working in fine restaurants who specializes in all aspects of wine service as well as wine and food matching. The most important work of a sommelier is in the areas of wine procurement, wine storage, wine cellar rotation, and expert service to wine consumers."
A reasonably accurate job description although perhaps a little parched as our new-age sommelier has evolved to a higher learning with a wine Jedi cognizance and a seventh sense that can psychoanalyse a diner, marry the person, the dish and the wine in seconds. They are now the gateway to wine discovery equipped with clairvoyance in food and wine trends, inspiring thirst around the world.
Feared by winemakers, loathed by wine distributors as the arbiters' of wine lists, the restaurant patron should embrace their knowledge, skills and talent as they are hopelessly and passionately obsessed with wine and will take you on journey of gastronomic enlightenment. And our new-age sommelier is no longer confined to fine dining and can be found in casual eateries, wine bars, gastro-pubs, winery restaurants, wine stores and you'll even bump into an air-sommelier at 30,000ft these days. Some have hung up their waiters-friend and metamorphosed to the wine trade as brand ambassadors, distributors or consultants, but once a sommelier, always a sommelier.
This column explores the gustatory and olfactory manifestations of sommeliers all over this planet. We take a cross section of the sommelier's stomach and intestines to reveal what and where they eat. And we dissect their taste buds and dopamine receptors as they relent to the Wandering Palate narcosynthesis and confess to their personal vinous pleasures and closely-held secrets – this is The Sommelier's Palate.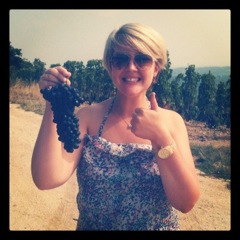 Julia Oudill, France
Where do you currently practice your sommelier skills (restaurant, hotel, consulting etc)?
I lead the wine team in La Compagnie des Vins Surnaturels, a wine bar that just opened a month ago in Covent Graden, London. I am also in charge of the wine selection for my father's restaurant "La Villa Ilbarritz" in the seaside town of Biarritz, in the Basque country.
Where have you dined recently (restaurant) that impressed you?
I had an amazing diner in Martin Berasategui's restaurant a few weeks ago. We had a bottle of Champagne Billecart Salmon 2004 vintage in the middle of the kitchen while 70 people were running around us. I was with Martin Berasategui himself, my father and my brother, the most unforgettable memory of my life. The service, the meal, the moment were absolutely perfect, so was the wine list…
Where have you dined (restaurant, wine bar) that you were mightily impressed with the wine list and service?
I have been in a wine bar in East London called Sager & Wilde, it was small and cosy and then came the wine list… short but precise, with excellent value for money. Some rare wines, French, Italian and Spanish. The team was attentive but not pushy. An excellent moment.
Where is the most memorable restaurant meal you have had?
One day, a few years ago, I had just begun working in Paris, two of my great friends and I decided at 8pm to go to have a proper diner…at The Bristol. An unexpected moment for an unforgettable meal.
Do you have a favourite regular restaurant?
Every time I go to visit my family, I book a table at Ostalamer, a fabulous restaurant in Acotz, with a wonderful view on the ocean, fresh and tasty fish and a great selection of regional wines.
Do you cook at home and is there a dish you have perfected?
I am becoming kind of a master at stuffed zucchini. But I do not get the chance to cook at home so often now.
Do you have a favourite wine bar?
I discovered a wonderful wine bar in Paris, called "Les Rouquins". A very intimate place in the 14th arrondissement. The wine list is only made of wines from Languedoc Roussillon and a few Beaujolais. The food is always focused on high quality products. The owners are 3 guys totally crazy about wine, maybe just crazy in fact…
Do you have a favourite wine merchant?
Being a sommelier, I don't really buy wine in a wine shop. I buy it directly from the domaines. But I would say La cave de la grande épicerie de Paris for the amazing selection and for the reasonable prices.
What wine are you drinking at the moment?
I just discovered the wines from Ariana Occhipinti, in Sicily. I tasted the SP68 and il Frappato… I can drink her wines every day.
Is there a wine that totally moved you – like no other wine – a revelation and motivation for you to pursue you wine obsession?
Coming from the south west of France, I was more familiar with structured and oaky wines. The first time I tried a pinot noir was unsettling for me. But the wine that really moved me was a Musigny Grand Cru 2000 from Jacques Prieur drank in 2010. I would never have known that a pinot noir could show such complexity, such strength. It was smooth, still incredibly young, some cherry jam notes kissing cacao hints and oriental spices. And I thought how can we get a wine so smooth and deep with so delicate a grape? Then began the obsession.
What's your latest wine discovery – new region, variety or style?
For my last birthday, a very good friend of mine made me discover as a blind taste, a wine from Montlouis sur Loire, by Stephane Cossais cuvée Volagré 2007. The nose was pure and typical but the mouth made me say WOW! Now that's a chenin. I thought it was a famous domaine in Saumur, on an amazing terroir. The producer has unfortunately passed away, so if you can get your hands on some bottles… keep them preciously.
Tell us what is your ultimate wine bargain discovery in terms of price/quality rapport? (i.e. does not have to be cheap but over-delivers in quality for the price)
A small domaine in the Loire Vallée, named "Clos Saint Fiacre" from the Orleans appellation. Bénédicte et Hubert Piel make amongst others an amazing white wine made only of chardonnay, oak aged: L'excellence. A very small production these past years, but a perfect balance between freshness, volume, roundness, mixing pears, white peach and citrus aromas with this tiny hint of toast. The name of the cuvée reflects perfectly what I think about the wine!
Tell us about an inspirational wine and food pairing that has you have experienced recently. 
With the new opening of the wine bar, I tried new pairings every day, the one that really inspired me was the combination of crispy baby squid, lime and paprika served with a wine from Hungary "Estate" 2011, made of Furmint from I.Szepsy.
What is the most enthralling wine region you have been to in terms of dramatic scenery, inspiring vineyards and good eating?
I went to Australia few years ago, in the Victoria region. It was the most beautiful vineyard I've ever seen. It was surrounded by desert, threatened by kangaroos, the cellars have to be buried deep into the ground to protect them from the sun and the high temperatures, but they are still able to create incredibly fresh and well balanced wines…
Select a six pack of wines that you think are absolutely outstanding and inspirational, and that will set people on a journey of vinous discovery and enlightenment.
Irouleguy, domaine Arretxea, "Hegoxuri" 2010
Cotes de Bourg, Roc de Cambes 2004
Priorat, Clos Mogador 2009
Alsace Grand Cru Schlossberg, Domaine Albert Mann 2008
Barbaresco, Domaine Sottimano "Pajore" 2009
VDP de L'herault, Domaine de la Grange des Pères 2007
---