Bordeaux or bust
---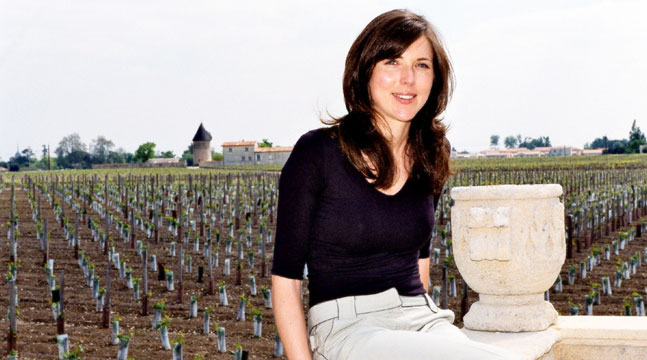 The 2005 vintage is being hailed as among best of the past century but there is always plenty of spin involved.
Wine merchants throughout the world are ubiquitously fixated with en premeur sales of 2005 Bordeaux, blamelessly riding the wave of a frenzied market chasing a dream vintage. The Bordelaise propensity to embellish necessitates some recalibration after the vintage has sold out, the adage being "the finest Bordeaux vintage appears to be the one that Chateau owners and merchants are currently selling or have the most of in their cellars."
In fairness, this is all congruous with the commercialism of Bordeaux, the reality being that a vast amount is purchased for investment or satiating obsessed wine collectors and label-conscious nouveau riche rather than pure drinking pleasure. Besides, the Bordelaise are no more guilty of propaganda than the rest of the winemaking world, jostling in a saturated and highly competitive global market. But the Bordelaise are indeed grinning, as such a phenomenal vintage could not have come at a more opportune time.
The earnest wine press are supposedly non-partisan auditors of this rhetoric. Yet the commentary is increasingly blurred by personal prejudices, some with an axe to grind, as witnesses by certain critics recent transatlantic banter and polarisation on what actually epitomizes Bordeaux. Fund managers and stockbrokers refer to such information and conjecture overload as "too much noise."
However, in a rare synchronism, wine writers, critics, experts, chateau owners and the Bordeaux merchants all agree (well, most) that 2005 is a vintage of unrivalled greatness, with voluminous super-ripe tannins, unprecedented levels of alcohol and unbridled dry extract endowing an almost immortal longevity in the top ranks. The Bordeaux vintage clairvoyants are suggesting similarities to 1928 or 1947, although such hypothesizing is rather banal vernacular.
But oh the prices! The relatively expensive 2003s look superficially palpable compared to 2005 prices, adding weight to the argument that chateau and Bordeaux merchants have been steadily increasing prices over the past decade, in effect reducing the investment gains of purchasing en premeur.
A case of 12 bottles of 2005 Chateau Lafite Rothschild will set you back HK$61,860 (HK$5,515 per bottle), ex- London through Berry Bros & Rudd. In reality, it would be HK$11,000 per bottle by the time you pay 80 percent Hong Kong import tax and freight.
By comparison, and to emphasize the point, you can effortlessly procure the monumental 1986 Chateau Lafite Rothschild for about the same money; a sublime, hedonistic claret scored a perfect 100 points by you know who, should that press your button.
If financial return is the impetus, I urge you to be circumspect, and at the least seek advice from wine investment experts such as BDXV who are based in Bordeaux and also have offices in Asia www.bdxv.com
Doubtless, I am not alone in the sobering thought that I shall not be able to afford any of the top 2005 classified growths or equivalents on the right- bank. However, savvy buyers will seek out wines below the reverent first and second growths and will also avoid preoccupation with scores above 95 points, certain to attract a price premium.
In a vintage of such uniform quality (although the idiosyncrasies of each commune will, in time, no doubt reveal a far more intricate picture), there will be some attractive buying in the lower Cru Classe ranks and Cru Bourgeois. Likewise, Bordeaux satellite appellations – such as Cotes de Castillon, Lalande-de-Pomerol, Fronsac, Canon- Fronsac and further south to Bergerac (which have a tendency to taste twice the wine when holidaying in the south west of France or Dordogne) – should be more substantial and provide much pleasure and value.
The even more astute buyer will avoid the stampede altogether and seize upon the opportunity to acquire less- lauded years such as 2001, 2002 and 2004 at reduced prices, with merchants willingly wanting to clear stocks.
A pertinent example of this is the 2001 Chateau La Lagune, which I enjoyed immensely at a recent wine dinner in Singapore. It was opulently perfumed; quite plummy with earthy gravel and clay notes. The palate was soft with a seamless silkiness, plush and suggestive of black cherry and blueberry, already developing some cedar and forest floor earthy complexities, tailing off with a touch of liquorice and thoroughly drinkable now (HK$252 per bottle, Fine & Rare Wines, ex-London. www.frw.co.uk. It is also available in Singapore at Booze Wine Shop for SGD$78 Tel: 6532 6700 email: jay.soh@booze.com.sg website: www.booze.com.sg
Chateau La Lagune has built a solid reputation over many years for honest, reliable claret. As a drinking buddy of mine recounts "One of my old warhorses". Peculiarly, it is atypical Bordeaux, characterized by Burgundian nuances in bouquet and flavors, which is probably why many of us like it so much.
There is, however, consensus that Chateau La Lagune went off the boil during the 1990s, perhaps due to the previous owner Georges Brunet, who acquired it in 1958, shifting his focus. Brunet eventually sold Chateau La Lagune to finance more vineyard property in Provence. To his credit, he did invest vast sums in replanting the entire chateau and modernising the winery.
There is a subsequent renaissance taking place with Jean-Jacques Frey having  purchased  Chateau La Lagune  in  1999.  His daughter,  27-year-old Caroline Frey, is now the virtuoso and one of Bordeaux's youngest and talented oenologists and winemakers. Frey is armed with a degree and honored laureate from the Institute of Oenology at the University of Bordeaux. Whilst presiding over a third Growth, she has the poise and elegance of a first Growth.
She opines that 2001 is her most favored wine at the moment, although I sensed a little bias as it was the year she started at the chateau. She pointed out that 2004 would be the first wine she has had complete control over, reportedly a wine of equal substance and merit to 2005, but half the price (2004 HK$207 per bottle, Fine & Rare Wines, ex-London; 2005 HK$405 per bottle, Berry Bros and Rudd, ex-London. www.bbr.com.hk
Of the other wines at the dinner, the 2003 was exuberant, as you would expect from this vintage. Lavished with 100 percent new oak to soak up the ample grape tannins and extract, there is charcoal and mocha toasty oak characters among evocative blueberry sweetness, turning meaty and earthy with distinct black pepper spiciness (pepper spice is something I do not normally associate with Bordeaux).
The broad palate also shows oak influence with burnt-wood smokiness among intense blackberry and blood plum compote, enveloped in mouth-coating, powdery tannins finishing earthy and savory with hints liquorice and dark chocolate. It may be unorthodox claret, but I am totally seduced by this vinous temptress (HK$233 per bottle, Farr Vintners, ex- London. www.farr-vintners.com).
Clearly, Chateau La Lagune is back in form and one to watch, with an emphasis on excellent price-quality rapport. It has always been a blessed terroir (the southernmost classified growth of the Medoc, ranked third in the 1885 Classification) with its textbook north- south orientation on a gravel rise, often cited as one of the most perfect examples in all Medoc.
Considering the succession of ripe, if not prodigal vintages, are we witnessing the effects of global warming and a perennial climatic change in the Bordeaux region? Will 2006 or successive vintages be equally profound as 2005 creating an abundance or oversupply of "dream vintages"?
Europe experienced oppressive summer heat waves again this year. Last week, on the eve of the Bordeaux vintage, I asked Caroline Frey to briefly describe the 2006-growing season at Chateau La Lagune, which she details as follows.
"During July temperatures were higher than the average, but heat wave doesn't mean dryness with rain in July also higher than the normal average.
August was cool and cloudy but not as rainy as July, so the ripening was very slow during this period. To be honest at the end of August we were a little bit worried about the weather. To achieve the ripeness of the grapes the sun was really crucial and luckily, the sun came! The sugar concentration in the berry then increased very fast and polyphenols maturity has also been good, although slower."
Polyphenols are the organic compounds crucial to the chemical structure of red wines and are also known to have antioxidant characteristics with potential health benefits. Incidentally, the highest percentages of polyphenols are found in grape skins.
"The tasting of the berry is very important at this stage, even though the alcoholic degree was already good, the polyphenols and aromas were not ready. Today the ripeness of the merlot is almost achieved; good degrees (of potential alcohol) in some plots, in fact higher than last year. Tannins and anthocyanes are well presented as is good acidity".
Anthocyanins are also polyphenolic compounds in the form of red, blue and black pigments giving 'red wine' its colour.
"We have to wait for the Cabernet Sauvignon even though it already tasted good, however the Petit Verdot are still quite acidic.
Overall, the crop is healthy and perhaps more delicate than last year. At La Lagune, we are going to begin the harvest tomorrow morning the young Merlot. The weather is a little bit unstable. I hope the sun is going to stay with us!"
---