Life & Style Magazine: Personality of the Week
---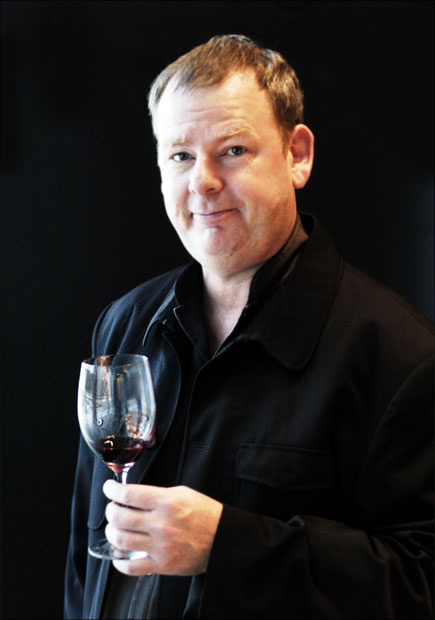 Curtis Marsh featured as "Personality of the Week" on Life & Style Magazine.
Curtis Marsh is one of the most assiduous and erudite, truly independent wine writers, commentators and presenters in Asia. With nearly 30 years experience in the hospitality, wine and media industries, he has travelled extensively throughout the vineyard regions of the world and the Asia region, with food, travel and culture featuring equally in his commentary.
Curtis has worked with many Asia-based publications and currently has columns in Asia Sentinel, Thomson Reuters Lifestyle section, along with his own popular website The Wandering Palate, attracting a readership spanning 44 countries. Having lived in Hong Kong for five years, and now based in Singapore for the last four years with his wife Lee Leng and six-year-old daughter Hayley, Curtis is firmly entrenched in Asia.
L&S: How did you become interested in the wine industry to begin with?
CM: Like many things in life, it was succession of circumstances. I returned to college as an adult student trying to further my Army career and was moonlighting at a Wellington Hotel as a waiter to pay for it.
Unbeknown to me, New Zealand's doyen of the restaurant industry came to dine every Sunday evening with his mother-in-law, as it was her favourite restaurant. He and I got on very well and one evening revealed he owned Lavelle's restaurant, considered the best in the country at the time, and offered me a position as his sommelier. Putting this in to perspective sommeliers were non-existent in the 1980s in New Zealand, so it was a steep learning curve for all of us, but it was indeed good fortune that I had such a brilliant mentor.
I was equally fortunate to have another great mentor when I moved to Melbourne and worked with Australia's restaurant doyen, Herman Schneider, at Two Faces and had the most comprehensive cellar in the country to manage.
L&S: What skills set a talented sommelier apart from the rest?
CM: Ironically, I think wine knowledge comes a distant third behind firstly, a "sixth sense" and secondly, the combination of personality, charisma and social skills. A talented sommelier, or any waiter for that matter, has to be able to read the situation and guests needs rather than dictate, which requires a genuine interest and understanding of people. How you treat guests and your social skills will ultimately 'make or break' and evening, no matter how good the food or wine is. Wine knowledge is something you acquire over a lifetime and you never stop learning.
L&S: Any progressive vineyards we should take note of?
CM: Well, there's probably about a shortlist of 1000! There is so much good wine being made around the world now. Personally, I feel artisan producers who are adopting organic and biodynamic viticulture are progressive. Some favourites around the vinous globe are:
Jasper Hill – Heathcote, Australia
Gembrook Hill – Yarra Valley, Australia
Peccavi – Margaret River, Australia
Sugarloaf Ridge – Tasmania, Australia
Quartz Reef – Central Otago, New Zealand
Felton Road – Central Otago, New Zealand
Two Paddocks – Central Otago, New Zealand
Seresin – Marlborough, New Zealand
Neudorf – Nelson, New Zealand
Littorai – Sonoma Coast, USA
Calera – Sonoma Coast, USA
Ridge Vineyards – Sonoma County, USA
Weingut Wittman – Rheinhessen, Germany
Weingut Georg Breuer – Rheingau, Germany
Unhof Salmon – Krems, Austria
Kracher – Burgenland, Austria
Fontodi – Chianti, Tuscany, Italy
Felsina – Chianti, Tuscany, Italy
Forteto di Luja – Piedmonte, Italy
Chateau La Lagune – Bordeaux, France
Pierre Clavel – Coteaux du Languedoc, France
Eban Sadie – Swartland, South Africa
I could go on, and on…
L&S: What are your thoughts on current wine market trends in South East Asia?
CM: It's exciting! The thirst for wine knowledge almost outweighs the thirst for wine itself in South East Asia. Obviously the market is still evolving and in some ways, much of South East Asia has a blank canvas in terms of wine tastes and consumption, and perhaps less of the rules or intimidating nature of wine that the western world has endured over time.
Matching wines with the myriad of cuisines is even more exciting, indeed intriguing, to which I am constantly asked, "Does wine match with Asian food", and reply, "Absolutely! Show me a wine and I will show you a spice nuance within it". The journey of discovery is the key to consumers shaping the market trends in South East Asia and hopefully, an open mind and palate that develops beyond red wine and status influenced trophy wines. The market is also very complex between the different countries, cultures, climates, cuisines, taxes, and generalizations on the region as a whole should be avoided however, clearly wine is becoming more and more a part of daily life throughout South East Asia.
L&S: Some factors a novice buyer should bear in mind when selecting a decent bottle:
CM: Price is not everything, or does not guarantee satisfaction. Seriously expensive, Bordeaux is tannic when young and hardly enjoyable. Consider what wines or styles/flavours you personally like and then experiment from there, upgrading your spend and widening your horizons as you go. Build a relationship with your wine merchant or sommelier so they can help guide you in the process. If you are spending relatively high dollars on a "decent bottle", make sure the wine has come from a good provenance. It is imperative that the wine has been transported and stored appropriately, which is a big problem in Asia.
L&S: What is the furthest you've travelled for a good glass of vino?
CM: Given that I live right on the equator, it is always a fair hike to wine producing regions, where invariably my best experiences and memories of wine transpire. And the furthest point I have travelled to satisfy my craving and obsession for pinot noir is Central Otago, the most southern vineyard region in the world in the deep south of New Zealand. It's a 10 hour flight from Singapore to Christchurch, and another two hours to Queenstown… and a good hour by the time I am sitting on the veranda atFelton Road winery, equally captivated by the dramatic view of snow-capped mountains and the bouquet of their Block 5 Pinot Noir. Nirvana!
L&S: Your personal favourites at the moment?
CM: Actually, it's chardonnay at present; I'm on a chardonnay crusade! If you recall the 1990s acronym 'ABC – Anything but Chardonnay', well I have re-coined this, "Another Brilliant Chardonnay".
Subsequently, my personal favourite in terms of chardonnay right now is Dalwhinnie 2006 Chardonnay, from the Pyrenees in Victoria high-country, Australia. Equally, Bindi Quartz Chardonnay Neudorf 2007 Chardonnay from Nelson, New Zealand has also got my palate salivating. And just the other day, possibly the best, most ethereal, mineral infused Chablis AC I have ever had, from Domaine Billaud-Simon 2008 was sublime. from the Macedon Ranges, again in Victoria, Australia.
For reds, I simply cannot get enough pinot noir and my current favourite is Bald Hills Pinot Noir 2007from Central Otago, New Zealand.
That said, I have a "Wandering Palate" and the most enjoyable wines for me are new discoveries, something I have not tried before or a new vintage is my vinous stimulus. Also, a ground-breaking innovation in wine preservation from an Australian company called Winesave –has transformed my wine consumption, and I have something like 30 wines opened at any one time at home to chose from, all perfectly sealed and will keep for months – It's like having your own wine bar at home!
L&S: A memorable wine experience:
CM: Hmm, there's so many… but perhaps the most indelible is a week in Tuscany with friends on a vineyard-farm holiday at Villa Picelle on the Fontodi Estate in the tiny village of Panzano. This is the quintessential vineyard villa stay and the Manetti family are wonderful hosts. The villa is right in the middle of their main vineyard with sweeping views of olive groves and vines. You are in the heart of Chianti Classico here and their property is run on organic principals, making some of the finest Chianti. Indeed I would place their Vigna del Sorbo Chianti Classico Riserva and Flaccionello della Pieve as some of the best red wines I have enjoyed – period.
Curtis Marsh will be leading a highly anticipated champagne appreciation session at the Veuve Clicquot Sun Tent for the upcoming Singapore Sun Festival 2010.
This article was publish in Life & Style. All Rights Reserved.
---