Chef Luke Mangan drops in to Singapore for lunch
---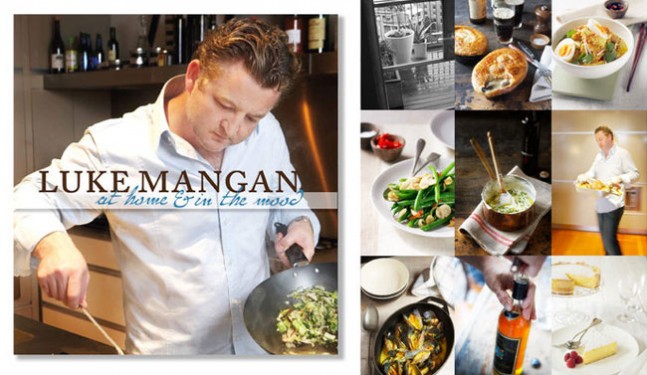 The Wandering Palate shouts celebrity Chef, Luke Mangan lunch at the Adam Park Food Court, total bill S$21.
Where do you go when one of world's most celebrated chef's drops in to Singapore and says, "Let's have lunch"!  Take him to a hawker stall of course, for some wholesome local food.
And that's precisely what we did, heading to my local, The Adam Park Food Court, and my favourite roti-prata stall.
Mangan was delighted with the choice of venue as he enjoys roti canai as much as I do however my prata man had gone AWOL, although his team were dishing out what looked to be a very good chicken biryani, so we got stuck in to that.
That said, the savvy stall holder next door at 'Adam's Delights' picked up on the thread of the conversation, or lack of roti as it were, and came over to the table to present us with his house speciality, roti with chicken, onion and melted cheese, which looked as impressive as it sounded, so we ordered some immediately.
It turned out to be very tasty, more so dipped in mutton curry. So, the whole meal cost me $21, including teh tarik and juices. I told Mangan he could return the hospitality next time he's in town and take me to Tetsuya Wakuda's Waku Ghin!
Actually, we will see a lot more of Mangan in Singapore as he has just opened his new restaurant here, Salt grill and Sky bar, on the 55th and 56th floor of ION on Orchard. It is an extraordinary if not dramatic space with stunning 360 view of Singapore, if you take in the viewing deck that continues on from the Sky bar. Indeed, the fifty foot floor to (glass) ceiling expanse reaches out to the sky, with passing clouds at eye-level and somewhat electrifying displays of lightening storms, certainly gives credence to the 'Sky bars' livery.
And if that's not enough to reinforce the theme, the sommelier of Salt grill and Sky bar, Julian Low, is a ex-veteran Singapore Airlines Air Sommelier, and although more used to serving up wine at 30,000 ft he says the view is not dissimilar! Julian's impeccable SIA service standards and genuine, warm hospitality will most certainly bring a refreshing diversity to sommelier standards here (on the ground) although we will have to stop him going around the tables telling guests to "fasten their seatbelts".
Salt grill and Sky bar Singapore joins Salt grill and World Wine Bar Tokyo, and the three Salt grills on the P&O Cruise ships Pacific Jewel, Pacific Dawn and Pacific Pearl, and without giving too much away, Mangan says is part of a planned steady expansion program in Asia. Interesting he chose Singapore as his preferred location after Tokyo, read in to that what you may.
His mission, as he puts it, is to champion Australian produce and wine, which includes New Zealand (maybe as a Chef, Mangan sees no strict borders in terms of the remoteness of terra australis), and his unrelenting quest to promote the Antipodean ideology is reflected in his wholesome, no-fuss cuisine (no foam!) that focuses on the best, freshest and wherever possible, organic ingredients as the genesis of all his menus and dishes.
Like many Australian chefs, he is classically (French) trained however, his style and whole approach to food spans many cuisines and cultures, particularly Asian in a more general sense, and falls in to a what is now known as "Australian Free-Style", resonating both the multi-cultural and laid back Australian populace.
My rendezvous with Mangan is actually more than coincidental and a continuing interview for an article that has been in the wings for a while. On his last visit to Singapore he and I discussed his trajectory of becoming a globally respected chef and entrepreneur-restaurateur, and also covered his latest TV series called 'Appetizing Adventures' which screened in the USA and Asia from late 2008; more on all this shortly with the said article posted on the Wandering Palate website.
However, the main purpose of this prose is to announce the Wandering Palate 'Cook Book of the Year', which is actually a double-act from Luke Mangan: "The Making of a Chef" and "At Home and in the Mood", both books published by New Holland.
In summary these two quite different books come highly-recommended as the perfect Christmas gift for gourmands and aspiring chefs. I say 'aspiring chefs' as 'The Making of a Chef' is a largely an autobiographical account of Mangan's gruelling mental, physical and culinary journey from apprentice to a head chef, businessman and celebrity that will be sobering reading for anyone intoxicated with the glamour of being a chef.
Indeed, I would suggest this is mandatory reading for the aspiring youth of today who are considering a culinary career path and might think twice before leaving high school or university prematurely in the hope that the hospitality industry is their calling.
First released in Australia in 2009, 'At Home and in the Mood' is one of those perfectly timed publications that is totally in sync with the times and trends, and, the 'mood' of the day was (still is) certainly puritanical in the after affects of the financial crisis with 'fine dining' taking a serious hit and the trend most definitely towards casual eating, and more significantly, entertaining at home.
It takes a certain degree of confidence when a chef/restaurateur encourages you to eat at home, that is don't come to my restaurant, it's more fun to cook and entertain other at home, moreover affordable. Of course, it is actually reverse psychology as the confidence and inspiration that Mangan installs in the home chef is foremost on one's mind when you're not in 'the mood' to cook yourself, and head directly to one of Mangan's restaurants.
Simple recipes, constructive advice and menu planning, yet tantalizing dishes appropriate to the occasion and time of the day (mood) make this book an invaluable tool and resource for both the untrained, aspiring gourmand to the accomplish cook alike. Above all, it is one of those cook books that is actually useful (rather than just glossy) and approaches the subject practically and within the realms of realistic cooking at home. I might add the photography by Dean Cambray www.deancambray.com.au, an accomplished (retired) chef himself, is stunning.
Both books are available at www.lukemangan.com and all good bookstores.
---