Restaurant review: Highfield TerraVin Vineyard Restaurant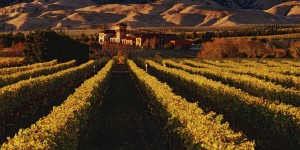 The view, the hospitality and the food – TerraVin Vineyard Restaurant is one not to be missed, writes Toni Gillan.
Immediately over the bridge, turn left and then left again up the hill and there it is. The Highfield Tuscan-inspired winery and tower stands tall on Brookby Ridge with its famous commanding 360-degree views across the Wairau Valley.
Established back in the day around 1989, with various progressive owners, Highfield winery joined forces with TerraVin in July 2015. The company is now collaboratively called Highfield TerraVin with winemakers Alistair Soper (Highfield) and Gordon Ritchie (TerraVin) along with marketing/managing director, Pete Coldwell each holding a stake in the company. Each winemaker continues to makes their own label wines with both brands sold at Highfield's cellar door tasting room, which in tandem seamlessly gels with TerraVin vineyard restaurant.
DAVID JAMES/FAIRFAX NZ
Wonderful food, wonderful wine and wonderful views.
When discussing TerraVin restaurant people talk about Stephanie Armstrong, the owner, as much they do about the delicious food cooked by chef David Haase. The two have joined forces and are working to perfect all the essential elements you would expect from a fine vineyard dining experience.
Inside or out, every time I go to Highfield TerraVin Stephanie is working the floor. Passionate and personable, she meets and greets, takes orders flitting constantly between tables. A people person, nothing fazes her, with her ready humour she and her team strive to deliver absolute service and a memorable experience.
Stephanie grew up in Paris and trained there as a hairdresser. She "fell into hospitality" by chance, embracing it to progress her career in Paris (Chez Garette no less) and then London.
DAVID JAMES/FAIRFAX NZ
Stephanie Armstrong is a welcoming host.
After moving to New Zealand with her Kiwi husband and then while juggling family life with the birth of her daughters, Stephanie kept her hand in the game, and when the opportunity to run her own restaurant came up in spring 2015 she seized it wholeheartedly.
"I love Mediterranean food. Marlborough has a special climate to grow great produce. Inside we have a fire when it's cooler but really when the leaves fall, you can still sit outside on the terrace and admire the ever-changing seasonal views. Those days are often warm and still," she says with her infectious enthusiasm.
I'd heard about her chef's respect for ingredients. Born in Germany, David Haase trained and was soon working in Michelin-starred restaurants. But he felt the country was getting crowded so after holidaying in New Zealand in 2007 with his partner he answered an ad to work a season at Hans Herzog. The couple loved Marlborough and moved back here permanently, both working in hospitality.
Read full article… http://www.stuff.co.nz/life-style/food-wine/90302028/restaurant-review-highfield-terravin-vineyard-restaurant