The Wandering Palate Gone Fishing
---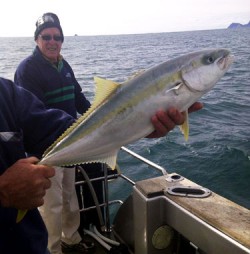 Here we are in Ohope Beach, North Island, New Zealand, about 8 nautical miles of the coast. I have chartered a fishing boat to have a mornings fishing with my dad (in the background) and daughter Hayley.
Yours truly has just reeled in a King Fish which took about 15 minutes and quite a battle. Despite the excitement of catching such a sporting fish we threw him back as a little small for his class.
Hoping for better luck on the eating front, only one small Snapper so far.
---