The Sommelier's Palate – The Articulate Sommelier, Athila Roos, The Arts Club in Dover Street, Mayfair, London
---
"I'm going through another loving season with the Rhone valley. Cornas in particular have impressed me and the whites from St. Joseph are wonderful." Athila Roos, Sommelier The Arts Club in Dover Street, London

(pronounced suh-mal-'yAy)
In Medieval Provençal times they were saumaliers, animal pack drivers who evolved during Middle French kingdom to become court officials charged with transportation of supplies. So what does a modern day Sommelier actually do? Well, Wikipedia outlines as such, "A sommelier or wine steward is a trained and knowledgeable wine professional, normally working in fine restaurants who specializes in all aspects of wine service as well as wine and food matching. The most important work of a sommelier is in the areas of wine procurement, wine storage, wine cellar rotation, and expert service to wine consumers."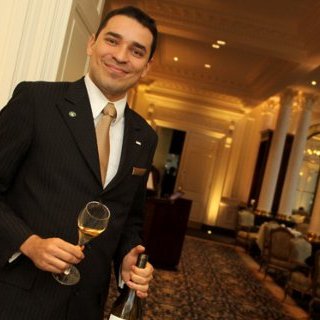 A reasonably accurate job description although perhaps a little parched as our new-age sommelier has evolved to a higher learning with a wine Jedi cognizance and a seventh sense that can psychoanalyse a diner, marry the person, the dish and the wine in seconds. They are now the gateway to wine discovery equipped with clairvoyance in food and wine trends, inspiring thirst around the world.
Feared by winemakers, loathed by wine distributors as the arbiters' of wine lists, the restaurant patron should embrace their knowledge, skills and talent as they are hopelessly and passionately obsessed with wine and will take you on journey of gastronomic enlightenment. And our new-age sommelier is no longer confined to fine dining and can be found in casual eateries, wine bars, gastro-pubs, winery restaurants, wine stores and you'll even bump into an air-sommelier at 30,000ft these days. Some have hung up their waiters-friend and metamorphosed to the wine trade as brand ambassadors, distributors or consultants, but once a sommelier, always a sommelier.
This column explores the gustatory and olfactory manifestations of sommeliers all over this planet. We take a cross section of the sommelier's stomach and intestines to reveal what and where they eat. And we dissect their taste buds and dopamine receptors as they relent to the Wandering Palate narcosynthesis and confess to their personal vinous pleasures and closely-held secrets – this is The Sommelier's Palate.
Athila Roos, Born in Brazil, UK resident for the last 8 years.
Where do you currently practice your sommelier skills (restaurant, hotel, consulting etc)?
The Arts Club in Dover Street, Mayfair, London  www.theartsclub.co.uk
Where have you dined recently (restaurant) that impressed you?
My ex-assistant Head Sommelier, Alex Bonnefoy, left a while ago to open his own place – Casse-Croute. It's a little French bistro in Bermondsey Street. Cosy, inviting and very, VERY French, the place is always packed and the waiting list is growing. I loved their honest and delicious food and can't resist going there even if for some charcuterie or a bit of rillettes and a cheeky glass of cidre from Normandy.
Where have you dined (restaurant, wine bar) that you were mightily impressed with the wine list and service?
Last May I took my wife to celebrate her birthday at Dinner by Heston Blumenthal, at Mandarin Oriental. I know the Head Sommelier (Joao Pires) and I had organized for a bottle of Dom Ruinart Rose '83 to be waiting for us (my wife's vintage). We were looked after extremely well, the staff was attentive and the overall meal was just fantastic.
Where is the most memorable restaurant meal you have had?
Le Fosh, in Reims (Champagne), France. I'm not sure if they had one or two Michelin starts, but the food was simply superb. Classy, elegant, not heavy and at times, mind-bending. I still remember the chocolate & truffle dessert. It was a delicate chocolate cylinder with a light, silky smooth chocolate & whipped cream filling that also had real truffle pieces in it. My mind was joggling between truffle/savoury perfume and decadent chocolate, it was unique.
Do you have a favourite regular restaurant?
I love eating at Roka Restaurant, they have a very versatile and delicious menu combining Japanese cuisine with a western twist. During my last visit I spent a good 4 hours eating and drinking well with my wife and a group of friends, before finishing the night with a good cigar smoke and a glass of Japanese whisky on their cigar terrace.
Do you cook at home and is there a dish you have perfected?
Yes, but not as often as I'd like (sommelier working hours are very unsociable). Hosting long brunches or dinner for friends at least every other month is essential. I have a thing for Terrines and my version of Pork/Pistachio/Apricot is a killer. My friends always rave about it.
Do you have a favourite wine bar?
Not yet. I like exploring so tend to go to different ones every time.
Do you have a favourite wine merchant?
I have a close relationship with quite a few of them and it would be unfair to name only one. Most are now good friends and I believe it's wrong to say "it's not personal, just business". I see my staff more than I see my wife… it is business and it is VERY personal.
What wine are you drinking at the moment?
I'm going through another loving season with the Rhone valley. Cornas in particular have impressed me and the whites from St. Joseph are wonderful. But you always find a bottle of sherry in my fridge (nothing beats a glass of manzanilla to open your appetite).
Is there a wine that totally moved you – like no other wine – a revelation and motivation for you to pursue you wine obsession?
At the beginning of my career in the wine trade I always heard of people talking about wine as if they were possessed by the Holy Spirit, but I had tasted an insane amount of different wines and never had something that was that surreal. One day we were hosting a major tasting at Bibendum offices (where I use to work before becoming a sommelier) and they had hundreds of bottles opened for the trade to taste. There was a room dedicated to Bordeaux and it siblings and there I had my first encounter with a bottle of Sassicaia (1996 to be precise). When I tasted it time stood still and I remember forgetting about everything else around me, at least for the 15 or so seconds I had the wine in my mouth. It was juicy, supple, had a crème de cassis perfume married with plummy and chocolate softness, it was gentle yet weighty. I still refer to it as "my first wine love".
What's your latest wine discovery – new region, variety or style?
I have a love and hate relationship with Champagne. It can be amazing but often it is overpriced and people drink it too young. I like to drink my wine when it is showing its full glory and Champagne is no exception. I've been going through a lot of older vintages lately: last year a bottle of '61 Bollinger RD was so precise and delicate. Now I'm selling lots of 85's and 88's. Dom Ruinart 88' is a bargain for the quality and Krug 88' is literally heavenly. I'm curious about a bottle of Salon 64' we have in our cellars. I'm hoping it will be in perfect condition as I have never had Salon with that much age (opened an 85' not long ago which was just about "starting" to drink).
Tell us what is your ultimate wine bargain discovery in terms of price/quality rapport?
The white wines from Santorini Island in Greece. You'll hardly get something that is not amazing, most wines are mineral, vibrant, fresh and energetic. Bargains that could be compared to Chablis in style, but for half of the price and often better quality.
Tell us about an inspirational wine and food pairing that has you have experienced recently. 
We have recently opened a traditional Japanese counter restaurant on the 2nd floor of the Arts Club and I have done quite a bit of wine & food pairing. Their main speciality is tempura and they use a very light batter, and beautiful ingredients such as enoki mushrooms or snowcrab. I was delighted when discovering that Sherry is the best combination for most dishes and a slightly richer Manzanilla Pasada works like a treat.
What is the most enthralling wine region you have been to in terms of dramatic scenery, inspiring vineyards and good eating?
Catalunya! Priorat mostly for the wines and the moon-like landscape with dark crumbled licorella and incredibly old vines. But most impressive was Costers del Segre. I went to visit Raul Bobet in Castell d'Encus, situated at about 1000m above sea level. His winery sits near the top of a mountain overseen rivers, forest and nearby mountains. There are vats carved in stones dating to the 16th century when monks were the inhabitants (and winemakers!), there's also a small chapel from the same period which Raul uses as his meditation temple. Oh, and the food. The locals that work in the vineyard prepared a stunning selection of tapas: confit chicken tights, ox tongue with manchego, salads and other incredibly delicious delicacies. Local and superb!
Select a six pack of wines that you think are absolutely outstanding and inspirational, and that will set people on a journey of vinous discovery and enlightenment.
Trying to combine affordability and amazing wines it's not always easy, but here's a little selection of some of my favourites that are reasonably affordable (or at least not with stratospheric prices):
Charles Heidsick Blanc de Millenaires 1995 (Champagne) Incredible champagne with decent age and super quality. Finesse and power side by side.
Chablis 1er Cru Vaillons, Daniel Ettiene-Defaix (Burgundy) Daniel ages his 1er crus for 4 years in tank, 2 in bottle, before release. Mineral delight.
Charmes Chambertin "Tres Vielles Vignes", Joseph Roty (Burgundy) Still relatively under the radar this is one of the best red burgundies out there.
Cornas "Billes Noires", Domaine Coulet (Northern Rhone) Dark and peppery this is Red Rhone in full spicy glory.
Planots, Bodegas Cal Pla (Priorat) Made from 100+ year old vines and yields as low as 200-300g per vine, this is one of the smallest production wines I list, and possibly one of the best. Less than 1000 bottles made every year.
Amontillado 30 anos, Bodegas Tradicion (Jerez de la Frontera) A meditation wine, this is full bodied, nutty, spicy, savoury, tangy, woody… it's infinite on the palate and magnificent to have in a sofa with a Cohiba Behike 56.
---