Best Bread in the World – Poilâne, Paris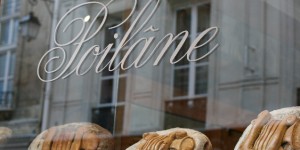 Of course there is no such thing as 'the' best bread in the world. There's fantastic bread all over the world however, Poilâne is definitely one of the best breads on this planet (along with Dench Bakery, in Melbourne www.denchbakers.com.au) and a must-visit when you are in Paris. And that's exactly what the wandering palate did when holidaying in Paris back in July.
Actually, we were more intent on going for lunch at La Cuisine de Bar, the sandwich bar next door serving Poilâne's bread, with an amazing selection of open-toasted sandwiches. The coffee is good here too, and that's saying something for Paris.