Unconventional wisdom? Spicy crab and red wine
---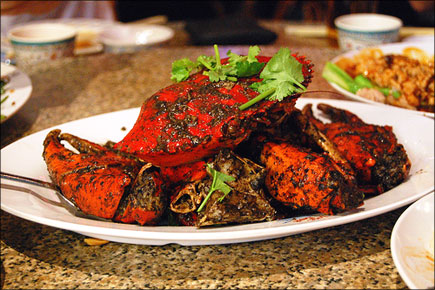 Reuters Life! – When it comes to enjoying wine with bold Asian cuisines there really are no rules – and certainly no room for the traditional notion of whites with seafood and reds with meat.
Show me any wine and I will find an element of spice or herb infused within it. That is my unequivocal reply to the incessantly recurring question I am asked, "Does wine go with Asian food?"
Indeed, most grape varieties intrinsically display a multitude of spice nuances in aroma or flavor, some more than others.
I normally follow this proclamation with a remonstration on using the gross generalization "Asian Food" which I find confounding, if not disrespectful of the multitudes of Asian cuisines and cultures.
In fairness the question is generally directed to spicy Asian food, that is dishes that are have a degree of invigorating heat derived from the capsaicin sting of chili or the persistent warmth and myriad of profound flavors in peppers and Asian spices.
There exists a widely held belief that wine and spicy Asian dishes simply do not match, a perturbing misconception if not bemusing to some of the more wine savvy markets such as Singapore.
To the contrary, with its multi-regional influenced and relatively feisty cuisines – Peranakan, Malay, Thai, Indonesian, Indian, Sri Lankan – Singaporeans are fast-learning that wine brings these cuisines alive, in some instances enhancing the flavors and spices, in others providing refreshing attributes that stimulates the appetite and tempers the pungency.
Alas, it was perplexing to hear some wine experts saying that some foods, such as Singapore's iconic chili or black pepper crab dishes, are simply better enjoyed without wine, and that a cold beer or water would be more thirst-quenching.
Notwithstanding that most of us here have come to realize the capsaicin alkaloid in chili is insoluble in cold water, or beer for that matter, and you are better off drinking warm tea, many of my gourmand friends, both indigenous and expatriate, were flabbergasted by this statement.
It has become a position of national pride to proffer a wine that goes with crab, there being considerable success with gewurztraminers and rieslings with a certain degree of residual sugar, richer Champagne Rose', more robust still rose wines, for example from the Barossa Valley, Spain or South of France, and even fruiter new world pinot noirs served with a chill.
As for the black pepper version, red wines with inherent spiciness and pronounced black pepper go brilliantly, namely the red grape syrah or shiraz, and particularly so if grown in cool-climate regions which lends a crunchiness to the fruit enhanced by steely acidity with fine-grained, earthy, flavored tannins – elegant in framework, yet with an underlying power.
Point in case, a large contingent of top winemakers was gathered in Singapore recently for the Ultimate Parker in Asia event, the million dollar palate here for a three day wine extravaganza hosted by Hermitage Wines.
At the end of the grueling yet immensely successful two days of tasting and master classes, a gaggle of largely New Zealand and Australian winemakers gathered at an alfresco local seafood restaurant for dinner.

As they waded through a procession of seafood dishes and equally prolific line-up of wines, the grand finale was, of course, Singapore pepper crab to which no one blinked an eye to the cool-climate syrah/shiraz they were washing it down with.
In this dry-fried dish, the best Indian Tellicherry black pepper corns, coriander seeds and cardamom, soy and oyster sauce meet cracked hard-shell crab claws and legs in a searing hot wok, infusing a smokiness and spiciness – it's sort of like eating a BBQ porterhouse pepper steak, only the meat is white.
I am still receiving emails from winemakers saying this was the most enjoyable food and wine match they have experienced in a while.
And the archetypical cool-climate syrah' and shiraz' tried and tested on the night were:
– from New Zealand, Trinity Hills – Hawkes Bay; Schubert – Martinborough, Man O'War – Waiheke Island.
– from Australia, Shaw & Smith – Adelaide Hills, Heathcote Estate – Heathcote, Sergio Carlei – Heathcote, Yering Station – Yarra Valley, De Bortoli – Yarra Valley
– from the Northern Rhone, France, Paul Jaboulet Crozes-Hermitage Domaine de Thalabert, Maison Chapoutier Hermitage La Sizeranne.
This article was publish in Reuters Lifestyle. All Rights Reserved.
---