Grab it by the horns
---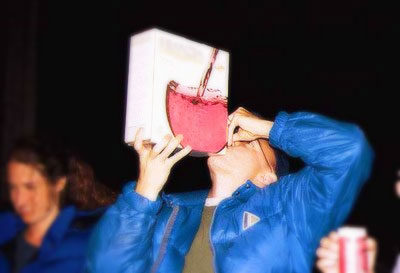 Cheap wines doesn't necessarily mean cheesy in the world of reds.
Internationally relegated to quaffing status, the wine world is finally starting to give grenache the respect it deserves. I doubt that grenache devotees are that concerned. Sometimes it's best not to say anything about a bargain.
Whether you are a serious wine buff or just enjoy the odd glass, there will always be occasions that call for an inexpensive, everyday drinking red.
Perhaps it is a barbeque, casual party, or the impromptu takeaway Indian or Pizza. Maybe you are simply in need a drink after a hard day at the office, however to open anything of pedigree seems hard to justify when a good quaffing red will do the job nicely.
The more you understand about wine and its multitude of styles, the more comfortable you become with choosing it and recognizing value.
So what qualifies as an inexpensive wine in Hong Kong? The consensus among local merchants is between HK$100 to HK$150 per bottle, taking into consideration the prohibitive 80 percent tax on wine in Hong Kong. There may be the odd gem to be found around HK$80, but anything below this is generally of questionable quality.
The price-to-quality ratio will always be subjective. One person's wine is another person's poison. Therefore, I would expect you to be rather skeptical if I told you I have identified an excellent red available in Hong Kong for HK$78 per bottle. Nonetheless, I am confident the majority of red drinkers will appreciate this palpable, robust yet velvety, warming red.
The wine in question is the Torres Sangre de Toro 2003, a blend of 65 percent garnacha (grenache), with the balance cariñena (carignan), from Catalonia, Spain. The 2003 vintage marks the 50th anniversary of the wine with the iconic black bull (Sangre de Toro means bulls blood) that dangles from the neck capsule appropriately changed to gold.

Hong Kong has yet to fully embrace the Spanish wine revolution that has swept the international wine stage in the last five years. It has taken a quarter of a century for the Spanish wine industry to recover from Civil War, 1936-39, and subsequent dictatorship and closed society under General Franco's rein, until his death in 1975.
Long dominated by local cooperatives, compelled to produce cheap Rioja and an insipid red called "clarete", Spanish wine has undergone a complete metamorphosis with a proliferation of independent wine producers making very affordable, attractive modern style reds from a seemingly inexhaustible treasure-chest of indigenous old vines.
Although the Torres family have been cultivating their own vineyards for the past 300 years, it is remarkable that Miguel Torres Carbo had the foresight and determination in the early 1950s to produce his full-bodied red from garnacha and cariñena, now recognized as one of Spain's best wines for value and exported to 130 countries.
"I can still remember him in his old car, traveling along mountainous tracks to reach owners of small vineyards who produced high-quality grapes," says Miguel Torres Jr. "My father always said fine wine is born and raised at home."
I can still remember the first time I ordered Torres Sangre de Toro, some 23 years ago at the Mexican Cantina in Wellington, a bustling spot catering to students and the 'mod squad', serving up huge platters of guacamole nachos and a chili con carne that left you flatulent for days.
Sangre de Toro was ridiculously cheap (as it is now) and the perfect lubricant for a group of impoverished waiters – not to mention the only wine on the list capable of holding its own against such substantial food.
Having followed it since, I have never been disappointed. The 2003 may well be the best I have encountered, perhaps because of the exceedingly warm and dry weather experienced all over Europe that year.
The deep ruby color indicates the wine's ampleness with a voluptuous bouquet of blackberry and blackcurrants, among charred dark- woods, aromas of Mediterranean spices, and a briary, musky whiff from the cariñena. It is a generous, full-bodied wine, plush with sweet blueberries and a velvety soft mid-palate, built around a robust framework of chewy, drying tannins, with lingering spicy, savory, meaty flavors and the tartness of blackberries.
This is humble country wine, unahsamedly so, rounded and expressive of its regional terroir, with a charming, subtle rusticity.
Catalonia is located in the northeast of Spain, bordering France and the Mediterranean coast and well known since the times of the Roman Emperor Augustus for its agreeable wines.
It is a region of two parts, with the mountainous terrain and fertile valleys of the Pyrenees in the north, which stretch west to east with steep cliffs and deep coves where the mountains close in on the coast. The other part is full of vast smooth beaches that stretch out along the south of the region around the Catalan capital Barcelona and beyond the Costa Brava.
The Sangre de Toro 2003 is HK$89 bottle, or HK$78 bottle if logically purchased by the case.
The Torres range of wines is available through the direct importer
Remy Fine Wines
Shop 252, Pacific Place
Tel: 2845 5995
Rare and Fine Wines
L6, Bank of East Asia Building,
10 Des Voeux Road, Central
Tel: 2522 9797
Wellcome Supermarkets
There is so much more to the Torres story that space does not permit. However, it is an imperative for any wine buff to try the Grans Muralles 1998. An exceptional single vineyard with slate soils, situated alongside the medieval walls of the Cistercian monastery of Poblet, it is fascinating blend of ancient Catalan red varieties that is a window to thousand-year traditions. Relatively it is still inexpensive at HK$688 per bottle, and let's not forgot price-quality rapport is subjective.
---