Another brilliant lunch at Carrick Winery, Bannockburn, Central Otago
---
I had lunch at Carrick Winery yesterday (Oct 15th) and can report that they are going from strength to strength with new head chef Gwen Harvie (previously Head Chef at Eicharts for many years) and she has clearly raised the bar with the food and menu. I also sense Carrick's proprietor Steve Green has the place running in top form and the wines and vineyards all on song.
I was joined by Blair Walter (Felton Road) and friends from Melbourne, Matt and Brook along with their gorgeous little girl Zoe (16 months) and who were really impressed on how family-user-friendly the place and the great service, steered by restaurant and cellar door manager, Kali McDonald.
As reviewed previously on the Wandering Palate, Best Winery Restaurant of the Year – Carrick, Bannockburn, Central Otago, New Zealand Carrick Winery restaurant remains one of the best lunch (all day) spots in the country and a must-do if you are visiting the Bannockburn and Cromwell wine region. We sat outside on what was a mild, slightly overcast day, but warm enough fur us to enjoy the alfresco setting and Zoe free-ranged on the lawn and in the vineyard whilst we adults indulged in Otago lamb roasted rump & slow cooked shoulder, baby peas, farro, lemon confit and Slow roasted crispy pork belly, bok choy, garlic, miso & potato, and drank a brilliant 2005 Carrick Riesling (drinking beautifully with honied develepment but still fresh and zingy/lime) and 2002 Carrick Pinot Noir (looking very impressive for 10 years in bottle and quite a rich and intense wine from what was a very ripe vintage, wonderful secondary complexities and perfect with the lamb).
Its worth the visit alone to enjoy the older vintage offerings from Carricks cellars, equally the current vintage, 2012 Carrick Pinot Noir looked very good, a fresh, vibrant fruit vintage with a wonderful pureness and marked acidity.
A perfect lunch and most enjoyable day. Bravo! Encore!!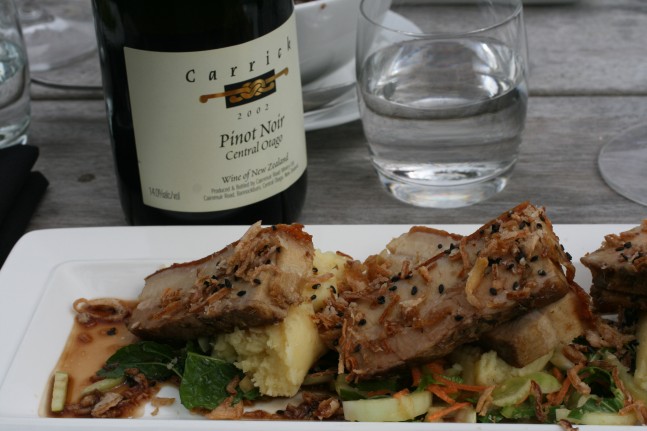 ---