In a Fishy Mood – Wright Brothers Soho Oyster House & Duchy Oyster Farm Cornwall (England, June 6th)
---
With the fish stock still simmering on the stove, I'm in a right fishy mood. And we must have been on the evening of June 6th as well, as we found ourselves at the Wright Brothers Soho Oyster House, 13 Kingly Street, Carnaby, London.
Not only is the location perfect if you are going to the West End theatres, they open Monday to Saturday right through from midday to midnight, and midday to 8pm on Sundays. It does not get any user-friendlier than this for theatre goers, especially for families, like us, who arrived at 5.00pm for an early dinner and out by 7.00pm, not rushed at all, indeed a most relaxed and enjoyable meal.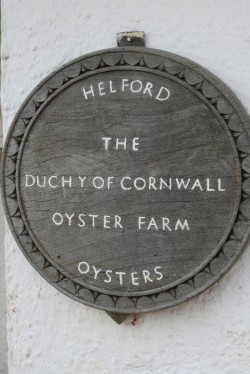 Relatively new on the scene having started in 2002, Te Wright Brothers are oyster and seafood specialists servicing some of London's best restaurants with a growing following and endorsement from top chefs.
They expanded in 2005 opening London's first Oyster and Porter House at the Borough Market, at the same time acquiring the Duchy of Cornwall oyster farm. As it turned out, we actually visited the Duchy oyster farm the following month, on our second sortie to England, staying with friends in South Cornwall.
Actually, our beach house was just around the bay, so we chugged around to the Helford River on a beautiful afternoon in our Pilot Boat, stopping off on the way for a spot of lunch at the Ferry Boat Inn, as you do – also owned by the Wright Brothers, read more on this…
http://www.thewanderingpalate.com/travel/a-proper-job-at-the-fairyboat-inn-helford-passage-cornwall-july-12th/

Our visit to the Duchy oyster farm was quite intriguing and certainly a much smaller operation than I had envisaged. It appears that the lease on the waters of Helford River for oyster growing were in the same family for many generations, however the current generation had no desire to be involved in oyster farming, thus it was bought by Wright Brothers, in a very dilapidated condition and they are slowly building up the beds again.
We purchased our 3 dozen with great delight, straight from the source; you can't get any fresher than that, and they made for an excellent appetizer that evening. It was certainly worth the trip and such a special place, indeed the estuary is effectively a National Marine Reserve with a rich biodiversity of marine life and birds. Visit http://thewrightbrothers.co.uk/index.php/oyster_farm_fishery/helford_river/
Back to Soho, and our pre-theatre dinner started off on the right note with two nicely-chilled glass of Sancerre Blanc, swiftly delivered by a very friendly and alert team of waiters. One already had a feeling of reassurance as the snappy-dressed, young-groovy staff approached everything with a sense of urgency, although it was too early to sense the energy this place would have when full, however you could tell the waiters were geared to full throttle, no matter what time of day.
We sat downstairs, at the bar facing the open kitchen, by choice, as we wanted our seven year-old daughter Hayley to get a good view of the kitchen and the chefs in action. Well, it was hardly action with only a few tables in the place at this stage, but I reckon it's a great spot to sit with high tables making it a little more casual. There are three floors to the place actually with more of a restaurant setting mid-level and banquette seating looking over Kingly Street.
The deep-fried whitebait is a no brainer for youngsters, Hayley woofing them down, whilst we enjoyed a seafood platter of oysters from Colchester and Maldon, along with brown shrimps, razor clams and whelks. These was my first ever whelks, which I won't be in any hurry to try again. No doubt English readers will be bemused I have never tasted them, although perhaps I have, as I am sure we use them for bait in New Zealand, as they are as tough as a Wellington boot moreover not a dissimilar taste to a well-worn gumboot. Other than that, the platter was very good.
Hayley had Fish Pie for main, an enormous serving of wonderfully pink cod and cheesy sauce topped with crusty pastry, perfect. My grilled mackerel with Mediterranean flavours was equally splendid and the consummate dish for the meat eater in a fish restaurant. My wife's plaice was cooked to perfection and we all gorged ourselves on boiled new potatoes dripping in butter, washed down with a glass of Macon Blanc.
This is essentially a casual eatery and yet there is very high standard of food and very friendly service underpinned by a more serious and genuine focus on the very best produce and the freshest fish and seafood sourced from sustainable stocks, largely off small Cornish day boats.
Our meal cost £123.90, inclusive of (£20.66) the Sherriff of Nottingham VAT, which I think is exceptionally good value for three people, considering the quality of the ingredients, ambience and super efficient service moreover, in the heart of the metropolis of London.
Indeed, I'm looking forward to revisiting when next in London, hopefully soon, and I'm OK with a winter visit, the oysters will be all the better. Equally keen to experience the Borough Market outlet, my absolute favourite part of London, and a story coming up on that soon.
More on Wright Brothers at www.wrightbrotherssoho.com
---