Langkawi Rebak Island Resort
---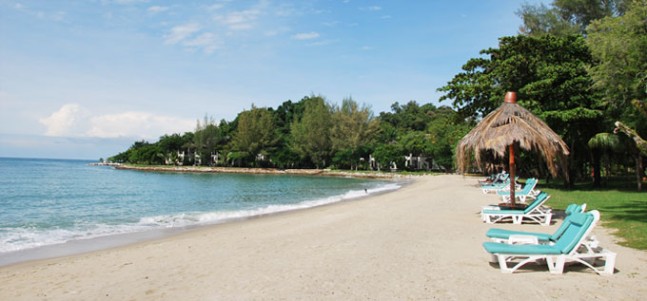 Rebak Island Resort in Langkawi is one of the best romantic vacations I have had in a very long time and this beautiful place is also located on one of the 99 islands that make up Langkawi. The Rebak Island Resort is also managed by the famous TAJ Hotel group on this 390 acre privately owned island here in Langkawi Island, Malaysia. I had the pleasure of visiting this amazing place over one weekend in August 2010 and here is my story.
Firstly, we traveled to Langkawi via AirAsia from Kuala Lumpur and on arrival at the Langkawi International Airport, the Rebak staff were there to greet us and usher us to the resort. I had no clue to what was ahead as I only knew of the Rebak not too long ago. Our friendly driver sent us to the Rebak jetty which was a five minute drive from the airport. There, a speedboat which could seat 20-30 people was ready for departure. After a 15 minute boat ride to Pulau Rebak, we arrived at the Rebak Marina jetty.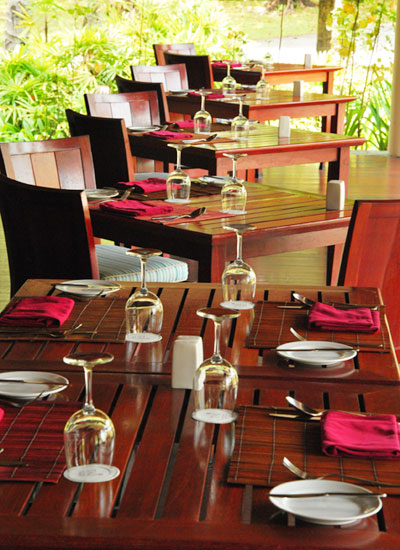 The Rebak Island Resort arrival was perfectly timed as one of the duty managers was there to greet us. After welcoming us and being served a couple of cold towels, I quickly asked her if there was any other resort on this island her instant reply was that the Rebak Island Resort was the only one there. A electric golf buggy was our transport to the main reception which took about 5 minutes from the Rebak Marina.These environmental friendly buggies are used throughout the island and is the only mode of transport. There are no cars or bikes here.
From the main reception building, you could see the sea and also the beautifully landscaped swimming pool of the Rebak Island Resort. A lovely welcome drink was served together with some cold towels while we went through the check in procedure. Immediately after that, it was lunch ready for us at the resort restaurant. For the record, we had such great food that I would have to do an article just on the food. Watch out for this later.
Right after our lunch, I could not hesitate but venture off to the beach for a quick look around and let me just tell you, it did not disappoint at all.  The blue skies dominated the scene while deck chairs were laid out along the main beach of the island here with a lush green backdrop of tropical trees. As I started to photograph this natural beauty, everything began to look even better through my lens view and in my mind, I told myself that I would be spending a lot of time on the beach during my stay here.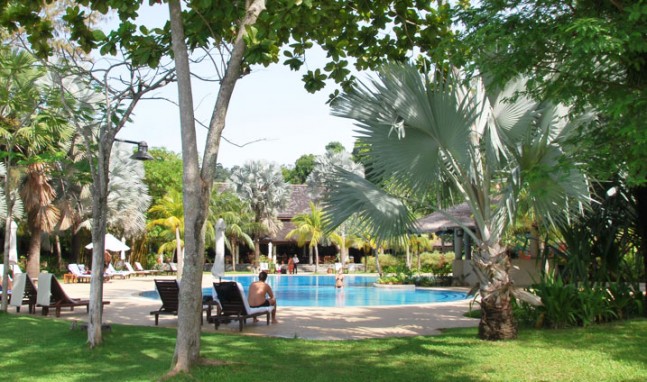 The swimming pool at Rebak is one of those popular places where most of the guest love to hang out. A pool bar is located at one end while the entire pool is of one depth at only five feet deep. A circular child pool connects the main pool while deck chairs are lined up towards the garden area.
As for activities, there are quite a number to participate in. There is Kayaking, Cycling, Archery, Volleyball, Gym, Nature Walks, Birdwatching, Fishing and Monitor Lizard Feeding. These activities are around the main resort while there are other activities that can be arranged to be done outside the resort like water sports, town visit and the general Langkawi tourist site visits. Personally I took part in most of the local activities available in Rebak Island Resort during my stay here. Personally I would recommend you try the Nature Walks and if you are a bird lover, go for some Bird Watching. There are a number of hornbills to be sighted around the resort grounds.
As there is currently one main restaurant called the Senari Restaurant at Rebak, they cater to all your meals from breakfast till supper. Eating here was one really great experience as the head chef was very creative and talented in the local fusion dishes. Apart from the main menu, we were also treated to some of the up and coming dishes which will be introduced to the existing menu. As mentioned earlier, I will be having a separate article about the food at Rebak Island Resort.
The Senari Restaurant at Rebak is tastefully designed with seating located inside and also on the patio. Table settings were very neat while the service from the staff here was exceptional during out meals. Throughout our stay here, we would regularly dine on the patio and watch the beautiful lush surroundings. I could not help notice that most of the guest also choose to dine here for the stunning views of the Senari Straits that divide the main Langkawi island with Rebak Island.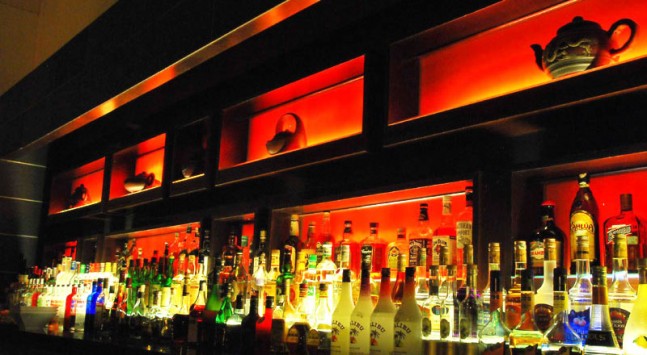 A bar called Minum Munim Bar (Drink in Malay) is also located in the main lobby area with a fantastic collection of spirits which are beautifully decorated. A live duo band performs evergreen numbers nightly too. The Rebak Lepak Bar located on the beach side in front of the main lobby area. This beach bar is only opened from 12 noon to 8 pm daily.
During my stay here, I did manage to speak to some of the guest here and to my surprise one couple had been here for 8 days. One of the main reasons cited was the fact that this resort was isolated away from the commercial side of Langkawi and it was peaceful and serene here. They also intended to stay for at least two weeks just absorbing in the nature and beauty offered. I could see why some of them choose to stay here for such long periods. I would if given the chance.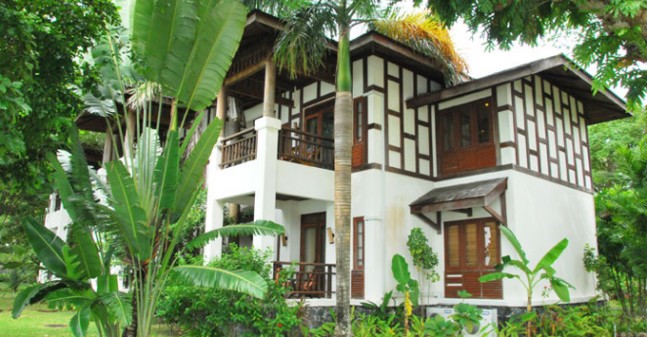 Staying here was a wonderful experience for us as it was complete with a spa, nature walks and one can just do absolutely nothing but relax without the distraction of other beach-goers like at the usual commercial resorts and hotels. There are no children screaming and running berserk or families shouting at the top of their voices. This is a private island and a private resort that caters to honeymooners, couples, families or the single traveler. If you are looking for a very lively place to stay, then this is not for you. I would consider this place a perfect quiet retreat especially for those who work in the city and deal with crowds, traffic and the works as you will get none of that here.
Address of Rebak Island Resort – A Taj Hotel
P.O. Box 125,
Kuah Langkawi,
Kedah Darul Aman,
Malaysia.
Rebak Tel: 604-966 5566
Fax: 604-966 9973
Email: rmresv.malaysia@tajhotels.com
Website Rebak Island Resort – A TAJ Hotel Langkawi
GPS Coordinates for Rebak Island:
Latitude 06 deg 17.6 min N
Longitude 99 deg 41.7 min E
We would like to thank the management of Rebak Island Resort – TAJ Hotels for this wonderful experience. Watch out for my supporting articles about the Sea View Rooms, Ulik Mayang Spa, Nature Walks and Romantic Dinners at Rebak Island Resort.
This article was publish in Malaysia Asia. All Rights Reserved.
---