Robert Parker & Dinner with Lisa Perrotti Brown MW at the Fullerton Bay Hotel- October 26th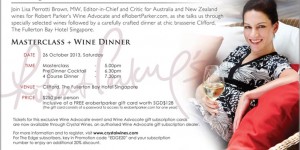 A Big Fish Called Halibut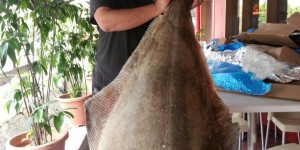 My favourite fishmonger in Singapore, Greenwood Fish Market, just sent me an SMS on the recently arrived catch; a 120lb Halibut, sufficiently large enough to feed a Chinese family banquet I would have thought. Read More >
Best Restaurant in Singapore – Jade Palace Seafood Restaurant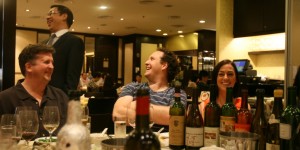 With a plethora of new restaurants in Singapore, the Wandering Palate is largely unimpressed with the 'Johnny come latelies' and names a well-established, family owned and run Cantonese restaurant as his current "Best Restaurant in Singapore" Read More >
Aromatic Wine Dinner at Coriander Leaf, Singapore – 22 Aug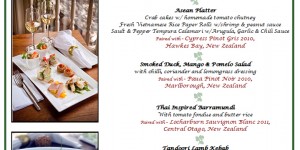 The sense of taste cannot exist with the sense of smell. In this dinner, we present to you an array of aromatic wines paired with our fragrant signature dishes in a 5 course dinner held in Coriander Leaf's cosy private cooking studio @ $98++ per person Read More >
When you're hot, you're hot. And when you're not, you're definitely not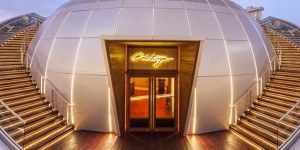 Readers of the Wandering Palate may have noticed that I rarely write negative reviews on restaurants, with a self-compliance adopting the old adage "If you've got nothing nice to say, say nothing at all. " Furthermore, I find it best to refrain from criticizing the work of other journalists or publications out of respect for both their opinion and avoiding conflicts of interest. Read More >
Grand Vin Wine Pairing Dinner at Coriander Leaf, Singapore 25th July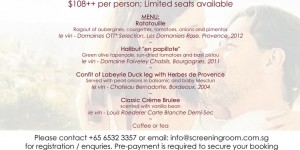 BELL HILL, NORTH CANTERBURY, NEW ZEALAND WINE DINNER with GROWERS-PROPRIETORS MARCEL GIESEN & SHERWYN VELDHUIZEN at LES AMIS, Singapore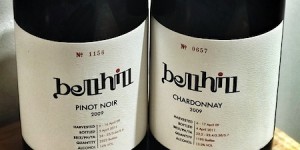 THURSDAY, 18 JULY 2013 7.30 PM S$ 220 ++ per person special 6-course pairing menu
We are delighted to welcome Marcel Giesen and Sherwyn Veldhuizen on Thursday 18th July 2013 for the first time in Singapore. The couple forms the partnership behind the iconic BELL HILL VINEYARD set in the idyllic Weka Pass of North Canterbury, New Zealand.
BELL HILL VINEYARD is a highly personal undertaking by Marcel Giesen and Sherwyn Veldhuizen to actualise the potentials of a very unique terroir in North Canterbury. Through their immaculate biodynamic limestone-based ultra-high density vineyards, the couple has been producing some of the most spellbinding pinot noir and chardonnay wines the modern world has ever seen. Their superlative quality as well as the very limited quantities produced have stoked the passion of growing throng of discerning fine wine lovers into an endless frenzy.
Established in 1997, Bell Hill Vineyard in the Weka Pass, North Canterbury, is an area layered with history. Bell Hill itself, so named for its bell-like shape on its southern side, was first surveyed in 1917 by Charles Trounce who went on to establish a lime quarry that operated until the late 1930s.
However the history of the area goes back much further than that. Maori first explored Weka Pass around 1000 years ago, when the area was still forested and rich in birdlife. A large overhanging limestone shelter in the pass was used as a temporary overnight camp and early Maori rock art decorates its walls.
The same unique, lime-rich soil that has safeguarded a snapshot of the early North Canterbury environment now nurtures the vines of Bell Hill Vineyard, helping to form the distinct character of Bell Hill's acclaimed Pinot Noirs and Chardonnays.
For more reading on Bell Hill, click here for recent article by the Wandering Palate, "You can ring my Bell Hill" also visit www.bellhill.co.nz
RSVP:
Email events@artisan-cellars.com, or
telephone +65 6838 0373
Credit card details will be required to confirm your reservation
LES AMIS
1 Scotts Road, Shaw Centre
#02-14/16 (street level, facing HSBC Claymore)
Singapore 228208
6-COURSE WINE DEGUSTATION MENU
by LES AMIS
2009 Chardonnay
Aperitif
Alaskan crab and Oscietra Caviar
Radish, seaweed oil
2008 Chardonnay
Langoustine,
Momotaro tomato, lardo di colonnata
2007 Chardonnay
Cèpe mushroom
White peach, shaved foie gras
2010 Pinot Noir & 2009 Pinot Noir
Wagyu Beef striploin
Red wine sauce
2008 Pinot Noir & 2007 Pinot Noir
Époisses de Bourgogne
Mix nuts & jam
2006 Chardonnay
Poached cherries
with layers of yoghurt and pistachio biscuit, sour cherry sorbet
Coffee & Tea
World Street Food Congress Singapore June 3 & 4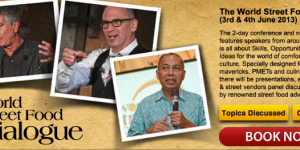 World-famous Speakers to Heat Up Singapore at The World Street Food Congress – 2 Day Dialogue
World Street Food Congress organisers, Makansutra, reveals an impressive line-up of influential thinkers, advocates and captains of the F&B industry who will be headlining The World Street Food Dialogue, a 2-day conference and industry event from 3 rd to 4th June 2013. Whilst billed as a food industry and writers conference, this 2-day event would be equally fascinating for anyone interested in street food–I a guess that is all of Singapore! Read More >
The World Street Food Jamboree – Singapore May 31 to June 9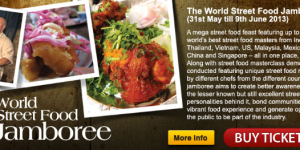 One Event, 10 Street Food Cities, 37 Masters, 40+ Best Street Food Choices, 1 Location, over 10 Days, At the World Street Food Jamboree 2013. Do not miss this unique event and fantastic opportunity to experience global street food.

Austrian Wine Experience at 19 top restaurants around Singapore