Wine Dog of the Month – 'Hank' – Herman Story Winery, Paso Robles, CA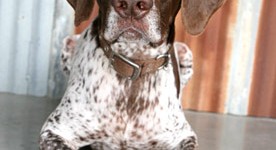 Herman Story was the name of winemaker Russell From's grandfather. He was a rancher, logger, swapper, banker, philanthropist, a 'teller of tales' and the perfect inspiration for Russell's innovative and modern winery. In less than ten years, Herman Story has become one of the most critically-acclaimed wineries in America and routinely achieves top scores from Robert Parker and Wine Spectator.
Russell's visionary and dedicated approach to his superb wines is matched only by his dog Hank's visionary and dedicated approach to tennis ball retrieval. Hank has spent all of his five years honing his craft and is considered the Zen master of Fetch around Paso Robles.
Winery: Herman Story Winery, Paso Robles, CA USA
Breed: German Shorthaired Pointer, 5
Owner: Russell From
Obsession: Balls, guns and bungs
Naughtiest deed: Eating chickens
Favourite pastime: Looking for squirrels
Known accomplices: Vailia, Paige, Abbey and Bailey
Favourite food: Stout cupcakes with cream cheese frosting