Moshi Moshi Bollywood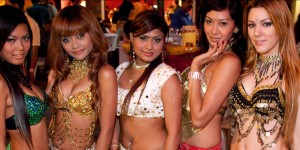 And they say Singapore is boring and sterile… Well, you might revaluate this sweeping statement once you have been enmeshed and seduced by this fevered and arousing club. This comes with the caveat, do not arrive totally sober; akin to arriving at a party late when everyone else is in a state of inebriation and you're not in the groove.
Moshi Moshi Bollywood is definitely the sort of club that you arrive at around midnight; after dinner with a few glasses of wine under the belt. And, like many nightspots, the whole ambience is people-driven furthermore, you are somewhat oblivious to the invariably kitsch décor with all the mood-lighting and in this case, the primitive, although amusing Bollywood films projected as a backdrop to the dance floor.