Sugarloaf Ridge 2007 releases absolute blinders!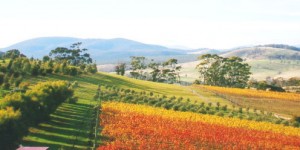 Originally intended to be part of my larger project "Australia Benchmark Chardonnay Producers" I am sure readers will not mind if I include chardonnay's soul mate, pinot noir in this coverage of new releases from Sugarloaf Ridge. The 2007 Sugarloaf Ridge Chardonnay is indeed a blinder, nothing short of exemplary and in my view, the benchmark for Tasmania.
In the late 1950's Jean Miguet at La Provence, east of Launceston and Claudio Alcorso at Morilla Estate near Hobart, pioneered the renaissance of Tasmanian wine industry. The late 1960's and 70's saw the establishment of Graham Wiltshire's Heemskerk vineyard on the Tamar, followed by Andrew Pirie at Pipers Brook, north of Launceston and Freycinet Vineyard on the Eastcoast in the early 80's; the suitability and reputation of chardonnay in the cool-climate of Tasmania was slowly chiselled.