Contemporary Dining at Tate Modern – London, June 7th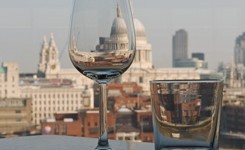 One normally hesitates when recommending to 'dine' in a gallery or museum beyond basic sustenance, but Tate Modern's restaurant on level 7 is an exception, not only offering modern (as you would expect) high quality, seasonal-focused food but also possibly one of the best dining views in London.
To gain the maximum appreciation of this brilliant art deco style building and its surrounds, walk along the Thames River and cross over the Millennium Bridge. It's an incredible space, inside and out; almost as surreal as the paintings housed in it with its soaring 325ft chimney, equally towering interior ceilings and the massive iron beams of what was once the Bankside Power Station.