Shaw & Smith
---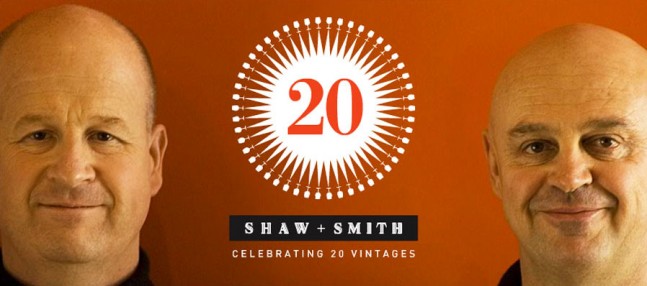 The Quintessential Modern Artisanal Australian Winery
The Adelaide Hills vigneron Shaw & Smith celebrate their 20th vintage this year, a significant milestone in the relativity of establishing a vineyard and winery in the new world. This may seem a mere blip to some of the venerable generations-old wineries of Europe.
However, the wine-world is a very different place now and the pioneering spirit and determination to succeed in the extremely competitive and demanding wine industry, establishing a brand from scratch and attaining an enviable international reputation shows both extraordinary creative talent and business acumen. I applaud this family-run partnership between Brothers Mathew and Michael Hill-Smith (M.W.) and Cousin Martin Shaw. Bravo!
Arguably the quintessential modern artisanal Australian winery, Shaw and Smith has championed the Adelaide Hills region moreover, is at the forefront of a persuasive movement of Australian wineries and modern wines embodying a genuine 'sense of place', or terroir, as the French promulgate. And yet the Australia wine industry is, at this very point, at the crossroads of defining (or perhaps defending is a better word) its reputation as a quality wine producer.
Personally I am getting tired of the Aussie bashing by the international wine press, and that's saying something coming from a New Zealander. Unfortunately the misinformation or lack of understanding of Australian wines lies perhaps in the unfamiliarity of the diversity of regions, subsequent styles and ability to produce wines of defined character and provenance. Ill-informed armchair wine journalism is not helping.
Equally, I blame the English supermarkets in coercing both consumer and maker to price points and formulaic styles that suits their own profit line and shareholder returns more than the customers' evolving palate. Likewise, the stereotyping of Australian wines through ratings and credulous scores proselytized by megalomaniac wine critics has narrowed the consumer's vision, particularly in the USA and Asia markets, distorting what they perceive as quality or desirable status in a wine.
I know I am digressing from Shaw and Smith's achievements however, I think this quote from Randall Grahm (Bonny Doon Vineyards) is apt and eloquently surmises the ratings peril that non-conformist and artisan Australian winemakers face.
"I am tortured – it is quite mutual, mind you – by the most popularly read American wine critics. I'm irrationally enraged by their quasi-mystical numerology, by the fact that their universe of relevance – life begins at 90 – is so pitifully delimited. I feel that I've got their number, as it were, but perhaps it is they who have mine."
The fact is there are a multitude of small wineries in Australia accomplishing indisputable quality moreover, over-delivering in terms of price/quality rapport. Shaw & Smith M3 Chardonnay is a perfect example of this. As I absorb the hedonistic aromas and swirl a permeating, creamy-seamlessly textured, rich nougat-like yet invigoratingly citrusy, minerally mouthful of M3 Chardonnay 2007, I cannot help thinking how impressive this wine is and how good it would look amongst a line-up of top-echelon white Burgundies.
Yes, I know such comparisons are incongruous in a geographical sense however, stylistically and qualitatively I would strongly affirm this wine an equal, if not outclassing, many of the exalted producers of Chassagne and Puligny-Montrachet, doubtlessly priced considerably higher.
The sportive side of me would love to see a bunch of wine snobs or even better, a clique of leading international wine journalists mistake this wine for white burgundy in a blind tasting and humiliate themselves. Perhaps I am getting a little indecorous and this would certainly not be the form of the highly-principled Michael Hill-Smith MW (Australia's first Master of Wine), however being the recalcitrant that I am, I'll happily send a retaliatory salvo in defence of Australian wine.
Hill-Smith is in Singapore this week on a 20th celebration marketing campaign and will be conducting a vertical of M3 Chardonnay, ostensibly the flagship of the range (which I will have detailed notes of in part 2) although many Shaw & Smith followers would be more familiar with their tantalizing, mouth-watering sauvignon blanc. Hill-Smith unashamedly declares the savy pays the bills and downplays the popularity of the wine and yet it is possibly the finest sauvignon blanc in Australia, and out savvy's most Marlborough savy!
Then there is the shiraz, to which I am convinced will edge past the M3 in the pecking order, if not already the benchmark of cool-climate Australian shiraz. Indeed, Shaw & Smith is redefining the boundaries of quality and complexity in Australian shiraz with the emphasis on cool-climate, and becoming more and more 'syrah' every vintage, in a northern Rhone Valley context – speeding straight past the turnoff for Crozes-Hermitage, vacillating on whether to take the exit to Hermitage or head further south to Cote Rotie.
Perhaps global warming is benefiting some vineyards or micro-climates that were once just a little on the marginal-cool-side with an element of greenness and skinniness encountered when grapes are not physiologically ripe. This has certainly thrown a spoke in the works as far as the indigenous consumers expectations of what Australian shiraz is all about, although dare I say it, now also have a growing appreciation for New Zealand syrah.
At altitudes up to 600 metres, the Adelaide Hills was once considered a marginal climate for most red varieties and definitely shiraz, however it is clear that Shaw & Smith are now attaining a harmonious balance between physiological ripeness, vibrant acidity, elegance and spice.
The 2006 vintage of Shaw and Smith Shiraz is markedly richer and smoother than previous (commendable) efforts, noticeably fleshier on the mid-palate and whilst bristling in its youth is already a satisfying drink. It went fabulously with beef rendang from the legendary Nasi Pendang on Zion Road, Singapore. This is not your ordinary beef rendang, rather big chunks of a good cut percolated in a rich, sweet and heady-spiced sauce; an absolutely brilliant pairing to this wine.
My Tasting Note
Vibrant, inky colour is suggestive of the intense, opulent nose of sweet blackberry essence and poached blood plum, there's a rich dried fig paste nuance amongst nose-tingling peppermill grinds and paprika spice; also peppermint chocolates, coffee mocha and fireside charcoals suggest very suave oak. Crunchy, pure blackberry fruit greet the palate quickly ushered along by tangy redcurrant berries and steely acidity that has a cool-mint aspect.
Smoky, hung meats, dark-bitter chocolate and dark soy add savoury complexity backed up by fine black tea flavoured tannins with a lingering pepperiness and sweet sour black cherry fruit; and above all, an excellent tension to the wine. Ideally I would give it five years bottle age and will easily travel beyond 10, augmented by screwcap closure. No hesitation in putting a case of this in the cellar.
There is no doubt Shaw & Smith is producing one of the finest Chardonnay's in Australia. It's subjective of course but I slot them in the top 5, right near the top. An incisive, pristine, restrained, and structured minerally style Chardonnay oozing class.
Below are my notes on the last three vintages of Shaw & Smith M3 Chardonnay. The 2008 has been released, which I am looking forward to trying, although I find M3 consistently requires a minimum of two years bottle aging to drink well in the sense of full integration of its aromas, flavours, wood tannins and yeasty characteristics, and allowing the minerality through. It is clearly crafted for the long haul, augmented by being sealed safely under screwcap and consistently ages well for 10 years in good cellaring conditions.
---

Shaw & Smith – M3 Chardonnay 2007
Hedonistic perfume of olive oil and hints of truffle oil amongst toasted almond and nougat; there's the smokiness of pork fat, like Chinese roast pork, with a little airing the fruit reveals itself, ripe poached peaches and nectarine then overtaken by sherbet-like citrus, lemon-mint with a curious witlof lettuce twist, also tingly spiciness appears – fennel seed and turmeric, giving way to flinty gravelly minerality and a lurking bees wax richness.
Creamy, seamless texture, a rush of succulent nectarine and grapefruit tanginess, fleshes out with sweet ripe peach flavours that are quickly checked by an invigorating surge of zingy lemon acidity and fresh ginger and white pepper spicy glow. There's a chalky grip of oak and nutty, nougat richness with a background of gravelly-granite minerality, all perfectly framed in steely acidity and seemingly endless citrus aftertaste – wonderful tension.
Whilst pristinely balanced and utterly pleasurable now, two or three years in bottle would be desirable, that is repay one handsomely for being patient, as assuredly this wine will evolve to sublime complexity.
---
Shaw & Smith – M3 Chardonnay 2006
Baked apples, nougat and raw almond amongst green olive and olive oil scents, ripe fresh figs and dried apricot with a lemony background, warm baked lemon tart, some earthy wet limestone and chalky minerals.
Quite rich, nutty and buttery palate entry, although deceiving as this quickly changes to a rush of edgy lemon and grapefruit, touch of apricot, spicy oak, also lots of Indian spice, cardamom, fennel seed.
Oily texture and quality throughout and yet the palate really comes to life with piercing concentrated lemon grapefruit and tanginess, great length with marked minerality.
2006 seems a more refined wine than 2005, if that's at all possible, perhaps a lower yield or riper year, yet retaining a tightness and refreshing quality.
Again, hands off for a couple of years if you can and will cruise past 10 years in bottle.
---
Shaw & Smith – M3 Chardonnay 2005
An alluring bouquet of grapefruit, lemon-peel and citrus, hint of apricot, fresh cut apple amongst abstract secondary aromas of toasted almond and nougat-like elements, subtle oak nuances and intriguing caraway seed and cardamom spice, against a background of flinty graphite.
Coiled tangy, zingy lemon edged entry to palate, very Chablis like structure, tightly bound then fleshing out more on the mid-palate with apricot and subtle peach flavours; seductive barrel ferment characters of buttered toast with cone honey and light creamy texture build-up with spicy oak yet, perfectly restrained, poised and seamless.
Lingering intense citrus aftertaste and spice with flinty, impelling cold steel acidity (impressive 6.8 g/l acid) finishing savoury, chalky and bone dry with protracted gravelly minerals.
More on Shaw & Smith to follow, meanwhile visit www.shawandsmith.com
---