Hail Brunello di Montelcino
---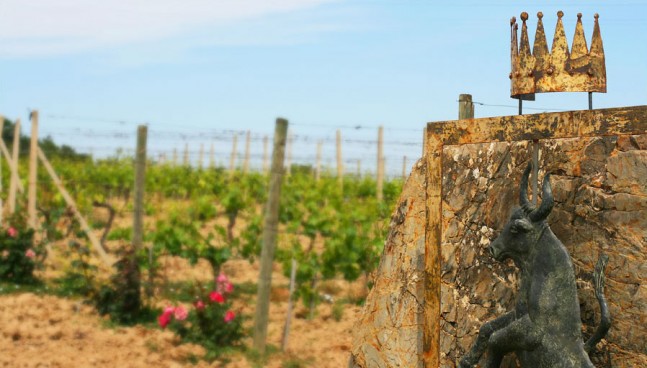 These tastings notes and further comment are an appendix to my Brunello di Montalcino article in the Hong Kong Standard Weekend Magazine, and based on recent visits to Montalcino, specifically the outstanding producer Conti Costanti.
There is also a separate account in 'restaurants' of my favourite family-run eatery in Montalcino, Osteria Al Giardino, indeed one our most enjoyable meals in Tuscany, in every respect; value, quality, ambience and service.
Conti Costanti Brunello di Montalcino 1999 normale (Exceptional value at 50 euros on wine list at Osteria Le Logge, Via del Porrione, Sienna, Tel: 0577 48013)
Decanted by our sommelier, opens up beautifully in the glass, seductive in its nose of dried walnuts, earthy wet clay, straw-hay, amongst violets, red rose petal, sour cherry and raspberry compote with a grappa-like concentration. One could sense the intense fruit lifted by the liveliness of the acidity, augmented by provocative secondary aromas of gamy ducks gut, rare-roasted pigeon, truffles, morels and fireside charcoals.
Taut palate entry, its coiled power unleashing a torrent of sour cherry and nervy, indelible acidity, the crunchy fruit building to gorgeously silky layers of sweet black cherry and dark plum. The sweetness is chased away by the sapidity of cool powdery-fine black tea tannins with hints of liquorices, meaty beef stock flavors and antique woods puckering the mouth to a dry finish. One of the most complex and superbly elegant wines I have drunk, reminiscent of DRC La Tache or the finest Le Musigny yet, always surrounded but tartness and brooding tannins. Superb drink now, although will easily age for a further decade and develop more of those wonderful dried mushroom, gamy, red berry Pinot Noir characters.
Conti Costanti Brunello di Montalcino 2001 riserva (tasted at the vineyard with Andrea Costanti, however this has long sold out)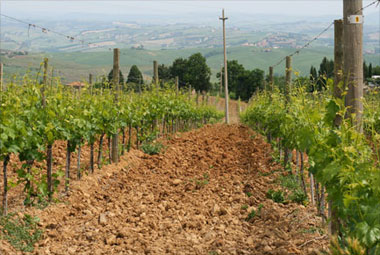 Essence of black cherry with a stewed blueberry sweetness and hint of caramel, incredibly perfumed, complex secondary aromas of pipe tobacco, lovely smoky fatty pork nuances, polished timbers with a touch of charcoal and liquorice; one senses the brooding density. Saturating, juicy sweet red berry fruits on palate entry, but oscillating between crunchy sour juniper berry and red currant, sweet and sour layers with tantalizing acidity sneaking up to a massive charge towards the back palate.
Fine cooling tannins gently pucker the mouth with black tea leaf, earthy granite mineral flavors, also some mocha and toasty oak, with a black pepper spiciness and a long warm glow on the farewell. It is clearly a weightier, more structured wine than the normale, building to an intensity that is quite overwhelming and destined for a very long time in the cellar, about 10 years minimum I would have thought, and capable of 20 to 30 years longevity. That said, positively enjoyable and educational to try now, given its impeccable balance.
2001 is a very highly regarded Brunello vintage and Andrea Costanti believes the riserva is one of the best wines he has ever made. At this stage, I personally prefer the more elegant normale and only hope my liver will be intact in 20 years time to revisit the riserva. I do not have a tasting note on the 2001 normale, so enamoured with the wine at the time of imbibing, I decided to just luxuriate in it without writing a note. Notwithstanding, I was equally preoccupied with a very large piece of beef we had just grilled over the open fire, sourced from the Antica Macelleria Cecchini in Panzano, Italy's most famous butcher. I will however, be posting a note on this, as well as the 2000, when I broach these bottles with colleagues in late August.
Conti Costanti Brunello di Montalcino 2003 normale (tasted out of tank, May 18th, 2007, having been assembled and settled ready for bottling that month)
Andrea Costanti believes 2003 is the driest, warmest vintage in his family's winemaking history, and that goes back to 1550! He declares "it is atypical Brunello with low acidity"; nevertheless, it is an excellent wine that is relatively forward and will give enormous please immediately upon release in November and easily age for five years or more; needless to say there was no riserva made this vintage. He adds that many Brunello producers on the south side of the hill, where it was just too hot and subsequently the grapes overripe, should not have made a Brunello, although he suspects that the insatiable demand in America for 'big-style' Brunello's, and an element of greed will see some substandard 2003 Brunello's released.
Already bricky in colour, the 2003 Conti Costanti Brunello has an incredibly seductive developed red berry pinot noir perfume amongst rose petal scents; augmented by ravishingly complex nuances of old leather, pipe tobacco and dried mushrooms. Crunchy concentrated raspberry fruit and exhilarating tangy sourness (reminiscent of the great Chateau Rayas Chateauneuf du Papes made by the late Jacques Reynaud) intensifying in sweetness as it accelerates across the palate yet, supremely elegant, with a lip-smacking savouriness nourished by chewy, sapid, earthy tannins. An efficacious effort from Costanti that will doubtlessly be the wine of the vintage, and of which I intend to purchase a considerable quantity, being my daughter's birth year. It may not be centre stage at her 21st birthday, however it will most definitely provide captivating drinking over the next decade.
Normale – Riserva and Rosso di Montalcino
At this juncture, it is pertinent to examine the differences between normale and riserva, as well as the significant role Rosso di Montalcino has to play in this hierarchy and vintage declassification process.
Prior to 1998, the mandatory four years ageing, with a minimum of three and half years in wood before releasing a Brunello di Montalcino had constrained winemakers for decades, with the majority complaining that too longer sojourn in wood was killing off the fruit and drying out the wine, particularly in difficult years.
Whilst the four years ageing before release for normale remains, the designated period in oak has been reduced to two years. Riserva has a mandatory release of five years after the vintage, although it also only spends two of these years in wood. These regulatory changes were pivotal in the renaissance of Brunello, along with greatly improved viticulture and more contemporary winemaking in general.
Ironically, Costanti still maintains thirty-six month oak maturation, perhaps a good indication of his traditional approach. However, the wines show absolutely no lack of fruit or drying out whatsoever, Andrea attributing this to the split regime of 18 months in high-quality large French-oak barrels coopered by Radoux utilizing two different sizes, 350 and 600 litres barrels and 25 percent new each year. Followed by a further 18 months in Slovenian large oak foudres, although he emphasizes not too old, around 20 years average.
I have to say, as you walk in to his underground cellar, there is a alluring odorous melange of evaporating wine, sweet vanilla pod, walnut, chestnut and earthy, musty stone.
Essentially, vintage dictates whether Costanti make a riserva or not however, there are certain vineyard parcels that are consistently superior with these vinified and matured separately up to the stage of racking out of French oak and assembling in the large Slovenian barrels. The riserva has much the same treatment in wood as normale although, a little more new French oak at the beginning.
The 2001 vintage is the only riserva Costanti has made since 1997, the next being 2004, followed by 2006, a vintage Andrea is extremely enthusiastic about, "the best vintage in Montalcino he has ever encountered, even better than 2001". This is echoed throughout Tuscany, Giovanni Manetti at Fontodi Estate in Panzano, Chianti also very upbeat about the 2006 vintage.
Andrea Costanti did not make a Brunello in 2002 or 2005, commendably declassifying all the wine to Rosso di Montalcino, testimony to a stringent level of quality and preserving the self-imposed, long-standing and impeccable Costanti reputation. 2005 is indeed a trap for vintage-fixated consumers, with the impression that the stellar vintage in France, particularly Bordeaux and Burgundy is replicated around all Europe. For the record, the 2005 vintage in Tuscany was very difficult, plagued by heavy rains and quality very inconsistent. The better producers will of course make commendable wines however; in reality, they are to be enjoyed in the short-term.
Rosso di Montalcino was introduced during the 1980's, mainly to provide vineyards with cash flow whilst considerable capital was tied up in Brunello, due to its lengthy ageing in barrel. Rosso di Montalcino is also 100% Sangiovese however, only has to reach an alcohol level of 12 %, as opposed to 12.5% for Brunello, although one has to wonder if there is a significant difference in 0.5 percent of alcohol. Rosso di Montalcino has to be aged for one year only before release.
Vineyards officially registered as Brunello may use their grapes for Rosso however, if a vineyard is designated Rosso and therefore producing at a higher yield, the grapes may not be used for Brunello.
Regardless of Italy's somewhat convoluted wine laws, the predominantly small growers of Montalcino are a very cohesive group and have self-imposed levels and vigilance in maintaining quality. Rosso di Montalcino not only offers totally respectable early consumption and an affordable insight to Sangiovese Grosso, it has also given producers far more flexibility, facilitating declassification of grapes or barrels to a lower wine, in much the same way the Bordeaux Chateau's introduced second labels, and greatly improving the overall quality of the primary wine.
Conti Costanti Rosso di Montalcino 2005 (tasted at the vineyard with Andrea Costanti, current release; also re-visited several times in eateries around Tuscany) Sweet, fruity perfume of ripe cherry and red plum, hints of ripe strawberry amongst bacon-fatty, smoky lard-like nuances of classy oak, overall attractive vinous quality similar to Pinot Noir.
Very opulent with creamy layers of succulent, sweet plumy fruit on the palate, very fine-grained tannins kicking in early and the flavours turning to more sour cherry towards the back palate, also good tangy acidity adding some vitality. Very soft, plush and elegant, deceptively approachable and new world pinot noir-like however, the finish gives it away with earthy, black tea, persistent Sangiovese tannins. Retails in the USA around US$29 – $35 a bottle, in Italy a more friendly 16 euros and around 20 euros on a wine list, which is competitive with Chianti Classico.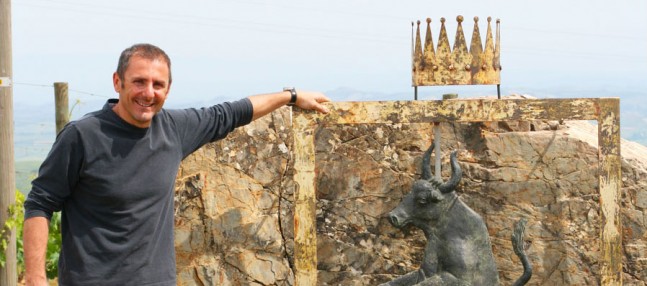 Brunello di Montalcino's longstanding superior status over Chianti Classico is largely due to its unique terroir and the fact that it has been 100% Sangiovese Grosso wine for over 100 years. Persisting with its formidable tannins and idiosyncratic structure are the key elements that set it apart from the rest of Tuscany, if not the world, producing a truly indigenous wine.
If the producers of Chianti in the 19th Century had not followed Baron Bettino Ricasoli's cocktail of Sangiovese with other red and white grapes, effectively industrializing Chianti, they would conceivably be enjoying equal status with Brunello di Montalcino today. In more recent times this predicament has been exasperated by a preoccupation to appease the American palate by introducing merlot and cabernet sauvignon in to the equation, making softer, plusher more modern wines, diluting Sangiovese's unique characters even further.
To quote Memo Zaldi, who has run restaurants in Chianti for over 28 years and is currently the proprietor of the Enoteca Zaldi, a charming wine bar in the tiny Piazza Bucciarelli in Panzano, "Sangiovese is like Pinot Noir, it expresses its soil, its place." Throwing his hands in the air, "Would you blend Burgundy (Pinot Noir) with Pomerol (Merlot)?"
For stockists of Conti Costanti around the world, please read the main article. Bare in mind that this is a small vineyard with limited production and in strong demand, so it would pay to develop a good relationship with the importer, wherever you are, to secure a regular allocation.
If you are planning a trip to Tuscany, and would like to visit Conti Costanti, contact them well in advance to make an appointment, as there is no drop-in, cellar door facility. Email: costanti@inwind.it
Tel: 0577 848195, Fax: 057 849 349.
---