Parma Ham Mango Pear Salad with Felton Road Block 1 Riesling 2008
---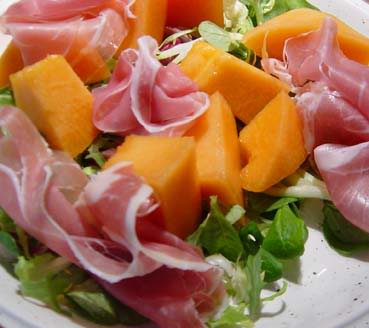 Whipping up a quick salad and reaching for a bottle of Felton Road Block 1 Riesling from Wine Fridge. And a little nibble of Tetsuya Wakuda's Petuna Lightly Smoked Ocean Trout.
This is one of those impromptu kitchen inspirations where a salad dishes builds itself purely from ingredients in the fridge at the time. I had been shopping earlier in the week at the Singapore delicatessen, Culina at Dempsey Hill, stocking up on what looked good, and the Prosciutto di Parma caught my eye, a sheet of thinly sliced rashes vacuum packed with its dark red-brown colour and streaks of creamy fat most enticing.
The shelf below contained some artisan dairy products to which the Greek Halloumi and Feta cheese looked rather good and perhaps subliminally I had my cookbook of the year on the brain, Greek Cookery – Hellenic Heart by Melbourne chef, George Calombaris.
I also picked up a small pack of pre-cooked Blinis and some Tetsuya Wakuda Petuna Lightly Smoked Ocean Trout, sliced and vacuum packed in 100g. This is my favourite smoked fish on the planet. Tetsuya calls it the Wagyu of the sea with its layering of fat and has been working with this fish farm in the south western corner of Tasmania in the pristine environment of Macquarie Harbour at the mouth of the Gordon River where fresh and salt water meets.
It is the most delicate and creamy salmon you will eat and the light smoking with Tasmanian oak gives it a purer flavour, almost like eating sushi with a hint of air-dried smokiness, and not the strong dominating flavours that I find overbearing with most smoked salmon.
I was talking in the kitchen with UK wine merchant Noel Young, who was staying with us for a few days recently. I had toasted some sour dough bread and spread some crème fraiche, then a slice of Tetsuya's ocean trout and handed to him, as he juggled a glass of excellent Peccavi Chardonnay 2007 from Margaret River. Noel took a bite then practically woofed the whole 100g pack declaring he had not tasted such brilliant smoked salmon (well ocean trout) in his life. We then started to contemplate how he could stuff his suitcase with some to take back home.
Back to the salad, I had picked up some fruit during the week, the summer stone fruits from Australia looking good, equally Rosemarie pears from South Africa just in season. A few days later a friend came around with a bag full of Indian mangos.
So, peering into the fridge later in the week all of these ingredients began to formulate a salad that would go perfectly with a bottle of Felton Road Block 1 Riesling 2008 that needed liberating from my wine fridge. Actually, there were 3 bottles however the other two went brilliantly with seafood curry laksa last week.
Equipment:
Large white salad bowl (larger the better, makes it easier to toss the salad)
Ry Cooder, Paradise And Lunch album (loud!)
Ingredients for 2 to 3 light main servings: or 4 – 6 smaller starter portions
200g Prosciutto di Parma (Cured ham, pre-sliced thin rashes)
200g Greek Halloumi cheese
200g Greek Feta cheese
4 ripe Indian Mango
4 ripe Pears (in this instance, South African Rosemarie)
Mixed Asian Salad Greens (Packet)
Seresin Estate Organic Extra Virgin Olive Oil
Sherry Vinegar (20 year-old Solera)
Pepper Grinder
Felton Road Block 1 Riesling – Central Otago (nicely chilled)
100g Tetsuya Wakuda Petuna Lightly Smoked Ocean Trout Sliced
Blinis (pre-cooked pack)
Creme Fraiche
Preparation: Takes about 30 minutes.
Spread some crème fraiche on the blinis and top with Tetsuya Wakuda Petuna Lightly Smoked Ocean to pass around while you throwing the salad together
Preparing the Cheese
Halloumi is delicious pan-fried and makes for an excellent contrast of flavour and texture with the Feta, although in the same vein of salty brine flavour, less tangy. Simply pan fry in olive oil and let cool, and cut in to 1cm cubes. Cut the Feta also into cubes the same size.
Preparing the Fruit
Peal the pears and cut each one in to 4 leaving the core, then sliced further to half-cm pieces. Place in a bowl of water, pears go brown real quick. Peel the mango a slice down each side of the stone and then in to similar strips. Put to one side.
Preparing the Salad
Wash the salad leaves and spin dry in your salad drying bowl (very handy). We are using Asian salad mix in this instance but a Mesclun salad mix would work just as well.
Preparing the Dressing
A couple of decent slugs of Seresin Organic Extra Virgin Olive Oil in your large salad bowl. Of course any good Extra Virgin Olive Oil will do the job; however I am totally in to this fantastic New Zealand Olive Oil, grown organically on Michael Seresin's vineyard property. It's a blend of Tuscan varieties, Leccino, Minerva, Frantoio, and Pendolino, very deep green in colour and really viscous with a rich herbal character and a long peppery finish. Awesome Oil!
Add a few splashes of Sherry Vinegar to your taste, although you are not aiming for too much tanginess here, just a nice contrast between the sweetness of fruit. This is why I am not using lemon or limes, as it would be too tangy/sour and work against the Felton Riesling, which has some tantalizing residual sugar and in harmony with the fruit. A dozen grinds from the pepper mill and mix together with a wooden spoon
Mixing the salad
Add the salad leaves first, giving them a good toss in the dressing. Then get your Prosciutto di Parma, separating the rashes and tearing by hand into half, or thirds, depending on the size of the rashes. Give another toss. Then add in the cheese cubes, pears and mangoes, tossing more gently now so the fruit stays intact.
And you done, almost embarrassing to really think of it as a recipe and so simple to put together yet wait to you try it – with the wine.

And the wine – Felton Road Block 1 Riesling 2008 from Central Otago in the deep south of New Zealand. Riesling enthusiasts who enjoy the wines of Mosel, Germany, will have no problem indentifying with this wine and its delicate, smooth creamy texture and soft honeyed nuances with residual sugar that is tantalizingly balanced by refreshing acidity. You can almost taste the freshness of the mountain air and the underlying minerality of a cold stream.
The emphasis of the pairing here is on the wines melange of sweet tropical fruit and stone fruit flavours and interplay of lime and white honey background with an overall gentleness or reserved poise, in harmony with the ripe pears and mango in the salad. A more assertive or drier riesling would simply dominate whereas the overall delicate structure and sweetness in this wine picks up on fatty flavours of the Parma ham and also the ripe fruits.
You might be thinking freshly squeezed lime in the dressing would be more suitable however I find this too assertive and the combination of the considerably viscous Seresin Extra Virgin Olive Oil and sweet/sour sensation of the Sherry Vinegar (not unlike Balsamic but more subtle) is mellifluous.
The Halloumi and Feta cheeses bring a contrast of flavour and texture and yet the natural acidities in these cheeses act as palate teaser and freshener, along with the salad dressing and the wine. We woofed down the salad and wine so quickly and enjoyed it so much, I thought I would share the experience with you.
Visit Felton Road's excellent website and register yourself for the very limited Block wines; www.feltonroad.co.nz
---