In the mood for red
---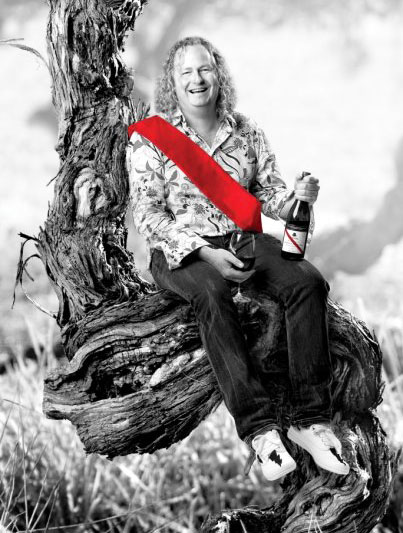 South Australian grenache is all you need on a winter's evening. The only way to better it is to fly to Adelaide and drink it with an excellent meal.
With the shortest day of the year past and the winter monsoon bringing its unwelcome message from Siberia, the drinking mood has changed to cuddly reds.
With a chill in the air, the warming embrace of a soft, full-bodied, rich and spicy red wine is soothing to the senses.
When I think of cuddly reds, images of gnarly, old, dry-grown grenache and shiraz vines come to mind, particularly from the regions of McLaren Vale and the Barossa Valley in South Australia. With warm, dry summers and autumns, conditions are ideal there for making wines with riper, softer tannins and a mid-palate luxuriously rich in fruit with a perceived sweetness.
There has been some criticism of Australia's supposedly high-alcohol wines in the press, which is largely unfounded and a result of judgements confined to the tasting bench and devoid of complete understanding of these regions.
Any McLaren Vale winemaker will quickly tell you that it is cooler there than in the Barossa Valley, with strong sea breezes from the Gulf of St Vincent having a significant influence on night time temperatures. This adds fragrance and fruit acidity.
The fact is the better producers pick with optimum flavor ripeness in mind and they give more consideration to natural acidity than alcohol levels because they know their low-yielding old vines have the concentration of fruit and tannins that will easily carry higher alcohol levels and remain well balanced. These are wines that have no hard edges and are splendidly approachable in their youth, yet capable of aging 20 years or more.

I indulged in the perfect cuddly red just recently, an opulent 2004 d'Arenberg, the "custodian" grenache from McLaren Vale. Still youthful and plush with baby fat, it benefits greatly from a vigorous decanting and breathing for an hour or two. Characteristic of grenache, it is handsomely perfumed with raspberry, augmented by black cherry and stewed blood plums.
Looking deeper, the aromatics developed herbal notes underscored by fresh sage along a savory path of grilled meats, smoky burnt redwood and a whiff of aniseed.
The palate, initially juicy with raspberries intensifies with layers of blackberry and stewed blood plums, enveloped in dark chocolate. As the sweetness of the rich fruit lingers among warming clove and star anise spices, dusty, firm tannins begin to kick in, balancing substantial proportions of this wine and revealing an earthy ironstone minerality.
There is the tanginess of raspberries among the crunchy acidity as the fresh herbs reappear, then twist around with a pinch of bitter chocolate. Its spicy warmth lasts from one sip to the next.
The oscillation between the sweetness and savory aromas and flavors is intriguing and tremendously enjoyable.
This is actually a bit more than a cuddle and an outstanding value at HK$198 per bottle.
D'Arenberg's Osborne family, with four generations behind them, are devoted to maintaining their original bush vines from the 1890s and other grenache vineyards that are 60 to 80 years old and all dry-grown, with no irrigation.
A victim of fashion and overproduction during the 1980s, many of the McLaren Vale grenache vineyards were abandoned or eradicated under a ludicrous government-sponsored vine-pull scheme.
The Osbornes wisely ignored this nonsense and continued producing their grenache-based wines. To this day, they sell more premium grenache than any other company in Australia.
You could escape the cold, gloomy weather of Hong Kong altogether and spend a week or two in the warm sunshine of South Australia, meandering through the wine regions. Wine tourism there is as much a part of the territory as the vines and making wine.
The city of Adelaide is at the center of wine activity, with the vineyard areas of Adelaide Hills, Adelaide Plains, McLaren Vale, Southern Vales, Finniss River, Langhorne Creek, Barossa Valley, Eden Valley and Clare Valley all within an easy driving radius of 45 to 90 minutes.
There are also plenty of old pubs and bed and breakfast cottages along the wine routes, and for added ambience, a growing number of vineyards offer accommodation.
If you head south of Adelaide, the Fleurieu Peninsula and the heart of McLaren Vale is just 40 minutes away. With more than 60 wineries in the region it might be prudent to find a local base.
The historic township of Willunga, which is full of interesting old buildings, is ideal. I can highly recommend the lodgings at Willunga House, a Georgian stone residence built in 1850 that was originally the first general store and post office for the village www.willungahouse.com.au
From here you are just a short drive from some of South Australia's best restaurants, indeed minutes from the fabulous The Star of Greece, named after the three masted iron ship that ran aground here 1888.
From its cliff-top setting, reminiscent of the Adriatic coastline, the spectacular view overlooking the azure waters of the Gulf of St. Vincent is one Australia's great dining experiences. It is a wacky place looking more like a glorified beach shack but with the frenetic ambience of a Paris Bistro, although decidedly friendly. The food is simple and delicious, not that it really matters what they serve up, as you will be enjoying yourself too much to care.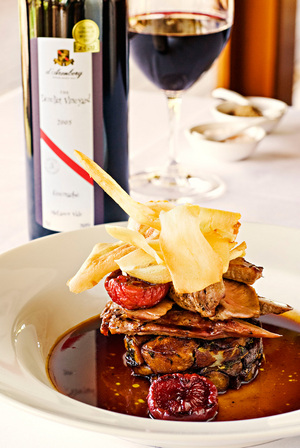 Twenty minutes drive inland you can enjoy a vista over grape vines, in the charming setting of an old Coach Inn at the excellent and well-established Salopian Inn. A meal here is an imperative offering sophisticated regional cuisine in a casual, friendly atmosphere along with a great range of local wines and older vintages that you can select yourself from the well displayed cellar.
One of the best cellar-doors to visit is d'Arenberg and not just for the excellent wines, but also for lunch in the cheerful ambience of d'Arry's Verandah Restaurant. The original d'Arenberg 19th- century homestead has been renovated into an impressive hilltop restaurant with a commanding view over the vineyards, McLaren Vale and the Willunga Escarpment. The menu is seasonal, using the bountiful fresh produce of the Fleurieu Peninsula, and there will never be a better opportunity to indulge in perfectly aged cuddly reds from their extensive private cellar.
The full range of d'Arenberg wines is available at
Watson's Wine Cellar
Tel: 2525 1237
www.watsonswine.com
d'Arenberg Wines
McLaren Vale, South Australia
Tel: +61 8 8329 4888
www.darenberg.com.au
d'Arry's Verandah Restaurant
www.darrysverandah.com.au
---