A cheese made just in time for Christmas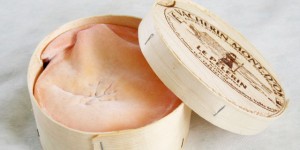 As we approach Christmas, one of my favourite cheeses comes in to production, Vacherin Mont d'Or – a exquisite washed-rind cow's milk cheese from the Jura Mountains, France.
Only made in the winter months and perfectly timed for Christmas table after the turkey, it is presented in a spruce-wood box that keeps the cheese from oozing all over the place. Indeed, you need to use a spoon to get it safely on to your toasted country bread.