In Memory of Alois Kracher & Eric Salomon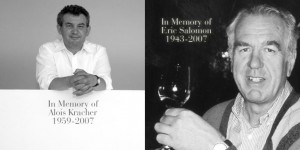 The Austrian wine community is mourning the loss of two of its greatest winemakers, both pioneers in their respective regions and champions of Austria's rise on the world wine stage.
Alois Kracher, the sweet-wine pioneer from Illmitz, Burgenland, died on December 5 at the age of 48 from complications due to cancer. His death came unexpectedly following a brief illness, yet characteristically he retained his jocular sense of humour to the end.