Beaujolais Nouveau 2009 – The Sunshine Vintage
---
Georges Duboeuf sends over 10 different cuvees of Beaujolais Nouveau to Asia brand ambassador Nicolas Olivry at Red and White, who treats us to a sneak preview over lunch on the Eve of the release.
Georges Duboeuf describes the 2009 vintage in the Beaujolais region as "Very good, perhaps too good!" He opines, "It is more of a generous wine in which the grapes have been picked at outstanding level of ripeness producing some hearty, superbly well-balanced wines full of rich, smooth flavours. They have charm and class, smooth and succulent in dark berry flavours; blackcurrants, bilberries and black cherries."
Declaring Beaujolais Nouveau 2009 "The sort of vintage that you see once in a lifetime, even better than 1949, 1959, 1969 and 1999 vintages", he adds "A Morgon winegrower who I have known for more than fifty years, Pierre Bouland, came to the laboratory to collect the analysis results for two of his 2009 wines. I asked him what year would you compare the 2009 vintage to?" Without hesitation, he replied "It's the best I've ever seen since the famous 1947 vintage".
Picking of the Gamay Noir grapes commenced on the 4th September at an outstanding level of ripeness and sugar content, subsequently alcohols were higher yet with the relatively lower yields there was an exceptional balance of polyphenol maturity. With a hint of sarcasm, Duboeuf suggests "Some may find it too rich and generous for a 'Nouveau' wine, but this is the reflection of the wonderful summer we had".
Perhaps a victim of its own success, there are some who feel Beaujolais Nouveau has pasted its zenith and the allure and celebratory momentum has waned in recent times and yet ironically, the wines have never been better.
In fact the Beaujolais region and its wines in totality are enjoying a renewed vigour with a cohesive effort from growers to lower yields and improve viticulture methods. There is a concerted campaign underway by Inter Beaujolais, the regions official association, to promote the 12 appellations or Villages Crus of Beaujolais and increase the awareness of the different nuances of the individual terroirs along with the veritable quality of the wines.
There is however a duality within the Beaujolais idiom, on the one hand promoting Nouveau and Beaujolais Villages as a universally intelligible and amenable wine and on the other advocating fine quality and persuading the consumer that the Beaujolais Cru are serious wines leaves some people begging the question.
The paradox here is getting the less cognizant wine consumer to understand that drinking everyday unpretentious wines is as equally sophisticated as cogitating over a rare or expensive fine wine moreover, imbuing the compelling logic in the adage 'One should consider the mood before the food' when enjoying wine.
Along with ever-improving winery hygiene and techniques the most significant innovation in Beaujolais is the growing acceptance of bottling under screwcap closure, championed by Georges Duboeuf. This transition is unquestionably watershed and vital in preserving the natural fruit and breezy qualities of Beaujolais Nouveau and Villages wines. Moreover, it goes a long way to solving the problems of premature oxidization and issues related to transportation and storage of an inherently delicate, fragile wine.
The screwcap sceptics and obdurate restaurateurs, sommeliers and producers, largely nonsensical French or Europeans, are behaving like Neanderthals if not saboteurs of Beaujolais's evolution and sustainability.
Personally, I enjoy Beaujolais immensely, in all forms, and strongly advocate Nouveau and Villages styles. Unashamedly made for immediate consumption, served with a chill, I cannot think of a more versatile and conducive wine for the broader Asia market (especially in the tropics) and totally synergistic with the ubiquitous convivial dinning.
The transcendentalist in me has images of the epoch of civilization with the ancient Egyptians, Greeks and Romans welcoming the new vintage and relishing in wines that were fresh or more to the point then were not oxidized or had turned to vinegar. Despite our technological advances, it is still relevant today.
The exercise of trying the ten different bottlings destined for distinct markets or fine-tuned to individual importers requirements was most interesting. In some ways the variation between wines was relatively minimal although in the group we all had a preferences, such is human nature. I singled out the cuvee destined for parts of USA, Australia and Singapore as the most complete and satisfying, noting it was bottled under screwcap.
My Tasting Note
Brimming with bright dark cherry and plum with a kirsch-like fragrance amongst Turkish delight sherbet-like sweetness and elements of pink roses; some flintiness and iron sand-steely elements with an air of spearmint youthfulness. As one would expect, a juicy mouth-watering palate; deliciously light and more rose than red wine.
There is a marked richness and plush quality in the fruit with tantalizing interplay between pure fruit sweetness and piquant acidity augmented by wonderful rounded and chewy, savoury tannins adding an unexpected constituent of structure and length.
These marked savoury and wonderfully rounded tannins and overall semblance of higher extract may well be the defining mark of the vintage. Serve at a refreshing 10 to 11 degrees Celsius as the consummate 'vin de étancher' or thirst quencher. This is wonderful window to what will surely be one of the great Beaujolais vintages on record; I can't wait to see the Cru Village wines.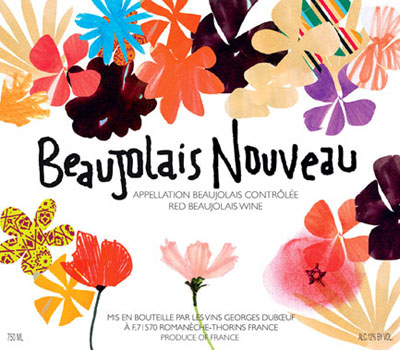 Of even more merit and a discernable step up in complexity and lushness, to the point of looking quite un-Nouveau, was the Duboeuf domaine bottling from top Regnie producer Domaine des Buyats with the Beaujolais Villages Nouveau 2009 decidedly richer on the nose with almost Pinot Noir-like depth, the palate showing a bit more edgy sweet and sour juicy fruit/acidity interplay, an extra dimension of fruit purity and very impressive tannins and length. Look out for this one, and I would suggest it will look even more impressive 6 months down the track.
Beaujolais Nouveau is officially released Thursday 19th November, at 0.00 hours precisely, in France and throughout the world. It is likely there will be celebratory launch party in your part of the world or restaurant campaigns over the next month.
To further enjoy the ethereal delights of Beaujolais, apart from visiting the region itself or Lyon (highly recommended), you should take yourself off to Paris where traditional neighbourhood bistros such as La Tour de Montlhery chez Denise, in Rue des Prouvaires 1st, dispense an eminently drinkable house 'Brouilly' Cru Beaujolais out of litre carafes with typically brusque Parisian bonhomie, and forget the wine by the glass price, they just divide by what volume is left, invariably very little!
There is of course a great deal more to Beaujolais than Nouveau and encourage all wine drinkers to explore the Village Cru wines and the individual Domaine and Chateau producers. Further information at www.beaujolais.com and www.duboeuf.com
---
Future Evolution and Sustainability of Beaujolais Nouveau
Apart from my enthusiasm for Beaujolais Nouveau, I would like to make the following points in the interest of improving upon the continued and sustainable growth of the style and the regions good fortunes.
Consider fine tuning the release date or extend the time released from the winery to allow for more countries to use sea-freight rather than airfreight. The price of Beaujolais Nouveau abroad is often exponentially inflated by the airfreight component, and in many countries compounded by the taxes levied on both the wine cost and freight. This would make it more viable for restaurants and retailers around the world to sell Nouveau at a correlative price to France/Europe.
Further develop and facilitate existing technology of stainless kegs/barrels for the shipping of Nouveau abroad. There are countless restaurants and wine bars and subsequently the consumer that would benefit greatly by serving such a wine flowing direct from the barrel with the associated bottling cost savings and less handling, reducing the filtration (if at all) with negligible SO2.
Place more emphasis and increase marketing of screwcap closure. This is proven technology and gives both the wine producer and consumer increased assurance that wine tastes the way it was intended to be.
---