Eating Georgia – The country not the state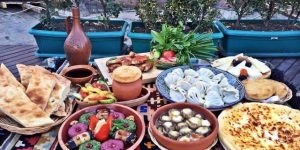 Georgia food tour hosted by Janice Kirkwood and Sue Dempsey
One of the best ways to get to know any country is through its food. The word for a Georgian meal is supra, which is best translated as "feast". Hospitality in Georgia is generous and food wildly abundant.
Let us take you on a journey to discover the food, wine, culture and history of this remarkable country.
There are breads filled with cheese, beans and meat, chicken with pomegranate, grilled trout and kebabs, and juicy dumplings stuffed with all manner of tasty things. And there is always more. Tart tkemali plum sauce, kharcho stews, spicy adjika pastes, khachapuri, vegetable pkhali, blue fenugreek, marigold – it's a whole new culinary vocabulary.
Georgia is also one of the world's oldest wine regions dating back over 8000 years. The tradition fermenting of grape juice in clay vessels, known as qvevris, has made it onto UNESCO's Intangible Cultural Heritage list. There are said to be over 500 indigenous grape varieties.
Food and wine are the main draws for Georgia, but hardly the only one. The Greater Caucasus are stunning, dotted with picturesque villages and ancient churches. The country was also one of the world's first to adopt Christianity, in 337 A.D.
And then there's Tbilisi, a city that has been sacked 27 times but emerged as a distinctively cosmopolitan place with contemporary architecture mixed in with the historic buildings, a rich café culture and a mushrooming wine bar scene.
The late Anthony Bourdain visited Georgia with his Parts Unknown series and had this to say about the food:
"I'm quickly finding that the cuisine here is really good, really complex with sweet-sour notes that are reminiscent of — I don't know. I just know it feels hauntingly familiar yet utterly new and delicious."
We start in the capital Tbilisi then venture throughout the country stopping at the markets and vineyards along with a side of history and culture.
We visit a fourth generation qvevri maker as well as several top wineries for tastings and long lunches among the vines. We overnight in Sighnaghi and Tsinandali and spend two nights in the Imeretian town Kutaisi.
Each evening Janice and Sue will take you to a carefully selected restaurant for dinner and lively conversation.
Eating Georgia is a 10 day/9 night tour for 8 guests.
HIGHLIGHTS
Learn to make Georgian specialities at a hands-on cooking class
Visit local food markets
Take a walking tour through old Tbilisi
Visit a traditional qvevri maker
Eat khinkali dumplings, khachapuri bread, phkali and Imeretian cheese
Wine tastings and lunches at four select vineyards including renowned Iago
Dine at John Wurdeman's Pheasant's Tears
Relax for an afternoon by the pool at The Radisson Collection Hotel in Tsinandali
Visit a cheese maker
Travel from Tbilisi and overnight in Sighnaghi, Tsinandali and Kutaisi
Visit the Stalin museum in his home town of Gori
Dine under the stars in courtyard restaurants
See beautiful frescoes at Gelati Monastery
Listen to Georgian polyphonic singers over dinner
WHAT'S INCLUDED
Hosts Janice Kirkwood and Sue Dempsey
Airport transfers
Transport throughout Georgia in a Mercedes Sprinter
9 nights hotel accommodation
9 breakfasts, 7 lunches and 7 dinners
Events, visits and tastings as per itinerary
Local Georgian speaking guide
TOUR DATES
Summer 2020
31 May – 9 June( a second tour will run from 14 – 23 June 2020 subject to numbers)
Summer 2021
30 May – 8 June
13 June – 22 June
COST OF TOUR
From $3895 per person (double occupancy). From $4495 per person (single occupancy).
Contact
Janice KirkwoodTel. +64 21 0721797 janice@eatingtokyo.co.nz
www.eatingtokyo.co.nz