Curtis Marsh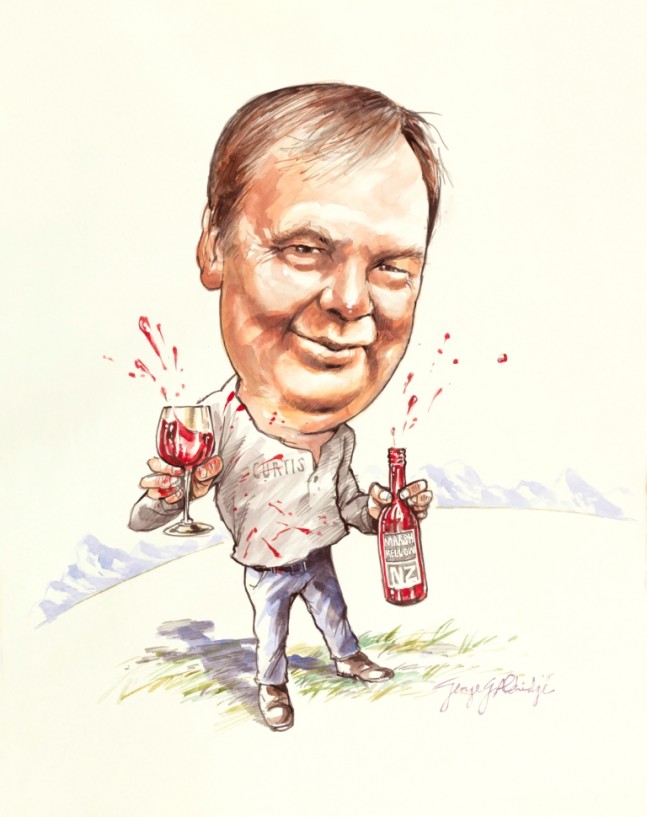 A veteran Sommelier with 35 years' experience in the hospitality, wine and media industries, Curtis Marsh is an independent wine writer, commentator, presenter and wine industry consultant. Having traveled extensively throughout the vineyard regions of the world and the Asia region, food, travel and culture feature equally in his commentary.
A New Zealand national and highly regarded Sommelier at the then famous Wellington restaurant Lavelle's, Curtis was runner up in the inaugural Air New Zealand Sommelier of the year awards. Curtis moved to Melbourne, Australia in 1986 taking up the position of Sommelier with industry doyen Herman Schneider, at the renowned Two Faces Restaurant. Instrumental in establishing the Australian Sommeliers Association, Curtis served as its first Vice-President, even though he had evolved in to the wine industry at this juncture.
A natural progression from the restaurant front-of-house followed with Curtis consulting to many of Australia's icon restaurants, designing wine lists and cellars, raising service standards and installing an innovative and progressive wine culture that imbued leading chefs and restaurateurs in the evolution Australia's contemporary dining scene. Projects of particular significance were Jacques Reymond's Restaurant, France-Soir, Café Grossi, Maria & Walters, Quarter Session and the design of Diamaru's Wine Store and Paul Bocuse Restaurant wine list.
Wine marketing, distribution and importing ensued, Curtis launching his own wine distribution business, Select Vineyards, in 1989 and pioneering some of Australia and New Zealand's most reputable vineyards and growing organically over twelve years to a distinguished portfolio incorporating some of the most prestigious vineyards in the world. Developing and launching brands for wineries such as Jasper Hill, Jeffrey Grosset, Mount Mary, Gembrook Hill, Clarendon Hills, Scotchman's Hill and many more has crystallized Curtis's wine industry career.
Moving to Hong Kong in 2001, over the next fifteen years Curtis developed his wine writing career working with many Asia-based publications; most prominently he was the wine columnist for the Hong Kong Standard, Weekend Lifestyle Magazine for 3 years (2005 – 2007). Other publications Curtis's articles have appeared in include; Cuisine Wine & Asia, Hong Kong Tatler; Gafencu Men, Expat Living (Singapore), Appetite Magazine, I-S Magazine and Telescope Magazine.
Affirming his international media credentials, Curtis was the Asia correspondent for Thomson Reuters Lifestyle section, www.reuters.com writing a regular wine column and also contributing articles on food and related topics. Furthering his reach in Asia and globally, from 2009 Curtis was the wine, food and travel columnist and main-page blogger for Asia Sentinel Internet-based Newsmagazine, www.asiasentinel.com which is partnered to the International Herald-Tribune (New York Times).
Apart from these publications, Curtis's main focus is his own popular website www.thewanderingpalate.com "The Wandering Palates disordered thoughts and utterances; incoherencies, mental wanderings, intoxications, delusions, hallucinations – essentially the wanderings of delirium", attracting a readership spanning 130 countries and averaging over 600,000 hits monthly, the largest audiences being Singapore, USA, UK and Australia with the combined Asia region the most significant. The Wandering Palate website covers wine travel, detailed profiles of artisan winemakers, wine reviews, vineyard terroirs and also embodies personal experiences, appraisals and informed advice on restaurants, wine bars, accommodation and produce worldwide.
Commentating and presenting are synergistic with Curtis's writing and tasting career and he is perpetually involved in wine seminars, corporate events, educational wine tastings and presenting wine luncheons or dinners throughout Asia for major companies such as UBS, Deutsche Bank, HSBC, Credit Suisse, Merrill Lynch, Hitachi and Asia Food Channel.
Consulting to international hotel groups and leading restaurateurs was a significant part of Curtis's activities. This included GHM Hotels globally, particularly the Datai resort in Langkawi Island, Malaysia with their wine requirements, wine list design and coordinating direct from vineyard shipments. He is also responsible for instigating GHM's own label encompassing every facet of production from the winemaking and selection process to design of the label and marketing. www.ghmhotels.com
Curtis was engaged by the Conrad Hilton Koh Samui, the flagship resort of the group opening in July 2011, to design and implement their entire wine program, to which this has been extended to regional role in Thailand. Other current clients include, Coriander Leaf and Screening Room – Singapore, The Dahu Group including flagships Mantong and Hutong Kitchen – Melbourne.
Curtis has devoted a considerable amount of his time and resources to children's charity work largely focused the underprivileged and their educational needs through the laudable Room to Read Foundation www.roomtoread.org. Curtis worked with SolarLEAP, founded by an extraordinary young man, Charles Watson, who has designed a robust and economical solar- powered computer and is on a mission to provide these to remote schools in impoverished communities that do not have a reliable electricity source. Learn more at http://solarleap.org/
He also donated his time for three years as wine and food coordinator and presenter for the Singapore Sun Festival. This lifestyle festival is held annually in Tuscany, Napa Valley and Singapore with Curtis presenting alongside celebrity chefs such as Floyd Cardoz from New York, Luke Mangan, Australia and Thierry Marx, France. In 2010 Curtis presented with global Ambassador for Actions of AIDS and acclaimed actor, Sharon Stone, along with celebrity chef, Curtis Stone. IMG Artists COO, Jeff Fuhrman, organisers of the Sun Festival's held around the world, has acknowledged Curtis Marsh's significant contribution to the Singapore event.
Curtis has also designed and organised some of the largest wine events in Asia to date incorporating some of the world's most respected wine journalists such as Robert Parker, Allen Meadows, Andrew Jefford, Matt Kramer, and James Halliday, equally highly respected vignerons and celebrities such as Sam Neill, Josh Jensen, Ted Lemon, Nigel Greening, Philip Jones to mention a few. Visit the Wandering Palate website for detailed coverage on these events.
Collaborating with Singapore based Soo Hoo Koon Peng, Curtis was the first person to bring Robert Parker to Asia with the highly successful 'Taste of Asia' events. This lead to Soo Hoo taking a controlling interest in the Wine Advocate and the relationship evolving to Curtis becoming the Resident Sommelier and Writer for Robert Parker, The Wine Advocate. For the last six years he has travelled the world curating events such as 'A Matter of Taste' https://a- matter-of-taste.com/ and 'Robert Parker Grand World Tour' https://www.youtube.com/watch?v=PN88tgHh4oc
In 2016 The Wine Advocate merged with Michelin Guide and Curtis has continued in his role working on a project basis for both entities. This has included curating the wines for the inaugural Michelin Guide Singapore Gala Dinner and subsequent annual dinners, along with wine selection for the Michelin Starred Chef's Tour of the USA.
Having lived in Australia 16 years, Hong Kong for 5 years and Singapore for 7 years, Curtis returned to his hometown of Wellington in 2014; as he puts it, "It's like a King Salmon being at sea for 28 years and finally coming back to the spawning ground". Like many New Zealander's who have spent a long time abroad, the calling to return was influenced by lifestyle and wanting his daughter, Hayley, to experience growing up in her home country and have roots. Admittedly, he was also homesick.
Given that Curtis's career has always evolved organically, it is perhaps fortuitous that he met Errol Clark, now a good friend and neighbour, who introduced him to the TerraVin wines. Subsequent visits to Marlborough and TerraVin's Calrossie vineyard and in-depth tastings of winemaker Gordon Ritchie's wines impressed Curtis so much he has been consulting on sales strategy and rebranding over the last year and launching a new brand, Te Ahu.
Throughout his career Curtis has championed artisan winemakers moreover, in a self-appointed ambassadorial and patriotic role, promoted the winemakers and wines of New Zealand. And after all, he is an ardent All Blacks supporter and patriotic Kiwi with a worrying obsession for rearing and cooking ducks moreover, a Pinot Noir tragic and enduring wandering palate and Sommelier that lives by his theorem "Life is filling in time between meals…and a meal without wine could only be breakfast."
You can listen to an interview of Curtis on Radio New Zealand with Kim Hill Click Here
Email: thewanderingpalate@gmail.com Tel: +64273209980
Website: thewanderingpalate.com Twitter: @wanderingpalate
Facebook http://www.facebook.com/pages/The-Wandering-Palate/157898104254744