Shalom Chin Salomon Vintage Blog – Day 9 – recorking 1969 Grüner Veltliner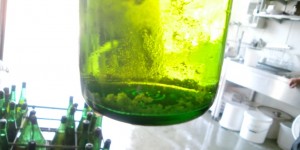 Shalom has his first experience of re-corking old wines from the deepest part of the Salomon cellars, and 1969 Grüner Veltliner. This brings back memories of when Bert Salomon showed up at my place in Melbourne for my 40th birthday with a case of 1962 Grüner Veltliner!
Yes, a whole dozen, as he was not sure how many people were coming!! I will never forget Bert's generosity and true friendship in this wonderful gesture. Oh, the wines was brilliant, very sound, complex, provocative, showing a lot of development although not falling over – like the birthday boy.