"Antipodean" Grands Crus of Burgundy, France & New Zealand
---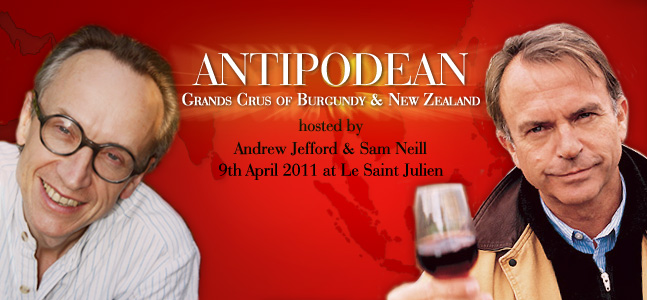 Antipodean – "Two points, places, or regions that are situated diametrically opposite to one another on the earth's surface – especially the country that is opposite to one's own"
It would be fair to say New Zealand and France are diametrical opposites in more ways than one, even though the French came very close to colonizing New Zealand, passing Captain Cooks frigate during the night. But that's another story.
Beyond the geographic boundaries and a friendly rivalry in sport (rugby!) and wine, this event is not about competing or comparisons, rather it is a celebration of pinot noir and chardonnay and exploring and imparting the importance of terroir on the consumer – vital to the enhancement and evolution of wine culture – ANYWHERE!
This will be a unique and highly entertaining evening featuring Grand Cru wines of four outstanding Burgundy vignerons alongside the Single Vineyard wines of four distinctive New Zealand producers, paired to the French cuisine of acclaimed Chef Julien Bompard. Introducing the topic of terroir and the concept of Grand Cru vineyards, Andrew Jefford and Sam Neill will steer the commentary and conversation between our guest winemakers and diners.
"Antipodean" Grands Crus of Burgundy, France & New Zealand
Hosted by Sam Neill & Andrew Jefford
Wine Dinner at Saint Julian
Saturday April 9th 2011
With guest winemakers from New Zealand and Burgundy
Guest Winemakers and Speakers
Nigel Greening – Felton Road, Central Otago
Veronique Boss-Drouhin – Domaine Drouhin – Oregon & Maison Joseph Drouhin – Burgundy
Mike Mulvey– Prophet's Rock – Central Otago
Kai Schubert – Schubert Wines – Martinborough
Francois Labet – Chateau de La Tour – Burgundy
---