Singapore Sun Festival
---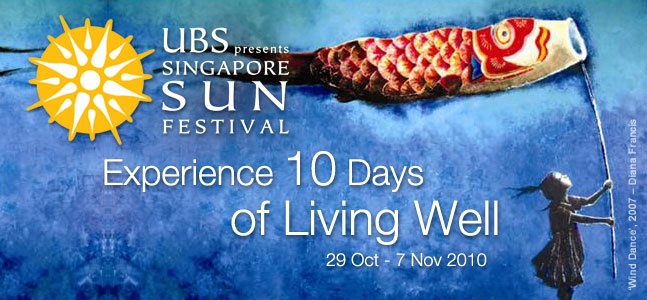 The Singapore Sun Festival is Singapore's leading music and lifestyle festival. The Singapore Sun Festival which was inaugurated by IMG Artists in October 2007 is an annual multi-arts and integrated lifestyle Festival that celebrates the 'Art of Living Well' through the 7 disciplines of Music, Visual Art, Literature, Film, Wine, Food and Wellness. The Singapore Sun Festival exposes both Singapore citizens and foreign visitors to many superb, high-quality and prestigious event. The Festival brings top international and regional artists to Singapore every year, including world premieres and exclusive performances by stars from all over the world.
The Singapore Sun Festival recently won the prestigious award "Leisure Event of the Year" and is now firmly established as the leading leisure event for Singapore and the region. Organised by Singapore Tourism Board, The Singapore Experience Awards is the most prestigious awards platform in Singapore's tourism industry, honouring those individuals and organizations who delivered the best holistic customer experiences. The Singapore Sun Festival contributes to Singapore's continued development into one of the region's most vibrant arts and lifestyle hubs.
The Festival is a global life-style brand owned by the global arts management group, IMG Artists. The Singapore Sun Festival is the 3rd installment and exclusive Asian continental home of this leading global festival which is already celebrated annually in Cortona, Tuscany (Italy) and the Napa Valley, California (USA).
The Singapore Sun Festival exposes both Singapore residents and foreign visitors to many superb, high-quality and prestigious events for 10 days every year. The Festival has during the past three years featured over 700 artists in over 270 events and performances by the best artists from around the world such as film star Joan Chen and Academy Award winner Geoffrey Rush, legendary singer-song writer Elvis Costello, Grammy Award winner Al Jarreau, wellness guru Deepak Chopra, world renowned Stars of the Bolshoi Theatre and the Mariinski Theatre, legendary opera diva Angela Gheorghiu and Dame Kiri Te Kanawa, Nobel Prize winner Wole Soyinka, the world renowned Vienna Boys Choir, Grammy Award winning artist Sergio Mendes, celebrated flutist Sir James Galway and world leading orchestras such as Netherlands Radio Philharmonic and Los Angeles Philharmonic Orchestra, top class celebrity Chefs like TV Star and Opera Winfrey's personal Chef Art Smith, 2-star Michelin Chef Thierry Marx and the legendary Charlie Trotter.
Art exhibitions and unique workshops, exclusive wine sessions and culinary classes and gala dinners, concerts by the waterfront, literature talks, film screenings under the stars and wellness sessions with yoga and tai chi experts all formed part of the impressive programmes.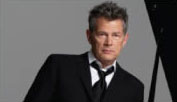 Highlights for this year's Festival include headliners in the music, film and culinary industries, including multi-Grammy award winning musician, producer, composer, and arranger David Foster, together with Natalie Cole, young singing sensation Charice, American Idol winner Ruben Studdard, Peter Cetera and The Canadian Tenors in two stunning gala night performances of HITMAN – David Foster and Friends.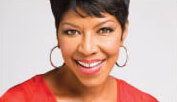 Other highly anticipated acts include veterans such as Natalie Cole as she performs a greatest hits concert which includes duets with her father projected on a screen above the stage; George Benson – the true jazz legend, and the acclaimed vocal and percussion ensemble – The Creole Choir of Cuba. For the first time in Singapore, Golden Globe winning actress Sharon Stone takes the stage in an on-stage interview, a gala dinner and a very special auction of luxury items with proceeds of the auction going to Action for AIDS Singapore.
World renowned tenor José Carreras will be performing in an Italian Gala performance with the Yong Siew Toh Conservatory Orchestra and soloists from the Accademia Del Maggio Musical Fiorentino, conducted by Paolo Olmi. Another not to be missed event, José Carreras will be conducting an exclusive on-stage interview facilitated by popular radio presenter Andrew Lim. The Singapore Chinese Orchestra will take the stage in its East meets West Gala Closing Concert Silk Road Odyssey with rising stars – guanzi soloist Han Le, violin soloist Rachel Lee, pipa soloist Yu Jia and guitar soloist Miloš Karadagli?.
Visual artist Jimmy Ong presents his exhibition at the Singapore Tyler Print Institute, while Diana Francis's exclusive exhibition Life Is Beautiful will be showcased at the Veuve Clicquot Sun Tent along with a champagne appreciation session with wine guru Curtis Marsh. LASALLE College for the Arts also presents an exhibition at the Asian Civilisations Museum as part of a major Sumatran exhibition.
For those looking for a chance to unwind, there are weekend yoga classes, as well as wellness and meditation sessions by wellness and spiritual gurus Vikas Malkani and Umesh H. Nandwani. Meet two exciting authors at this year's Festival, Li Cunxin, author of Mao's Last Dancer who will share his incredible life story as depicted in his book of which a film has now been made and Tishani Doshi as she talks about her various poems, short stories and her first novel.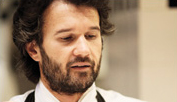 Michelin Star chef Carlo Cracco will be teaming up with the leading wine critic, James Suckling in an Italian gourmet celebration including a brunch and gala dinner. James Suckling will also lead a superb Bordeaux masterclass at the Fullerton Hotel. Celebrity chef Curtis Stone will also be presenting exclusive culinary events and a cooking class.
As part of overall efforts to promote greater participation in the Festival, free screenings of classic films will be held at Singapore Botanic Gardens as well as two free outdoor concerts by Tambuco and Indialucia at the Esplanade Outdoor Theatre. An outdoor exhibition of stunning light art installations – the First of its kind in Asia – will be held in the Marina Bay precinct.
---
MUSIC
HITMAN DAVID FOSTER AND FRIENDS – OPENING GALA CONCERTS
Esplanade Concert Hall
FRI 29 OCT – SAT 30 OCT
15 time Grammy award winner, David Foster opens the Singapore Sun Festival in style, with stunning performances of HITMAN – David Foster and Friends.
NATALIE COLE IN CONCERT
Esplanade Theatre
SUN 31 OCT
Natalie Cole will dazzle audiences with her sultry, velvet voice.
JOSÉ CARRERAS IN CONCERT
Esplanade Concert Hall
TUE 2 NOV
Capture the romance of Italy with world renowned tenor José Carreras in an Italian Gala performance with the Yong Siew Toh Conservatory Orchestra and soloists from the Accademia Del Maggio Musical Fiorentino, conducted by one of Italy's most celebrated conductors Paolo Olmi.
GEORGE BENSON
Esplanade Concert Hall
THU 4 NOV
Multi Grammy Award winning artist and legendary musician, George Benson graces the Esplanade stage performing some of his greatest hits as part of the fourth annual Singapore Sun Festival.
For a more details on Singapore Sun Festival – Music
---
VISUAL ARTS
JIMMY ONG @ STPI
Singapore Tyler Print Institute
FRI 29 OCT – SAT 27 NOV
Considered one of Singapore's finest contemporary artists, Jimmy Ong has been noted for his large scale, figurative charcoal works on paper since his first solo exhibitions in the 1980s.
LIFE IS BEAUTIFUL – DIANA FRANCIS
The Veuve Clicquot Sun Tent
MON 1 NOV – SUN 7 NOV
This enchanting evening at The Veuve Clicquot Sun Tent will launch Diana Francis's exclusive art Exhibition 'Life Is Beautiful' – by Diana Francis.
iLIGHT MARINA BAY
Marina Bay Area
FRI 15 OCT – SUN 7 NOV
Get set for enchanting evenings as Marina Bay transforms into a spectacular canvas of light.
SUMATRA: ISLE OF GOLD
Asian Civilisations Museum
FRI 30 JUL – SUN 7 NOV
Known in ancient times as the 'Island of Gold', Sumatra was an early point of arrival for trade, new religions and ideas in Southeast Asia.
For a more details on Singapore Sun Festival – Visual Arts
---
LITERATURE
MAO'S LAST DANCER WITH LI CUNXIN
The Veuve Clicquot Sun Tent
SAT 30 OCT
Li Cunxin was born into utter poverty in Mao's communist China, the sixth of seven sons.
THE POET, THE DANCER, THE WRITER, THE WANDERER, THE PLEASURE SEEKERS: WHO IS TISHANI DOSHI?
The Veuve Clicquot Sun Tent
SUN 7 NOV
Born in 1975, she is the result of mixed parentage of Gujarati and Welsh heritage. The middle of three children, known for her curiosity and sensitive nature… she knew that she'd be a writer one day.
For a more details on Singapore Sun Festival – Literature
---
FILM
NORTH BY NORTHWEST
Singapore Botanic Gardens
SAT 30 OCT
After over 40 years, this rip-racing adventure-thriller still packs a punch and looks superb on a big screen.
AN AMERICAN IN PARIS
Singapore Botanic Gardens
FRI 5 NOV
An American in Paris garnered six Oscars, including an honorary award to Gene Kelly.
SINGIN' IN THE RAIN
Singapore Botanic Gardens
SAT 6 NOV
A perfect movie in every sense, Singin' In The Rain has rightly gone down in history as the best musical picture ever.
UP CLOSE AND PERSONAL WITH SHARON STONE
LASALLE College of The Arts
SAT 6 NOV
Get up close and personal with one of films favourite leading ladies.
For a more details on Singapore Sun Festival – Film
---
WINE & CUISINE
CELEBRAZIONE ITALIANA!
Gattopardo, Fort Canning
SUN 31 OCT
Indulge in the luscious taste and rustic ambience of Italy at the heart of Fort Canning with Michelin Star Chef Carlo Cracco.
VIVA ITALIA!
The Straits Room of The Fullerton Hotel
MON 1 NOV
Chef Carlo Cracco is regarded by many as the supreme exponent of Italian Cuisine.
AN EXCLUSIVE BORDEAUX WINE TASTING WITH JAMES SUCKLING
Ballroom 3, The Fullerton Hotel
WED 3 NOV
Join the Singapore Sun Festival's international guest wine presenter, James Suckling, for an exclusive tutored tasting of various vintages.
SURFING THE MENU WITH CURTIS STONE
The Straits Room of The Fullerton Hotel
FRI 5 NOV
Curtis Stone is a master chef, author and television personality.
For a more details on Singapore Sun Festival – Wine & Cuisine
---
WELLNESS
THE SUN YOGA CONFERENCE
Boardroom, The Fullerton Hotel
SAT 30 OCT – SUN 31 OCT, SAT 6 NOV – SUN 7 NOV
Unite your mind body and soul through the Sun Yoga Conference. Featuring Yoga Masters Saumik Bera, John Ogilvie and Anukool Sunil Deval.

A SERIES OF MEDITATIONS BY MASTER UMESH H. NANDWANI
The Veuve Clicquot Sun Tent
MON 1 NOV, WED 3 NOV & FRI 5 NOV
Meditation Instructor and Holistic Trainer Umesh H. Nandwani will help you learn skills and techniques of meditation in order to experience inner peace, harmony, love and strength.
MOON SALUTATION @ ACM GREEN
FREE YOGA EVENT
TUE 2 NOV
Asian Civilisations Museum Green
In the modern world, moon salutation is one of the most popular yoga classes. Moon salutation is normally practiced in the evening, under the open sky and light of the moon.
ACHIEVING HAPPINESS WITH VIKAS MALKANI
The Veuve Clicquot Sun Tent
SAT 6 NOV – SUN 7 NOV
Vikas Malkani is considered one of the world's leading teachers of personal growth and self-development.
For a more details on Singapore Sun Festival – Wellness
---

Singapore Sun Festival 2010
29 October to 7 November
www.singaporesunfestival.com
---