A cheese made just in time for Christmas
---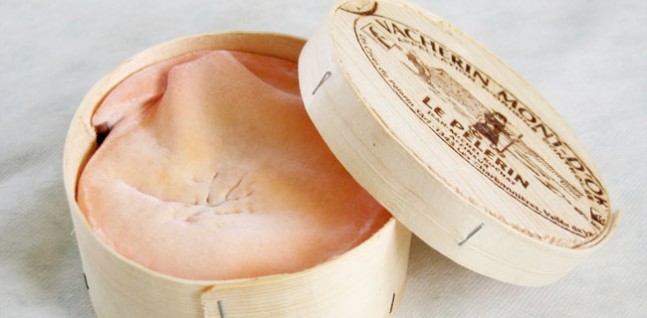 As we approach Christmas, one of my favourite cheeses comes in to production, Vacherin Mont d'Or – a exquisite washed-rind cow's milk cheese from the Jura Mountains, France.
Only made in the winter months and perfectly timed for Christmas table after the turkey, it is presented in a spruce-wood box that keeps the cheese from oozing all over the place. Indeed, you need to use a spoon to get it safely on to your toasted country bread.
I asked Stéphane Hervé, chef-proprietor of Le Bon Marché, a produce store and French Bistrot in Singapore if he would give me his thoughts on the Vacheron Mont D'or he stocks, to which he replied in detail!  Le Bon Marche is one of the hidden places that every expat wants/needs to discover when they first hit town, but it is very much a word of mouth place and sometimes it takes a while for people to come across it.
It is a one-stop-shop in terms of French delicacies, with a excellent and well-cared for selection of cheese (mais bien sur), good bread, pates and terrines, small goods, delicatessen produce, a bank of freezers with free-range poultry, rabbits, and meat, and of course fois-gras.
They also make a range of desserts for take-home. The bistro serves solid French fare and I have to say, the food is very good, but keep in mind, this is not a restaurant, more like a user-friendly deli.
Premium Hand Washed Unpasteurised Mont d'Or by Master Craftsman "Bernard Antony" but his Vacherin Mont d'Or are ready only early November until end of April. They are "Maturing" cheeses and are not the manufacturer. Unpasteurised Mont d'Or already available in our shop until end of April is from a Manufacturer named Napiot.
The BEST period to taste the Mont d'Or being between October and February actually.
History: Created in the 18th Century, The Mont d'Or has been created in order to utilise the Autumn-Winter Milk from the Cow's which is produced in less quantity then in Spring-Summer where the farmers produce much larger cheese (ex: Comte, Raclette, Emmental, Morbier).. Mont d'Or is an Appellation Origin Controlled cheese since 1981 originally form the Haut Doubs province in East of France and its name form the highest Mountain located in this Province, the "Mont d'Or".
The type of Cow's milk: Unpasteurised milk MUST be issued only from the "Montbeliard" race and fed with only Grass and Hay. The cow must nourished and fed at an altitude of NOT LESS 700 Meters above Sea Level and issues from the Cantons of Mourthe, Pontarlier, Morteau, Montbenoit, Maiche and Le Russey and ONLY these can pretend as an AOC Label Mont d'Or.
This cheese also benefit from being and Appellation Origin Protected since 1996 which is recognised all across Europe.
This cheese cannot be confused with the Swiss Type Vacherin Mont d'Or which have been AOC only since 2003.
These Swiss Vacherin Mont d'Or are ONLY made with Pasteurised Milk.
The size for the Mont d'Or is Baby or Mini(about 500gm), Medium(about 700gm) and Large Family(between 1.5 to 3kg).
Type of Cheese: Slightly Pressed and Washed Rind
Manufacturing Process: The Milk is collected and let to rest in a Copper Basin overnight, then it is heated up to 35 C in order to separate the Whey and the Liquid, the Whey is then "Brasse" and collected from the liquid part. The Whey is then pressed slightly in the various mould over 1 more day.
Then, the final stage is to encircled each cheese with a Special wood strap named "Epicea" from a kind of Pine Tree grown in this Part of the Haut Doubs and Savoie region. The cheese is then placed to rest overnight in order to let the water drained out further.
The next day, it is then put down in temperature at 10 C and placed into a salted water bath.
It is then matured for 21 days prior to put each size and its own box made with the same tree "Epicea'.
The cheese will then develop further in taste over the next 2 to 3 weeks.
To make 1 Litre of Mont d'Or cheese, you need 7 Litre of Milk, hence it is quite a costly process indeed.
Visual Aspect: Mont d'Or has a Crust slightly brown, undulated with freckles, a creamy texture within with a lot of unctuosity
The Smell: It is dominated by the fragrance of the Pine Tree Epicea with a leather scent and resin type feel.
The Taste: It's taste is very specific from its milk form the mountain and the Epicea tree. We found some Hazelnut and Potato scent with after taste of mild dew of the forest as well. Very creamy texture in mouth, filled with unctuosity.
How to enjoy your Mont d'Or: at room temperature (about 20 C) or oven baked with garlic cloves, white wine from Savoie or BEST from Jura.
Wines to Pair with Mont d'Or: from Jura of course!
White Wines: there is 4 White Wines AOC (principally Chardonnay or Savagnin grapes): Etoile, Chaton-Chalon, Arbois, Cotes du Jura.
The Chardonnay from Jura are quite different than others due to the very different terroir and the Cold climatic factors of this region, they have a very deep flavours even tough its is quite clear, sometimes very pale. The aromas of Vine flowers, almond, acacia honey, potato with toasted sometimes grilled coffee hints. It has a slight taste of gun powder quite as well.
The Savagnin has a distinctive flavour with a round, oily feel which reminds scent of fresh walnut, fresh hazelnut and green almond.
Its colour is yellow and can remind you of the cepage Retzina from Greece.
The white wines of Jura are made with assemblage of these 2 types of grapes, however Savagnin represent only 10 to 40% of it, the rest being Chardonnay.
Red Wines will be Trousseau or Poulsard or any kind of Pinot Noir will do as well. If you choose a Red Wine from Jura,choose a wine that is at least 4 to 6 years aged, some can be kept up to 20 years..
Yellow Wine: 100% made with Savagnin grapes harvested very late after the first frost. Its colour is very yellow and is at 11 to 13% Alc Vol.
For me, It is THE Wine by excellence to go with Mont d'Or but that is my preference, I will let you enjoy your vacherin then!!
Cheers & Merry Christmas!
Stéphane Hervé – Chef-proprietor of Le Bon Marché
---
Foot note : Stéphane's wine selection from the Jura translates reasonably well to the new world, however chardonnay's need to be aged and have a rich, golden aspect, whilst pinot noirs should be light, earthy and sappy in style, again bottle age is desirable.
Le Bon Marché
383 Bukit Timah Rd #01-01
Alocassia Service Apartments
Singapore 259727
Tel: +65 6226 3269
Opening Hours: Tuesday – Sunday 10:00am-10:30pm (Closed on Mondays)
---