Two countries, one grape variety
---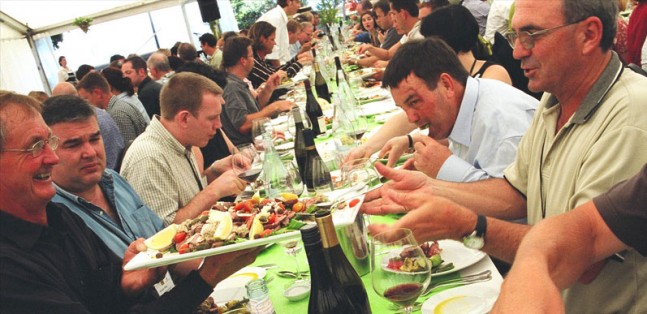 Australia and New Zealand both produce first class pinot noir but Curtis Marsh is swayed by a Wellington street party in its honor.
Having recently listed the merits of pinot noir from Victoria, Australia's stronghold of the variety, it would be remiss not to address the antipodean challenger of New World pinot greatness, New Zealand.
Despite mutual British ancestry and a Commonwealth bond, the two countries are culturally disassociated and intense rivals. To quote the late New Zealand prime minister David Lange "The best thing between New Zealand and Australia is the Tasman Sea."
Sport, or more specifically, rugby, is at the forefront of this competition, however wine is becoming equally combative. Having participated in several trans-Tasman pinot noir challenges on both shores, I am ambivalent about who has the upper hand.
I once arrived at a pinot noir conference in Queenstown, New Zealand armed with the finest, most profound examples from Australia only to embarrassingly witness them show thin and minty against the locals. Similarly, in Australia I was championing the very best from New Zealand only to see them disparaged as too sweet and one dimensional against the more complex and sophisticated residents. Such is the mercurial nature of pinot noir and the irregularity of this sort of exercise.
However, in the broadest of generalizations, given a myriad of wines with different regional influences and winemaking techniques, I would suggest Australia is capable of a more savory and ethereal style, whereas opulence of fruit and generous texture is prevalent in New Zealand pinot noir. Ideally comparisons between regions or countries should be inconsequential, with individual wines enjoyed on their own merits and personality.
Rivalry within New Zealand between the different regions is equally fierce, though in the same manner as the warring local rugby teams come together as the formidable All Blacks, winemakers are impressively cohesive in their marketing on the international stage.
With the first importation of pinot noir vine cuttings around 1962, New Zealand may well be Johnny-come- lately compared to Australia and the United States, however the hectares planted to this grape have already surpassed that of Australia along with a meteoric rise in exposure and credible accolades around the world.
Back in the mid-1980s, when I was the Sommelier at Lavelle's, Wellington's finest restaurant at the time, we had every pinot noir produced in country on our wine list, all two of them. There was the 1981 Matawhero from Gisborne, the late Bill Irwin of Matawhero being instrumental in importing pinot noir to New Zealand, and the first pinot noir of commercial quantity and quality, the legendary 1976 Nobilo's from Huapai, Auckland.
The celebrated regions of today were not even on the map then, with present-day benchmark, Ata Rangi vineyard in Martinborough barely three years old, and Chard Farm, one of the early pioneers of Central Otago, only just planted in 1987.
Nowadays the regional map is becoming even more complex with producers in Martinborough, Central Otago and Marlborough defining further into sub-regions and relative outposts such as Canterbury (Pegasus Bay winery) and Nelson (Neudorf Vineyards) also rising to the challenge.
Should you have more than a passing interest in pinot noir and excellent cuisine, I strongly recommend a holiday to New Zealand incorporating the four-day pinot noir celebration held biannually in the capital city, Wellington.
Held next year between January 29 and February 1, the middle of the southern hemisphere summer, it is the perfect way to escape Hong Kong's dreary winter weather. If by chance you are also a rugby fan, the International Sevens are on the weekend before.
There are almost 100 wineries participating in the event with organizers having devised a three- stream conference program covering technical subjects, the business of wine, or wine connoisseur and consumer workshops. Tasting includes Great Pinot Noirs of New Zealand, Great Pinot Noirs of the World (including the rare 2003 Chambertin from Rousseau) and a feature tasting from the excellent 2003 New Zealand vintage.
There are also some impressive speakers on the program, including: British wine writer, lecturer, judge and commentator Matthew Jukes; French master of soil, Claude Bourguignon; Jacques Lardiere of Maison Louis Jadot, arguably Burgundy's most prestigious producer; Poh Tiong, publisher of The Wine Review, Southeast Asia's oldest wine magazine; Michel Bettane, France's most respected wine writer; Australian viticulture lecturer, researcher, author and inventor Dr Peter Dry; Monty Waldin, one of the world's leading authorities on biodynamic and organic viticulture and winemaking; and Andrew Caillard, specialist wine auctioneer, author and executive partner of Langton's Wine Auctions and Wine Exchange in Australia.
Pinot Noir celebration is also about great local produce and cuisine with leading New Zealand chef, caterer and food writer Ruth Pretty in charge of the culinary program.
Having participated in this event, I have lasting memories of the street party where all the top Wellington restaurants gather under marquees in Hawker stall style with wine stations interspersed. It takes a long time and considerable stamina to get to the end of the street!
This really is a wonderful wine and food experience and an opportunity to rub shoulders with the world's key wine media, trade, winemakers and connoisseurs to celebrate pinot noir. It books out quickly.
Wellington is also a beautiful harbor city surrounded by steep hills, visually similar to Hong Kong island, only the water is so crystal clear you can see the bottom. The city has a charming ambience with its preserved Kauri timber houses and is conveniently compact with local designer shops, galleries, museums (the Te Papa Museum is world-class), abundant cafes, bars and restaurants all within walking distance.
The majority of hotels in Wellington are unfortunately dated with nothing at the five-star level, although you will find the service in general very friendly. There is however a fabulous and groovy new establishment called the Bolton Hotel, which has both serviced apartments and suites www.boltonhotel.co.nz
Wellington is also an excellent base for venturing to vineyard areas with Martinborough just one hour's drive north. Nelson and Marlborough are only a short flight across the Cooks Strait or the more scenic route by Inter- Island Ferry if you have the time.
Some useful Web sites:
www.wellingtonnz.com
www.newzealand.com
www.martinborough.com
www.marlboroughonline.co.nz
---