Sorry, wrong number
---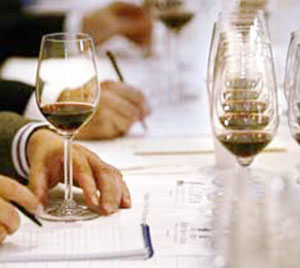 The wine rating system is flawed, because it doesn't take into account the human factor.
The growing cast of wine consumers obsessed with scores – seemingly an inherent process for choosing super-premium wines these days – troubles me. It is not just the credulous trust in scores that is a concern, but the dependence of wine merchants and marketers on critics to sell wine through the blatant exploitation of ratings.
I encountered a ratings-obsessed individual not long ago when emceeing an options tasting, the entertaining – albeit masochistic – sport of identifying masked wines guided by multi-choice questions.
There were muffled groans of embarrassment when one of the participants announced, in irritating manner, that she and her husband only drank wines rated 95 points and above.
Blind tastings are merciless to wine snobs and our self-proclaimed connoisseur humiliated herself with an unequivocal preference for a non-rated, humble Portuguese red over and above a celebrated 1998 Henschke Hill of Grace Shiraz, rated 97 points by the esteemed American critic Robert Parker and valued at more than HK$3,000 per bottle.
On the positive side, she was both enlightened and made more confident of her own palate when the Portuguese red was announced the unanimous favorite of the evening. It was, incidentally, the 2000 Quinta do Crasto Reserva Vinho Tinto, selling for HK$240 per bottle through Watson's at the time (Great supermarket, Pacific Place. Tel: +852 2526 2832).
If I could emphasize this type of tasting is incongruous with the appreciation of subliminal complexities in wines such as Henschke Hill of Grace, ideally savoured singularly and matched to the appropriate cuisine and occasion.
However, with a plethora of pedestrian e-mails from wine merchants in circulation, the contents almost entirely a reproduction of scores and tasting notes verbatim, little wonder that consumers are becoming lazier and coerced by scores when it comes to purchasing wine. The embellishing of every point above a strategic stratum of 90 points out of 100 is rampant. Anything above 95 points is money in the bank, although a perfect 100 is more likely to cause a massive headache for the distributor and a milestone that haunts the producer in successive vintages for the rest of their days.
Curiously, it is only the 100-point system that has any plagiaristic appeal and predominantly from the great Parker who, after all, invented this scoring system. After that, inconsequential in order, comes other expertise in US publications such as Wine Spectator, Steve Tanzer's International Wine Cellars and Wine Enthusiast.
For reasons unknown, the respected English-based Decanter Magazine, which uses a star-rating system, is rarely quoted, rather ironic given that it is the first international magazine to publish a dedicated Asia edition printed in Mandarin. Neither does the indefatigable wine authority Jancis Robinson get much airplay, perhaps because she uses the English establishment 20-point scoring system.
It would be naive to suggest that we could do without ratings, in reality an entrenched aspect of the competitive nature of consumers and consumerism.
It is not that I am questioning the competence of those who choose to score or rate wines. To the contrary, there are countless writers, critics, winemakers, wine and hospitality industry professionals with encyclopedic knowledge and seriously sharp palates who can dissect and assess a wine with the precision and thoroughness of a forensic scientist performing an autopsy, detecting winemaking faults in nano-proportions.
However, there is a predominance to assess wine at the tasting bench and in exhaustive batches. While undoubtedly executed professionally, often with wines masked to increase objectivity, the method lacks soul, and there is the unavoidable element of comparisons that are often unjust.
However, the main flaw in clinically rating wines is that there is no accounting for  the flavor and  enhancing  influences of food,  mood or your state of mind at the time of imbibing – all of which will have a profound effect on your opinion of the wine.
I can think of endless personal experiences that demonstrate this, a prime example is when absorbed in the surroundings and culture while travelling the wine route: memories of a trip to the south of France, in the hills of the Languedoc, an idyllic part of the world where Roman generals chose to retire among the joie de vivre cultures of Catalonia and France. We are in the tiny village of Sainte Croix de Quintillargues, luxuriating in the jovial hospitality of Pierre Clavel on an impeccably radiant Provincial afternoon.
Pondering how unjustly maligned white wines are from this region, we sip his unpretentious Cascaille Blanc, a blend of roussanne, grenache blanc and rolle; rich, yet lively and savory with dried herbs and a salty finish. Relishing in the plump green olives, picked from the trees surrounding us, along with all number of home-cured and smoked pig parts and terrines, the synergies between the wine, food and ambience were sublime. If compelled, I would score the wine a perfect 100 points. For that matter, readers should search out Pierre Clavel wines at www.vins-clavel.fr
I recall a bittersweet experience of running a small business when I discovered that my administration manager, who had impressed the entire wine community with his unrivalled knowledge of old and rare wines, was enjoying his research at my expense. Some time after his expeditious departure, we unearthed a magnum of 1949 Comte de Vogue, `Le Musigny' Vielles Vignes Grand Cru red Burgundy, indeed rare and expensive. Usually one only gets to eulogize such wines at formal dinners, served in thimble proportions, consequently the enjoyment exclusive to the bouquet.
In a consoling act of decadence, I decided to share the wine with three devoted drinking comrades. We were in nirvana as we toasted both his exodus and expertise, immersing ourselves in our gluttony and the captivating sweet perfume and evocative secondary aromas of antique woods, wild mushrooms, truffles and earthy minerals. Words will never do justice to the complex nuances of this wine, and it remains my benchmark for pinot noir to this day. As for a score, I would rate it 200 out 100.
Ultimately, wine is subjective and should not be constrained by numbers.
---