Phnom Penh by the Glass
---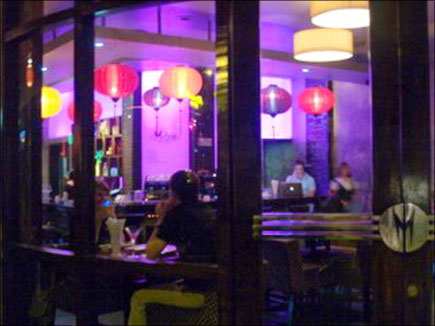 I tend to navigate my way around Phnom Penh by my favourite glasses of wine -not a simple matter of where I can get a decent glass at a reasonable price mind you- but places where I can take refuge from the chaos.
These establishments have to be places that have a certain atmosphere, an ambiance that I warm to, places that make me thank the gods that I am alive and well and living in Cambodia, where the food is as good as the food choices and the wines are plentiful and generally inexpensive.
I'm the first to admit that I have eclectic tastes in all manner of life, verging on the point of eccentricity, I like all wines that are well made from ripe fruit, I like all sorts of interesting and quirky places, as long as they are genuine -with a sort of honest purpose to their being, one that they are constantly striving to refine and define.
Like any expat in this town, I fall in and out of love almost every other week and when I fall, I fall hard; there is a smattering of wine-by-the-glass stops in Phnom Penh that I just adore at the moment, places that from the minute I finish my last glass I am pining for the next visit.
There are places to go and sip sophisticated wines whilst talking philosophy with a French Chanteuse, surrounded by smoke haze and French accents; places where you can sink gutsy reds and chew the fat with the lads, places where you can subject a glass of wine and your senses to the exoticness of the east; places where jaded barkeeps will regale you with stories of ageing rock stars in five star hotels from their glory days and finally, there is a place where a very special girl will tell you how much she loves you over a glass or two of something easy to drink.
Fish Café
Love the food, love the layout of the place, I particularly love grabbing a seat at the big communal table as you walk in and quaffing a glass or two of Riesling with some seafood snacks. I have also been known, on the quieter nights, to hideaway upstairs with someone special and sip Sauvignon Blanc intimately.
Rubies Wine Bar
Ok, the building itself reminds me of my grandfather's old tool shed but the list is wonderfully diverse and there just always seems to be a delightful surprise to treat myself to here.
Metro
The standard bearer for Phnom Penh Wine Bars, the staff are great, the atmosphere comfortably chic and matching the short plates on offer with wines by the glass is pure joy, (if only they'd mix it up a bit more often, but that's a minor qualm).
Comptoir
Currently my favourite lunch time place in the Penh; serving delightful, provincial French cuisine with an eye on healthy dishes, thankfully the specials menu also changes regularly. However, in truth, I am lured time and again just to spend a few moments captivated by the beauty and maître-de skills of owner and charmstress Clothilde, as I willingly allow her to ply me with the wickedly gulp-able Louis Max Cote du Rhone rouge by the glass. I always seem to abandon myself to my desires here and finish with a generous slice of homemade lemon tart with cream before jolting the afternoon back into focus with a double shot espresso.
Armand's Bistro
Armand has worked at the Lido in Paris and the Sydney Hilton, he has created a hole in the wall French Bistro on 108 street that is a shining example of minimalism and perfection. A classic French bistro with a small number of tables and seats, a handful of dishes and no more than a few wines, all are enjoyable, exceptional. Armand's is a delight and the man himself a personality and font of many great life stories. Armand keeps it simple then executes it perfectly.
Aristocrat Wine & Cigar Bar
Upstairs at Naga, the decadence of the aristocrat is just the place to take your girl to enjoy a glass or two of French Champagne and feel like a billionaire, who knows, if the evening progresses well you might even wish to try your luck!
Le Wok
Another one of my favourite lunch time spots, the big open doors let you take in the park, museum and Royal Palace views over a glass of something crisp and cool matched to the always evolving and interesting dishes here.
Bai Thong Bistro
Ah, I always feel transported when I arrive at this wonderful place, a classic French bistro, I must resist the temptation to search for Satre and Camus debating existentialism in a quiet corner, I sidle onto a bar stool, order a glass of white burgundy (if its early) or red (if its late) and just soak up the atmosphere, I feel that I could gladly lose hours in this space, write a novel, listen to poetry or fall in love.
So there you have it, follow your nose, trust your palate and if you take in that lot you will have a fine old time living here in the Penh.
---