In Tuscan "heaven"
---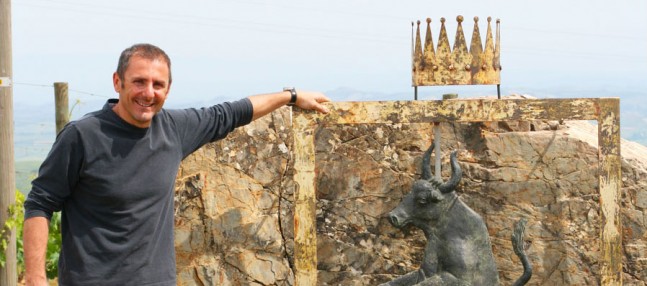 Discovering a special vineyard during a recent trip to Italy still has an excited Curtis Marsh salivating.
Having just returned from Tuscany, the current issue of Wine Spectator caught my immediate attention. Its front cover – emblazoned with the words "Brunello di Montalcino, best wines, restaurants, hotels" – had an evocative picture of the medieval hill-top village that brought back a spontaneous flood of experiences and gastronomic elation.
Promptly perusing the articles with much expectancy, it was disappointing that one of the most outstanding Brunello producers, Conti Costanti, did not rate a mention. Neither did the Osteria Al Giardino (Piazza Cavour 1; Tel: 0577 849076), the only Montalcino eatery listed in the infallible Slow Food Osterie and Locande Guide – visit www.slowfood.com – and one of the most memorable meals of my trip.
Don't get me wrong; the reports by James Suckling and Jo Cooke are excellent, extensively profiling the region and sangiovese grape, along with ample details on where to stay and enjoy local food and wines. If you are planning a trip to Tuscany, this is imperative reading. Alternatively, on the Internet, visit www.winespectator.com
The Conti Costanti vineyard's 1999 Brunello di Montalcino normale is the most ethereal and yet compelling wines I have tried in many years, frankly my most exciting discovery this decade. This may seem overstated. However, having tried this wine three times now – the 2001 (both normale and riserva) and 2003 out of cask – and spending several hours in the vineyard and cellar with current family custodian Andrea Costanti, I am convinced this is one of the world's most distinctive and distinguished red wines. Indeed, I rank it on par with Domaine de la Romanee Conti La Tache, yet at a fraction of the price.
Indeed, I rank it on par with Domaine de la Romanee Conti La Tache, yet at a fraction of the price.
The whole experience came about inadvertently, after a chance dinner in Milano with Neil and Maria Empson, Costanti's agent in the United States and Australasia. The Empson's have lived in Milano for 37 years, Neil originally from New Zealand, and have been instrumental in establishing some of Italy's most respected wines and building up an extraordinary portfolio – www.empson.com. Mentioning that we planned to tour Montalcino, they were resolute we should visit Andrea Costanti and made the arrangements.
The day before we visited Costanti, we were lunching at Osteria Le Logge (Via del Porrione, 33, off Il Campo; Tel: 0577 48013), unquestionably Sienna's best non-touristy restaurant. Scrutinizing the extensive list of Tuscan wines, there were five vintages of Costanti Brunello di Montalcino. We opted for the 1999 normale, a much-lauded vintage in these parts and a bargain at 50 euros (HK$538) on a restaurant wine list.
Our choice was ratified by a discerning nod from the owner-sommelier who expounded its virtues as he promptly decanted the wine. It opened up beautifully in the glass, seductive in its nose of dried walnuts, earthy wet clay, straw- hay, among violets, red rose petal, sour cherry and raspberry compote with a grappa-like concentration. One could sense the intense fruit, lifted by the liveliness of the acidity, augmented by provocative secondary aromas of gamy ducks gut, rare-roasted pigeon, truffles, morels and fireside charcoals. With a taut palate entry, its coiled power unleashes a torrent of sour cherry and nervy, indelible acidity, the crunchy fruit building to gorgeously silky layers of sweet black cherry and dark plum. The sweetness is chased away by the sapidity of cool powdery-fine black tea tannins with hints of licorices, meaty beef stock flavors and antique woods puckering the mouth to a dry finish. It is one of the most complex and superbly elegant wines I have drunk, reminiscent of DRC La Tache or the finest Le Musigny, yet surrounded by tartness and brooding tannins.
The fact that we spent many hours in the vineyard rather than the cellar with Costanti is indicative of where the heart of this wine is.
Aside from the fact that Costanti has a degree in geology from Sienna University, he is ardently passionate about his especial piece of the earth, the Colle al Matrichese vineyard, on the prized cooler north-facing slope at the top of the hill, just below the village of Montalcino.
Costanti is also an advocate of sustainable farming, utilizing much of the biodynamic doctrine. Altitude is strategic in his biodynamic approach: the vineyard at 440 meters above sea level, above the humid wintertime fog level and always enjoying a little wind, so less prone to vineyard diseases.
The soils of Montalcino are very similar to Chianti, a mixture of clay and calcareous rock called galestro, although they a noticeably more stony with much wider spaces between vines and rows to prevent overcrowding, as the roots of the brunello (sangiovese) vines only go down about one meter in these poorer soils. While the vineyard's aspect favors maximum sunshine, his harvest is usually 10 days later than warmer spots and is reflected in the style of his wine, with less alcohol and more acidity, and known for its ageing qualities. His riserva is capable of 20 to 30 years longevity.
Costanti suggests sangiovese is much like pinot noir, emphatically reflecting its terroir and sensitive to yields, thus he prunes severely and does a lot of crop thinning, keeping yields to around one kilogram per vine, well below the permissible 1.5 kilos per vine. He also benefits from having older vines, the average 20 to 30 years old, the oldest being 50.
Savoring the Costanti wines in the upstairs tasting salon, originally a 13th- century church, watched over by enormous 1553 portrait of Crescenxio Costanti, dressed in his full armor and about to set off to fight the war against Venetians, one cannot help an overwhelming feeling of reverence.
The Costantis have been making wine in Montalcino since the mid 16th century, the shield adorning their label taken from the 1550 stone coat of arms in the courtyard.
While their more famous neighbor Ferruccio Biondi-Santi is credited with inventing "modern-day" brunello – that is 100 percent sangiovese – in the 1890s, Andrea Costanti's uncle Count Emilio Costanti (1906-1983) was the first in Montalcino to bottle his own product, beginning in 1964.
With a distinguished humility, Andrea Costanti apologizes that he cannot offer the current vintage of brunello to sample, being sold out, so hopes the 2001 riserva he has opened will suffice. We soon realize that this is possibly the best wine he has made, only produced in truly exceptional years, the last riserva being 1997.
My capacious tasting notes on this wine do not fit the constraints of this column, so please visit my appendix which also covers the yet-to-be- released 2003, tasted out of cask, and a seductive 2005 Rosso di Montalcino at www.thewanderingpalate.com.
Unfortunately, Costanti does not have a Hong Kong agent, yet another perplexing anomaly in the local wine scene. It can however be sourced in England through David Gleave MW at Liberty Wines – you can e-mail to customerservices@libertywine.co.uk. For stockist in the USA and Asia – www.empson.com
There is also an excellent wine shop in Montalcino called Bruno Dalmazio, with an impressive range of wines from all over Italy and practically every hard- to-get producer in Brunello and ships worldwide – www.dalmazio.com.
However, the best lead I can give you is the Australian agent, Trembath & Taylor, which has just landed a mixed wooden six-pack containing three vintages – 1999, 2000 and 2001 normale – at an extraordinarily good price of A$92 (HK$625) per bottle. This is a rare offer and I would be on to it red-hot – www.trembathandtaylor.com.au.
Alas, I have run out of space to tell you about our brilliant meal at Osteria Al Giardino, but have to mention the divine Cinta Senese cured pork from a rare indigenous breed of pig, carved in thick slices, the fat irresistibly as good as the meat itself; halfway between heaven and a heart attack.
---