White Asparagus with Loire Valley Sauvignon Blanc
---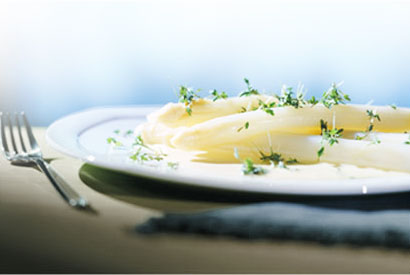 Two offerings from the legendary Loire Valley vigneron Henri Bourgeois: 2007 Pouilly-Fume and Sancerre Les Baronnes.
This is about as classic as food and wine pairings gets; blatantly simply nonetheless, as any professional chef will tell you, the most satisfying gastronomic pleasures are an invariably a combination of the very best seasonal fresh produce and minimal cooking technique. Ironically, such purity and wholesomeness is frustratingly illusive.
This pairing focuses on the synergistic aromas and flavours shared by these two white wines; a naturally inherent subtle herbaceous character found in the Sauvignon Blanc grape and asparagus. Further enhancement comes from the relatively lean texture and purity of this wine style with minimal wood influence and a crisp liveliness augmented by vivaciously tangy grapefruit-citrus acidity cleansing the palate.
White asparagus is a delicacy, if not culinary obsession, in Europe. The bellwether for spring cuisine, it is celebrated with festivals and dominates restaurant menus with the season running from late April to June 24th. The epicentre of white asparagus production and arguably of the finest quality is the Beelitz region, near Berlin in the state of Brandenburg, Germany – the source of white asparagus available at Huber's.
Growing white asparagus is significantly more labour-intensive and subsequently more expensive than the green or purple variety. This is largely due to compulsory hand-harvesting as the spears are covered by a mound of sand that conceals it from the sun (hence being albino) that need to be skilfully cut at the base of the shoot using a trowel, carefully pulling out the spear without damaging the base shoot.
White asparagus should be kept loosely-wrapped in a damp kitchen towel in the vegetable drawer of your refrigerator and consumed no more than a day or two after purchase otherwise, used to make soup. White asparagus needs to be peeled as the outside is quite fibrous, sometimes tending to woody. Use a common vegetable peeler, ensuring the peeled asparagus are kept in a damp kitchen towel until ready to cook and served immediately.
From a health perspective, white asparagus is very low in calories and has many vitamins and minerals, namely phosphor, potassium, calcium, sodium, zinc and iron, along with the vitamins B1, B2, B6 and C – one of those rare instances where gourmands can indulge without worrying about the waistline.
The purest way to cook white asparagus and preserve the subtle flavours is steaming, served with melted butter or accompanied by boiled new potatoes. Hollandaise sauce is also a popular accompaniment with the tarragon flavours complimentary to the asparagus however; the sauce does tend to dominant.
Our general manager, Thomas Kreissl, avows white asparagus should be served as dish in itself, as it is in Germany, which is fine if you're vegetarian however, I did point out we are purveyors of carnivorous pleasure! Of course, it makes for an excellent entree however I am personally inclined to use it as a side dish, along with boiled new potatoes, to a nourishing roast loin of pork to which the distinctive smoky, fatty pork nuances found in the wines of Pouilly-Fume would pair superbly.
So why pair two wines? Well, it is the perfect opportunity to expand on the varietal theme, serving two Loire Valley Sauvignon Blanc's side-by-side from neighbouring appellations, made by one vigneron using the same techniques and whilst the wines have similar characters they are distinctively individual and expressive of their soil and unique terroir, to which I am hoping you will be enlightened. And, take Sauvignon Blanc more seriously.

For a more in-depth article on Henri Bourgeois and the Sancerre and Pouilly Fume regions, have a read on Blanc Check.
Actually, when I took delivery of these samples, in my eagerness I did not check the vintages, only realizing that the Sancerre La Baronnes was in fact from the 2004 vintage upon pouring it and thinking, this way too developed in colour for a 2007.
Perhaps the importers warehouse store man was unaware of the intended purpose of my tasting and thought he would get rid of a stray bottle of 2004, or maybe it was an unintended era and there is still some 2004 lurking. Regardless, I was most delighted to try the wine moreover, impressed by how youthful it still is, despite showing clear signs of development. Who said sauvignon Blanc does not age?
Henri Bourgeois Pouilly-Fume 2007
Vivacious perfume of passion fruit and a melange of citrus – pomelo, freshly squeezed grapefruit, Tahitian lime – there's a hint of nettle and lemon mint, accenting towards lemongrass and fresh herbs like tarragon and sage. There is an overall semblance of mountain stream freshness and spring blossoms breathing out to deeper mineral nuances of cold granite and slate with an alluring smoky, pork fat nuance and hint of white pepper.
A truly captivating, complex bouquet that repudiates Sauvignon Blanc's stereotyped image. Racy, tart lemon juice palate entry, indeed amazing intensity of citrus and mouth-puckering tangy passion fruit and Granny Smith apple all propelled by bracing acidity energised by  peppery watercress-like spiciness; invigorating Sauvignon Blanc with impacting lean chalky framework and long lemony bone-dry farewell. Encore!
Henri Bourgeois Sancerre La Barronnes 2007
Striking passion fruit perfume amongst musky, fresh grapes, classic asparagus and fresh garden peas nuances, a bouquet garni of herbs and the smell of freshly washed mescaline salad mix. This hedonistic perfume makes way for squeezed grapefruit and lime with nettles and peppermint twitching the nose, in the background cool, wet rocks like pumice and limestone yet all the while there is intriguing underlying sweet scent of rosewater in the bouquet, like Turkish delight.
Turbocharged palate of exhilarating freshly squeezed lemon puckering the gills, accelerating across the tongue with intense fresh ginger and laksa leaf spiciness with steely nettles bristling the palate; lean, chalky and almost painfully tart and invigorating, seems impossibly concentrated in lemon and lime and in complete contrast to the bouquet – awesome length and tension that I liken to a dry Rheingau Riesling. Brilliant wine that exudes the spiritual home of Sauvignon Blanc and I would suggest nothing in the new world compares.
Henri Bourgeois Sancerre La Barronnes 2004
Rich olive oil scents, paraffin wax and straw-hay barn smells, builds in bouquet with a little air with vanilla pod and sweet custard, candied fruits and subtle marmalade nuances, touch of caramel fudge and honeycomb sweetness or even palm sugar yet with a wet chalky minerality lurking behind this.
Marmalade flavours greet the palate, becoming more succulent with grapefruit and passion fruit punch (reminds me of white Sangria), baked lemon tart, smooth, silky texture, the wine gliding across the palate and clearly showing the benefits of short-term ageing yet just as you are lured in to a sense the wine will be soft and gentle, intense cobalt acidity and tantalizing spiciness completely change the profile of the wine back to relative youthfulness, with a persistent lemony farewell and astounding freshness. Whilst brilliant drink right now and can see it developing further and certainly has years ahead of it.
Both the Henri Bourgeois Pouilly-Fume and Sancerre La Barronnes are both retailing at SGD$48 per bottle at Huber's Butchery
---