Thai Duck Curry – The Perfect Match
---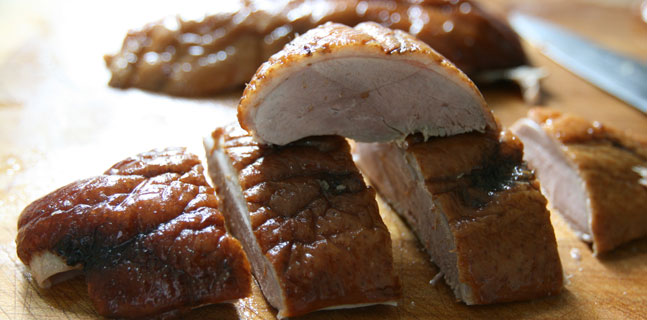 Wife's Legendary Duck Curry – and toast to Kai Schubert, both his capacity to eat duck and their great pinot noir's – Schubert Marion's and Block B
Duck curry and pinot noir – about as good as it gets when it comes to a harmonious food and wine pairings.  We have served up this dish to numerous visiting wine and food writers, indeed just recently to legendary wine author and columnist for Wine Spectator, Matt Kramer, who complimented, "Really, the best we've ever had–by far."
Likewise some of the best pinot noir winemakers in the world have enjoyed this dish at our table, but Kai Schubert holds the record for consumption and has been nagging me for the recipe ever since. So here you go Kai and bravo on the accolades for your 2008 Block B Pinot Noir.
Having plagiarised my wife's recipe (her version annoyingly better than mine every time), this is attempt to placate Kai Schubert and his craving for our duck curry.
This dish evolved through two actualities. Firstly, the fact that every time we had Thai Red Duck Curry in a restaurant you had to search for the duck, invariably miserable, chewy, fatty pieces that were clearly motivated by food cost rather than flavour or pleasure.
Secondly, we are constantly entertaining pinot noir producers and clearly duck is totally synergistic with pinot noir, and duck curry palate invigorating and all encompassing to the senses.
Like all good recipes, there is always a secret component or method that the chef will inadvertently leave out, yet vital to the dishes success. Alas, to be totally transparent, the curry paste used in this recipe is not easily emulated. Even my wife will tell you, the dish comes out slightly differently every time depending on the curry paste and how much patience and motivation you have when cooking it.
Actually our curry paste is usually made by my wife's mother and nobody makes curry paste as good as Poh Poh. It's pretty straightforward in terms of curries, well it appears that way when she makes it but very labour intensive and has everyone in the entire street wheezing from the cayenne vapours coming from the wok. It is more like a Malay Nonya curry than a Thai curry and has a yellow, mustard-like colour, rather than reddish.
We don't always use Poh Poh's curry paste though as we always run out, alternatively using an excellent brand here call Bengawan Solo, and their Genuine Nonya Curry Powder which lists the ingredients coriander, dried chilli, fennel, cumin, turmeric, star anise, clove, pepper, cinnamon, nutmeg and cardamom.
The other variable factor is the duck itself, and this will depend on how good your local Chinese restaurant and roast lacquered duck is. Indeed this recipe is partly dedicated to the accolade of 'Best Duck' for the Lunar Year 2010, and unquestionably the best Chinese Lacquered Roast Duck in Singapore is to be had from Gourmet Corner, Address: 15 Phillip Street #01-00 Tan Ean Kiam Bldg Singapore Tel: +65 6533 3033
I have been sourcing my duck from Gourmet Corner for over four years now and nothing comes near it in terms of suitability for curry. They are large ducks, certainly fleshier than your average duck that is used for say Peking duck with breast meat well over an inch thick. The ducks Gourmet Corner use are in fact from Ipoh, Malaysia, my wife's home town and legendary for their flavour and fleshiness.
I am sure some of you will be puzzled with this dish calling for a bought-in cooked duck, moreover a Chinese roast duck. Many assume the duck would be cooked from scratch in the curry; however this does not work at all with the duck becoming very tough. It may seem like a culinary shortcut using a pre-cooked duck, but trust me, it works fabulously.
If you want to cook a duck from scratch, you are better off doing Teochew style braised duck, which Poh Poh does brilliantly but I have yet to get the recipe out of her!
There is also another shortcut in this dish that is advisable and that is nipping past your local Malay or Indian takeaway and picking up some Roti (bread), as it is nay on impossible to make/cook yourself, although there are a few brands of frozen Roti available in supermarkets that are passable.
And Kai Schubert  – well Marion and Kai Schubert, make some of the most profound pinot noir on this planet from their tiny vineyards in Martinborough and the Wairarapa, literally only a cupful relative to most wineries. Indeed it is somewhat bewildering how much Kai gets around the world promoting his wine with so little to sell. He's everywhere, one day in London the next in Berlin or New York.
Obviously he comes through Singapore a bit too, and we always enjoy his company and seeing his new vintage, over duck curry of course. Kai is rather tall and solid chap and let's just say he has a good appetite. The first time he came over for dinner, it was just by chance that I decided to get two ducks rather than usual one, and a good thing as Kai managed to devour the best part of whole duck on his own. I thought he was going to eat the plate!
So, here you are Kai, finally, the duck curry recipe. There is also a review of Schubert Pinot Noirs accompanying this.
Further to this, there is an extended menu incorporating a duck banquet, which utilizes the entire duck, including the carcase for soup and the pieces of duck meat that are too small for the curry yet great in a tangy Asian salad.
My wife road-tested her duck banquet on another prominent New Zealand winemaker who was staying with us, Blair Walter, from Felton Road. Not sure what it is with these kiwi vignerons but they sure can eat!
So, to all those pinot noir enthusiasts out there, who will obviously have no problem assimilating with duck and pinot noir; this is the perfect and relatively simple yet impressive home-cook dinner party menu.
Equipment
Deep solid casserole dish with lid, for stove top cooking
Rice Cooker
Poultry Scissors (Always handy to have in the kitchen)
Led Zeppelin IV (Played loud)
Ingredients for Thai Duck Curry
1 Chinese Roast Duck – Whole (caters for up to 4 people, or 1 Kai Schubert – simply get 2 ducks for larger groups)
Do not have duck chopped Chinese style, which is rather difficult to explain when buying as they wield the cleaver, but be clear you want the duck whole.
Nonya Curry Paste – Bengawan Solo Genuine Nonya Curry Powder (note – finely chopped onion if using powder)
Kaffir Lime Leaves (good handful)
Tinned Coconut Milk 400 ml x 2 (use good quality, organic)
Pineapple Pieces (fresh if you can get it but tinned ok, in juice not syrup)
Fresh Basil (can be sweet or Thai, both seem to work fine)
Thai Fish Sauce (this is your salt)
Brown Sugar (this is your heat/spice regulator)
1 bottle Schubert Pinot Noir Rose – to drink whilst cooking!
Accompaniments
Roti – Malay style (to dip in curry and wipe plate)
Thai Red Cargo Rice, Mixed with Brown Basmati (this is a personal choice, you can use any type of rice like Thai fragrant white etc)
Baby Kai Lan (Chinese Green Vegetable)
Garlic (chopped fine for cooking the Kai Lan)
Salt and Pepper
Preparation:  This can be whipped together in about 30 minutes and cooking time is no more than 15 minutes. Thus, it is a great dish for impromptu dinner party.
Curries always improve with time – If you can, cook the day before and leave overnight in the fridge, or even a few hours in advance the flavour will improve.
Put on your rice cooker first – it usually takes 40 minutes or so to cook
Preparing the Duck (put Led Zeppelin IV on, loud!)
The soul of this dish lies in the big chunky pieces of duck and therefore requires you to portion the duck up using your fingers more than a knife to separate meat from the bone. This is relatively easy as the duck is cooked.
Remove of neck and retain for soup
Using poultry scissors sharp boning knife and a combination of fingers to separate from the carcase, remove the legs complete with thigh – cut at the base of the lower ribcage at joint using poultry scissors.
Remove the wings, again complete
Using your fingers to prize the breast meat away from the bone, remove each breast carefully as a whole piece, skin on. Cut in to pieces about an inch or more wide. Retain rest of the carcase for soup and salad.
Continue reading on next page: Page 1 | Page 2 | Page 3 | Page 4 |
---