Domaine de la Romanee Conti vs the World Blind Tasting Results
---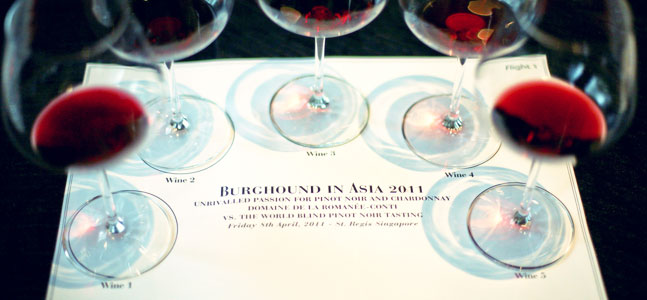 Part of the 'Unrivalled Passion for Pinot Noir and Chardonnay' program, on Friday, April 8th, 108 wine connoisseurs and enthusiasts congregated at the St Regis Hotel, Singapore, for a two hour tasting of Domaine de la Romanee Conti served alongside wines from four other wineries encompassing America, Australia, Austria and New Zealand.
There was much conjecture and to a degree, misinterpretation, of the objectives of this tasting but in reality, it was always going to be controversial. However, to our knowledge this is the first ever structured comparative consumer-driven tasting of this genre to be held in Asia, and perhaps the world. We would like emphasise this is a consumer preference outcome, ultimately the most strategic arbiter on wine.
Above all, it was a celebration of pinot noir – and our main objectives: We want to have fun! We want to discover! Moreover, our all-encompassing theme "An Unrivalled Passion for Pinot Noir and Chardonnay" sufficiently described what the objectives were.
How we achieved the result:
There were 12 tables seating 9 participants made up of 8 consumers and one wine professional. The wine professionals were a mix of wine writers and winemakers including internationally acclaimed commentators, Andrew Jefford (UK), James Halliday (AUS), Allen Meadows (USA), and Singapore based, Lisa Perrotti-Brown MW, Suzanne Brocklehurst and Ying Hsien Tan.
NB: Allen Meadows did not participate in ranking the wines and none of the professionals were involved in any way with the organising or execution of this tasting.
Our esteemed guest vignerons, all veteran pinot noir practitioners, were, Sam Neill – Two Paddocks, Central Otago, New Zealand; Josh Jensen – Calera Wine Co., California, USA; Veronique Boss-Drouhin – Maison Joseph Drouhin, Burgundy, France and Domaine Drouhin, Oregon, USA; and Francois Labet – Chateau de La Tour, Burgundy, France.
We briefed the professionals to impart their pinot noir wisdom on the participating consumers along with the aspects of wine ratings and the technique of scoring. Whilst it is clearly unfeasible to become a wine scoring expert in a couple of hours, most of the participants were in fact already familiar with wine scoring, if not accomplished palates.
There were 3 brackets of 5 world-benchmark pinot noirs (15 in total) served half-blind – that is we know the variety is pinot noir and one DRC wine was amongst each bracket.
Each taster assessed the wines individually, by bracket, utilizing the 100 point scoring system with their scores converted to a ranking from 1 to 5, to arrive at a preferred wine in each bracket. We then took the aggregate of the rankings for all 15 wines, with a total of 88 legitimate preference score sheets collected (an auspicious number indeed) to arrive at the most preferred wine, and most preferred winery.
The scoring mechanism, procedures and results were strictly monitored and audited by a senior accountant from Ernst and Young. No individual scores will be published, this being a consensus derived outcome purely based on preference and how the wines showed on the day.
It is perhaps human nature this exercise could be perceived as ganging up on DRC, however if someone can tell me the name of a Burgundy producer that is universally and unquestionably accepted as the benchmark of the Burgundy region and pinot noir – period – other than DRC, I would be glad to hear it. Perhaps the DRC wines might be prejudiced by their relative youth, generally needing 10 to 15 years to be at their best, but a closer look soon revealed their class and complexity.
The wineries chosen for the tasting were:
• Felton Road – Central Otago, South Island, New Zealand
• Bass Phillip – Leongatha South, Victoria, Australia
• Domaine Serene – Oregon, United States of America
• Markowitsch – Carnuntum, Austria
• Domaine de la Romanee Conti – Burgundy, France
Preferred Wines by Bracket ranked 1 to 5 (1 being the most preferred)
Bracket 1:
• Felton Road Block 3 2007 – NZ
• DRC La Tache Grand Cru 2007 – FRA
• Domaine Serene Monogram 2006 – USA
• Markowitsch Reserve 2007 – AUT
• Bass Phillip Premium 2009 – AUS
Bracket 2:
• Markowitsch Reserve 2006 – AUT
• DRC Romanée-St-Vivant 2006 – FRA
• Domaine Serene Monogram 2005 – USA
• Felton Block 3 2006 – NZ
• Bass Phillip Premium 2006 – AUS
Bracket 3:
• Bass Phillip Reserve 2003 – AUS
• Felton Road Block 3 2004 – NZ
• Markowitsch Reserve 2004 – AUT
• DRC Echezeaux Grand Cru 2002 – FRA
• Domaine Serene Monogram 2002 – USA
Overall most preferred wine: (aggregate of all the wines, obviously older vintages having the advantage)
• Bass Philipp Reserve 2003 – AUS
• Markowitsch Reserve 2006 – AUT
• Felton Road Block 3 2004 – NZ
• DRC Echezeaux Grand Cru 2002 – FRA
• Markowitsch Reserve 2004 – AUT
Most preferred winery (aggregate of all three brackets):
• Markowitsch – AUT
• Felton Road – NZ
• DRC – FRA
• Domaine Serene – USA
• Bass Philipp – AUS
Continue reading on next page: Page 1 | Page 2 |
---