The Wandering Palate & Friends at The Datai
---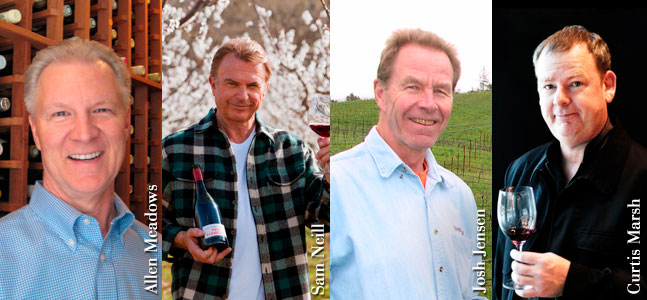 An intimate evening with Sam Neill at ,The Pavilion, serving authentic Thai cuisine in a charming alfresco setting, in the canopy of the rainforest. The main dinning room will be the venue for the feature event "The Pearl" with Allen Meadows serving a western-Malaysian influenced banquet.
Situated in the heart of the rainforest, in an open-air "Kampung Style" setting, the Gulia house serves traditional Malay curries and Indian specialities and will be the venue for our lunch with Josh Jensen presenting Calera Wine Co. wines.
This extraordinary and exclusive gourmet experience will be an all-inclusive package of 2 nights accommodation and entertainment with the option to extend your stay either side at preferred rates.
All Inclusive Package 2 night stay at the Datai Including accommodation, airport limo transfer, breakfast and event meals and wine (other meals and beverage not included)
---
Event program
April 5th (dinner) Sam Neill – Two Paddocks Vineyard
Intimate dinner at the Thai Pavilion with Sam Neill expounding on Two Paddocks and the lifestyle of an actor and vigneron.
April 6th (lunch) Josh Jensen – Calera Wine Co lunch at the Gulia house
Legendary Californian winemaker Josh Jensen pairing Calera wines with a kaleidoscope of Asian spices and flavours – in an interactive lunch set in the tranquil surrounds of the rainforest and "Kampang Style" Gulia House.
April 6th (dinner) The Pearl of the Cote – The Great Wines of Vosne-Romanee
Up close and personal with the world foremost burgundy expert, Allen Meadows and featuring burgundies from the Vosne-Romanee appellation – the subject of Meadows latest book, with a personally signed copy available for purchase.
The Wandering Palate & Friends at the Datai
Global organization aims to reach 10 million children by 2015
Room to Read, an award-winning international non-profit focused on literacy and gender equality in education, recently celebrated its 10 year anniversary with the opening of its 10,000th library in Nepal. Over the last decade, Room to Read has scaled exponentially to impact more than 4 million children in Bangladesh, Cambodia, India, Laos, Nepal, South Africa, Sri Lanka, Vietnam and Zambia. Working in collaboration with local communities, partner organizations and governments across Asia and Africa, Room to Read develops literacy skills and a habit of reading among primary school children, and supports girls to complete secondary school with the relevant life skills to succeed in school and beyond
Allen Meadows is the guest presenter at the annual gala charity event for Room to Read – Singapore Chapter, 7th April. Gala Dinner Bookings through www.roomtoread.org
Meadows is also the main presenter for "Asia Symphony of Wine and Flavours" and Burghound in Asia, being held in Singapore, April 8th – 10th visit www.burghoundinasia.com S$100 from each winery participating in the Burghound walk-about tasting event and $10 from each attending guest will go to Room to Read and will contribute to our goal of fund the construction of a one to three room preschool providing a new and safe learning environment for 30–60 children in Sri Lanka.
The Wandering Palate and Friends at The Datai
Allen Meadows – Burghound The worlds foremost burgundy critic
Sam Neill – Acclaimed actor and proprietor of Two Paddocks vineyard
Josh Jensen – California's legendary winemaker and proprietor of Calera Wine Co.
For more information please contact:
Curtis Marsh
Tel: +65 9388 9709
curtisjohn@singnet.com.sg
Brought to you by The Wandering Palate and GHM Hotels.
---