Butchery, Beef and Street Theatre
---
Our Wandering Palate correspondent in Shanghai, Michael Knuppel, is 'wandering' in Tuscany and encounters the famous Dario Cecchini, a butcher as mad as a meat axe! Butcher – Antica Macelleria Cecchini, PANZANO, CHIANTI, ITALY
The stellar Butchery that is Antica Macelleria Cecchini rides on the fact that its owner, the larger than life, riotous Dario Cecchini, is a constant quality controller. In the Chianti village of Panzano, you will find all three of his eateries, catering to all ages as long as you are a carnivore. Actually, vegetarians do get catered for, but why would you bother? Judging by the packed tables spilling out into the car park and along the adjacent footpaths, there are plenty of people who dearly appreciate the art of meat.
Cecchini is reknowned throughout Italy and Spain, and people flock from all over the globe to grab a seat at any of his three restaurants. He is an eigth generation butcher, and is fervently passionate about the need to maintain and protect the relationship between butcher and society. He defends the art of the butcher, and although pholosophical about the decline in numbers of butchers, he belives in this ancient art. This takes in the respect for the animal, as the ancients did, assuming the responsibility for maintaining the relationship between the animal and human, as opposed to the packaged-in–styrofoam-supermarket meat. His motto 'To Beef or not to Beef?'
His lunchtime burgery, cheekily named Mac Dario, has three menus. Opt for the 10 Euro half pound beef burger, crusted and grilled with side of salad, dipping sauce and an array of Dario's condiments, or venture to the 15 Euro flame grilled burger which comes with tomato salsa, white bean salad and condiments. Kids love it. It's a 'sit wherever you can', side by side with fellow travellers and locals affair. The burgers are dense and low fat, and fall apart as they are not compromised with fillers or binders. Failing that there is a sampler of his Salciccia menu. Each day we called in the tables were packed with food lovers from all over the world.
Dinner, however, is another thing. The night we dined at the Officina della Bistecca which is housed downstairs from the Antica Macceleria, we arrived promptly at 8.00pm, to be welcomed by the man himself decked out in bright red, green and white chef gear playing with an eccentric, jazzy, street band.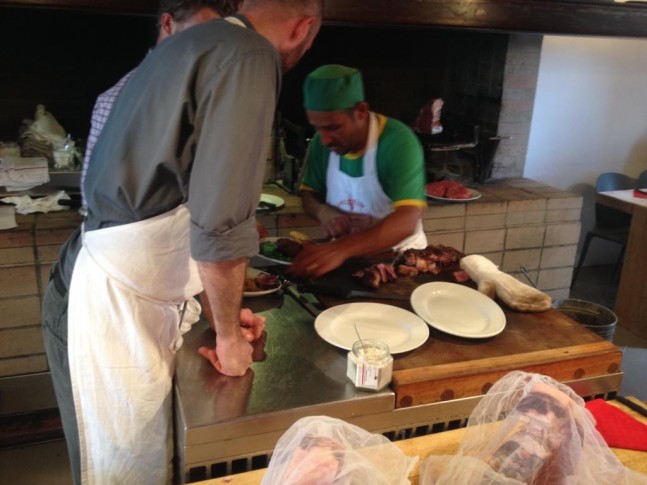 Whether it was because it was market day or just a typical Thursday, the lane between this establishment and the infamous Solociccia filled with guests who snacked on dense, peppered salami, bread and Dario's local sangiovese from it's wicker bottle. By the time the band finished the 70 or so guests from all over the world were united and bubbling with la dolce vita.
Then the rains came. And so inside we went, where you are thrown together with others in some random arrangement-families with families-and the degustation menu begins. The tartare is delicious with some red onion and lemon, and then comes 'Chainti Sushi': cubed pan seared beef sliced so thin that it melts in your mouth.
Three more courses of local beef follow, finishing with bistecca Fiorentina, the dish Dario has famously championed. Dario encourages you to bring your own wine, and at no charge. We want to see a lot more of this philosophy! We are in Chianti, and have loaded up on superb wines such as Grattamacco and Fonterutoli, so to be able to bring them in and share them is an absolute bonus. I go back to the old days in Melbourne with its generous BYO culture…sadly becoming all too infrequent.
More of the band playing ends the night in a riot of festivity. It's hard not to smile here; Dario fills his restaurants with passion and delicious food. Staff are amazing; some have been working here for ten tyears, and began as kids only to return after university to do another summer. It's warm, festive, hospitable and the food is authentic, regional and simply prepared on an open wood fired grill in the middle of the restaurant.
For an amazing night out, or even for a lunch you won't forget in a hurry, Dario Cecchini is a must. There is the added bonus of buying direct form his maccelerias or butchers, to take back to your accomodation and grill at home. This is the ancient art of butchery in the heart of chianti, championed by Dario. No wonder the band played.
http://www.dariocecchini.com
Butcher – Antica Macelleria Cecchini – Eatery, Solociccia, Panzano, Chianti.
Tel: 055 852020, macelleriacecchini@tin.it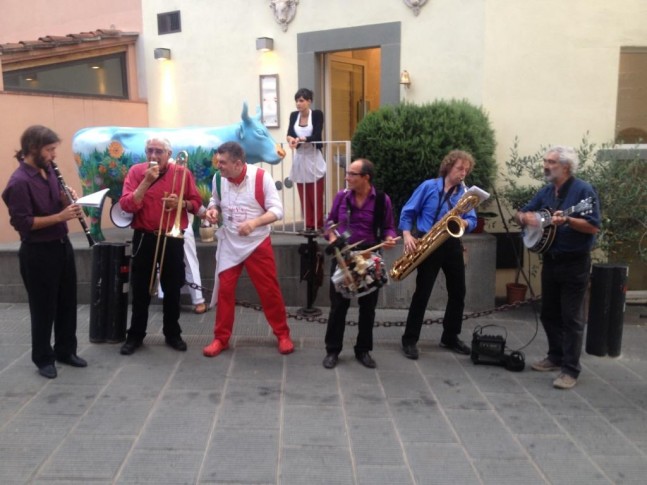 ---